Kobey Trower considers himself a lifelong learner who always held a goal of earning a bachelor's degree. For him, choosing to complete his Bachelor of Science in Nursing (BSN) at Oklahoma State University was an easy decision.
The online program, which launched in Fall 2017 and is accredited by the Commission on Collegiate Nursing Education (CCNE), provides students with a convenient and flexible option to complete their bachelor's degree in as little as one year. With this degree, graduates are qualified for leadership roles in a variety of healthcare environments.
Trower works as a registered nurse (RN) at the Oklahoma Heart Hospital in Oklahoma City. While he initially enrolled in the BSN program to achieve his goal of earning a bachelor's degree, Trower now plans to earn his master's degree and become a nurse educator.
"Now that I have my bachelor's, I've become more interested in nurse education," Trower said. "I want to make sure each new graduate has all of the tools and resources to work accurately and efficiently."
When Trower decided to complete his nursing degree to achieve his professional goals, it was important to find an accommodating program for his busy schedule. The full-time or part-time curriculum option offered at OSU was a huge selling point. Trower, who took one course at a time and completed the program in two years, said the deciding factor was the 100 percent online coursework.
"The curriculum and accessibility of the classes made it very easy to work around my work schedule and get all of my assignments done in a timely fashion, without having to stress," Trower said.
While many courses involved a group project and discussion posts, Trower said he found collaborating with other professionals in an online setting enriching without being distracting.
"All of the students were working full-time jobs," Trower said. "We had some people who worked in ICU, some in labor and delivery, others in clinic and research settings. The accessibility of the coursework helped us keep on the same page for group projects. It was super convenient for me to work full time and still have a life without being tied down. That aspect of it helped keep my attention and keep me moving through the program."
Ultimately, the mission of the RN to BSN program is to prepare nurses to practice professional nursing that meets the dynamic health care needs of individuals, families, groups, communities and global populations. Faculty facilitate the education of students in the art and science of nursing to provide leadership with an emphasis on ethics, wellness, cultural competency and population-based and professional inter-collaborative practice.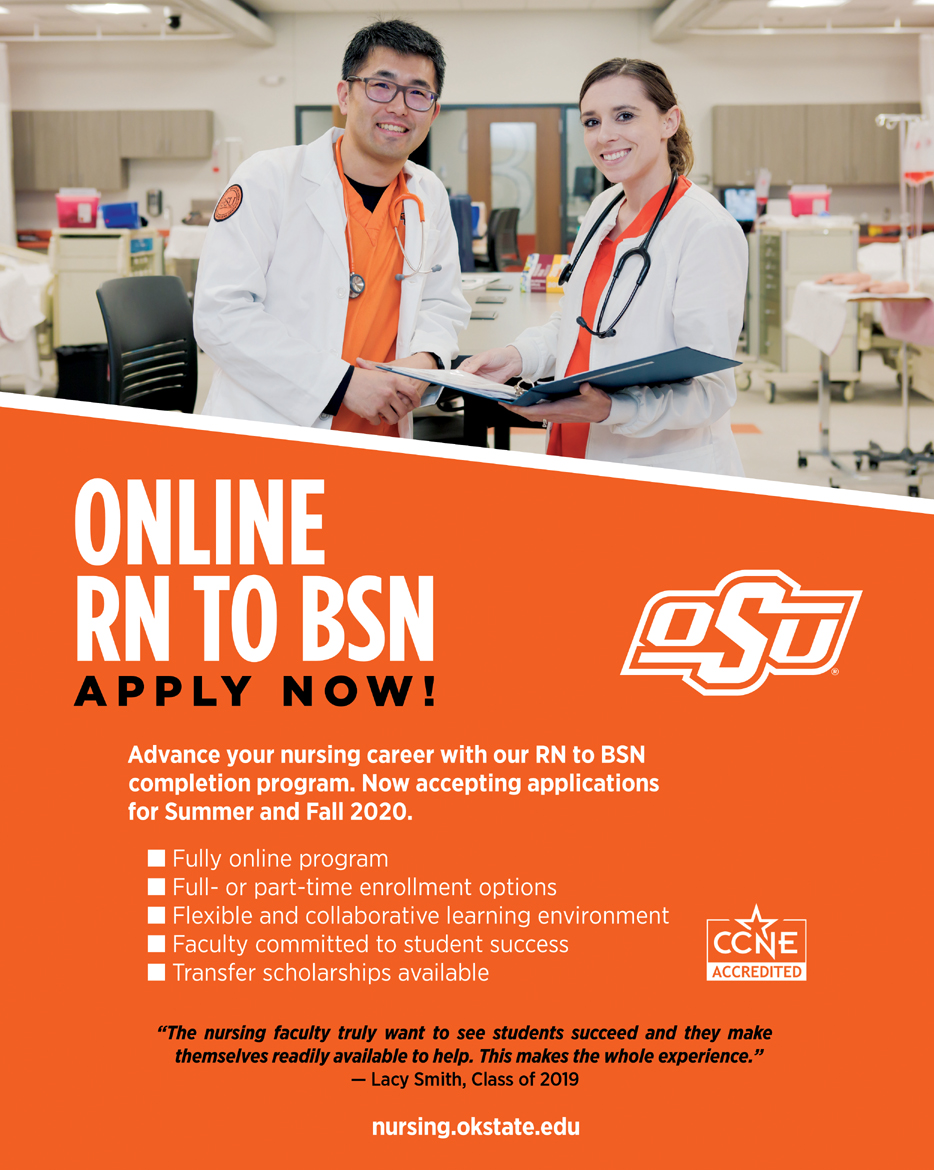 https://go.okstate.edu/undergraduate-academics/majors/nursing-rn-to-bsn.html