by James Coburn – staff writer
If you told Ryan Bell when he attended nursing school that he would be a hospice nurse, he would have thought you were "off your rocker".
Today, Bell is more than content and gratefully enriched by serving as the Regional Director of Operations at Kindful Hospice in Oklahoma City.
"Once I got into it, I fell in love with it," he said. "I wouldn't want to do anything different. I don't foresee myself ever going into any other line of nursing."
Bell earned a Bachelor of Arts degree in Journalism before switching careers. He has primarily worked in hospice for nine years since graduating from nursing school from Metro Technology Center in Oklahoma City. (story continues below)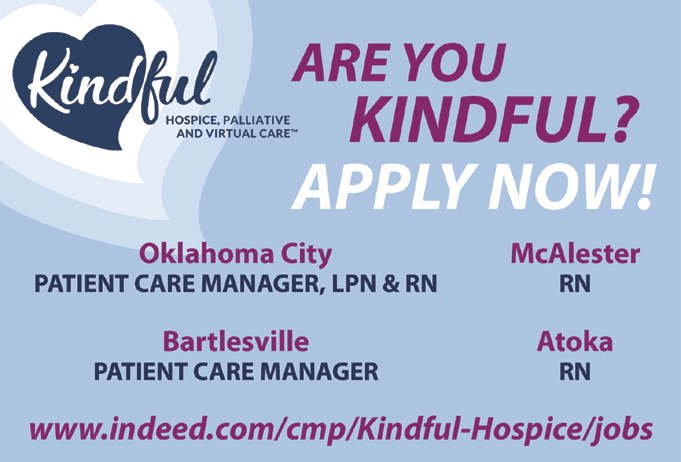 "We started Kindful about three years ago," Bell said of what was once a small mom-and-pop, pre-existing hospice in Norman and Ada with 11 patients.
Now Kindful Hospice has grown to serve nearly 300 hospice patients with comfort and compassion. Nobody is treated as a number at Kindful Hospice. Patients are treated like family.
"We are one of the ones that actually do," he emphasized.
His staff are among the most compassionate people he has ever worked with. They give of themselves until one would think they have surpassed their energy level. But they give some more.
"They just pour into our patients an incredible amount of love and compassion towards them," Bell explained.
Hospice nurses work with what is perhaps the most vulnerable of patient populations. Case manager Vanessa Rodriguez, RN, keeps her spirit strong by having a good foundation with God. To give of oneself as a hospice nurse is totally fulfilling, she said.
"From my experience, we can help them get their wings. They get to meet Jesus — it's helping them up through the journey," Rodriguez said. "Taking care of them is really kind of self-care in itself because you get to spend that time with them, connecting with them, and making sure they're comfortable in the process."
She also makes sure to invest in activities that fulfill her soul such as hiking with her children. Recently, she has re-established exercise goals as key to stamina. And she is mindful of the need to be empathetic with family members and their loved ones in hospice. COVID-19 was a challenge for family members visiting loved ones outside a window of a long-term care facility. The nursing staff gave kindness so not to be a stranger sitting beside somebody taking their last breath, she said.
"For me it's having a strong faith and that's what helps me," Rodriguez said. "It's different for everyone, but I thank God every day for the opportunities to help his children."
Her grandma is what brought her to hospice. She had been working in intensive care units and cardiac. Rodriguez lost both her parents at a young age, so her grandmother was part of her core strength of inspiration. She was 99.
"When she got sick it was hard for me, and she had a hospice nurse — she had a light over her — and I thought that would be the most amazing thing to ever do," Rodriguez said. "And so, I jumped in — for me it was my grandma. She just touched my life."
What she reveres the most about Kindful Hospice is knowing patients and family members who open the door of acceptance for her to be part of their lives. Just walking along beside them in their journey is an opportunity to fortify faith.
"Some of them aren't believers, and that's fine. So just to help them with were they're comfortable is to learn something different about each one of them," she said. "It's something that helped me grow in just meeting them where they're at."
There are different variations among families. Not everyone is able to be with their dying family members when the final second comes. Every experience is different, and Kindful Hospice embraces the opportunity for the staff to give what is needed.
She is available to help educate the probable timeline when asked the toughest question: How long does mom have?
Rodriguez always tries to prepare family members to expect the unexpected, she said.
"We have a trajectory of knowing the signs and symptoms of what we are watching for. I always try to over prepare versus under prepare. Sometimes you miss it, but you do your best."
Rodriguez tries not to compare patient to one another but individualizes their care plans to meet their needs.
It's helping each individual patient reach their end-of-life goal. Bereavement coordinators follow the patients' families for at least 13 months after their loved on passes away. No one is left alone.
An entire interdisciplinary team offers a circle of care, including doctors, nurses, CNAs, chaplains, social workers, and volunteers have one goal in mind.
"That is to provide the best care we possibly can to the people who are put in our path to care for," Bell said.
For more information about Kindful Hospice and Palliative and Virtual Care visit:
https://kindfulhospice.com.