by Vickie Jenkins – Writer/Photographer

Faculties of Southern Nazarene University School of Nursing as a whole represent a wide variety of clinical expertise. SNU School of Nursing promotes Christian values in patient interactions. All Nursing care is based on the sanctity and dignity of every human being. -Southern Nazarene University-
Meet Saundra Medrano, RN, Certified Nurse Educator and Associate Professor in Nursing at Southern Nazarene University. Dr. Medrano has been a nurse for twenty-six years and has been teaching for sixteen years. She taught at OSU, was an Associate Director at Redlands Community College in El Reno, OK and was the Dean at Brown Mackie College. Dr. Medrano is working on her PhD now.
Asking Dr. Medrano why she is a nurse and a professor, teaching students about nursing, she replied, "Nursing is definitely a calling. I know that God led me here. I feel like SNU is such a wonderful environment and He led me here to teach. It is amazing how God opens and closes doors when we least expect it. I was content with nursing but the door of teaching again was opened for me, so that is where I am," she said with a smile. I still travel around to different places, working in ICU and still get to teach. In fact, I have taught every semester. I enjoy it all."
Dr. Medrano grew up in Bethany, OK and never moved too far away from Oklahoma City. She received her Masters from OU Health Science Center, her Bachelor's from OU and her Associates at OSU where she taught at the beginning. "I was actually teaching with some of the students that I had taught in the past," she said with a laugh. "It was a nice experience for both of us," she added.
What is your favorite part about your job of teaching? "I would say is seeing the students' light bulbs come on and seeing the growth of each one. I have worked with foundations to complex care and it is awesome to see the growth that happens. The students always seem excited to be here; so enthusiastic. They want to learn everything and with technology the way it is today, they are able to reach out even farther to learn," Dr. Medrano replied. "It is great to see the students so actively engaged in their studies," she added.
What qualities do you think make a good nurse? "Oh, a good nurse definitely needs to have great time management. They also need to be a very caring and compassionate person, connecting to others, along with being able to empathize with someone. That makes a big difference, not only to the nurse but to the patient," Dr. Medrano commented.
Asking Dr. Medrano what her biggest asset at work was, she was quick to answer. "It is by far, Dr. Susan Barnes. I can always count on her for anything; if I have questions or problems, she is there. She has so much experience behind her and she is a big influence on my life."
When Dr. Medrano was a child, she knew that she would grow up to be a nurse. "I knew that I wanted to be a teacher, a nurse or a police officer. I leaned towards nursing or teaching when my dolls would get hurt while I was teaching them," she said with a laugh. "I'm not exactly sure where police officer came into the picture but I am glad I chose the other two. Here I am today, doing both and loving every minute of it," she said. "I'm pretty sure that is why God opened that door for me and now, I am happy with nursing and teaching," she added. "I just hope police officer doesn't come up now!"
When not working or teaching, Dr. Medrano enjoys spending time with her husband, Wilford, and her family. "I have three grown children and my husband and I just adopted a daughter Londyn, thirteen-years old. She is such a blessing to us. We have three dogs, two cats and Londyn has her own lizard, Forrest. Forrest is her responsibility but that is okay; I don't want any part of that," she said.
Motivation seems to come easy for Dr. Medrano. "It's like an internal drive in me; I just want to keep learning and going farther. Of course, my children and my student motivate me constantly."
Summing up Dr. Medrano's life in one word…"that would be LOVING," Dr. Medrano said with a smile.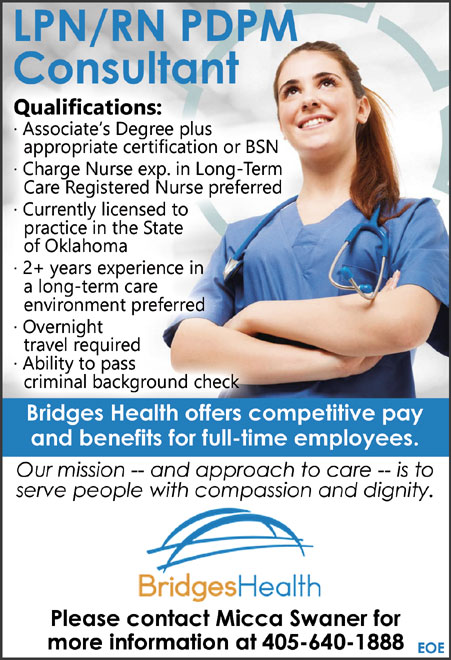 LPN/RN PDPM Consultant
Qualifications: · Associate's Degree plus appropriate certification or BSN · Charge Nurse exp. in Long-Term Care Registered Nurse preferred · Currently licensed to practice in the State of Oklahoma · 2+ years experience in a long-term care environment preferred · Overnight travel required · Ability to pass criminal background check
Bridges Health offers competitive pay and benefits for full-time employees.
Our mission — and approach to care — is to serve people with compassion and dignity.
Please contact Micca Swaner for more information at 405-640-1888
EOE