EXPRESS FAMILY CARE
Vickie Jenkins, Staff Writer
In northwest Oklahoma City, on Wilshire Boulevard, you will find Express Family Care. The clinic serves northwest Oklahoma City and provides primary care, urgent care and women's health care services. (story continues below)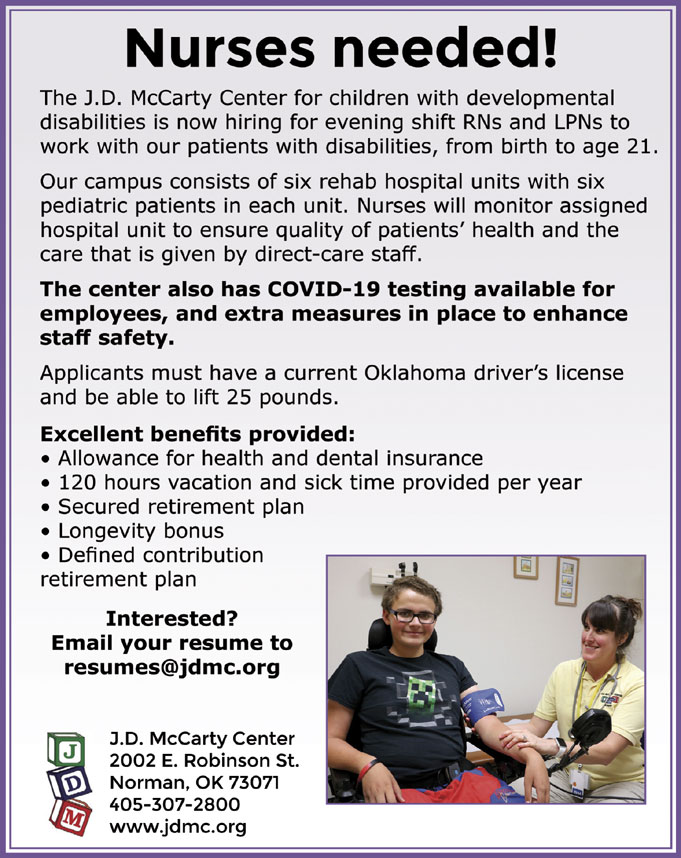 Here, you will find Kalli Wolf, APRN, CNM, FNP-C, who has been a NP for two years. With a bright smile and friendly personality, Kalli explains why she works in the medical field as a Nurse Practitioner. "I love the scope and depth of care this role allows me to provide. As a dual-certified family nurse practitioner and nurse-midwife, I have an opportunity to invest broadly in patient education and preventive care," Kalli said. "While I spent a significant portion of my midwifery education learning to care for pregnant women and catch babies, I also developed expertise in and passion for other aspects of reproductive health, including gynecology, contraceptive and menopause. Many people assume that midwifery only deals with pregnancy and birth which in reality it encompasses a broad spectrum of primary and reproductive care. There are unfortunately very few opportunities in this state for nurse-midwives to practice the full extent of our training, and I have not attended a birth in nearly two years."
Kalli attended the University of Oklahoma Health Sciences Center for her Bachelor of Science in Nursing Degree, and graduated from Vanderbilt University with her master of Science in Nursing degree in 2018. "My first job as a nurse was in the Oklahoma panhandle at Urgent Care of Guymon. I have worked at Express Family Care for almost six months, providing primary care, urgent care, and reproductive health services."
Kalli lived in several different states when she was growing up, including Texas, Arizona and Oklahoma. "When I was little, I had a wild idea of becoming a dolphin trainer and a skydiving instructor! Actually, I changed my mind every couple of years but that changed as I got older."
My mother was a nurse practitioner and my brother graduates from nurse practitioner school in December. I guess you could say it runs in the family," she said with a smile. "They had a big influence on me."
"When I was in school, I studied anthropology as an undergraduate, and my professors encouraged my interest in midwifery and nursing that originated from writing about health topics from a sociocultural perspective. I also had the example of my mom and brother, who became nurses before I did," Kalli said.
"I entered the nursing profession with the original goal of becoming a midwife. This desire originated from an undergraduate anthropology thesis about home birth, which focused on the social and historical context of modern obstetrics and its implications for midwives and birthing people alike."
Asking Kalli what qualities make a good APRN, she replied, "The ability to listen and truly empathize with patients from diverse backgrounds and walks of life, and the desire to advocate for patient navigating a corrupt and fractured health care system. I believe that nurses should devote energy and activism to racial justice, health equity and gender equality within and beyond the medical system." What is your favorite part of your job? "Providing patient education and watching patients take control of their life," Kalli said. Asking Kalli what her biggest challenge was, she replied, "That would be helping the patients navigate the challenges posed by health insurance or lack thereof, including coverage of medications and access to specialty care."
When asking Kalli if she was a leader or a follower, she said, "I consider myself to be an independent thinker, and I have always pursued my goals from a place of personal responsibility and initiative." Kalli can be proud of her accomplishments. She received the Outstanding Senior Leadership Award and the All Around Best Undergraduate Student Award from the OU College of Nursing in 2016.
"I have always had a passion for knowledge and exploration. I began to travel in high school and I take ever chance I get to visit others parts of the country and the world. I have an interest in diverse cultures and languages. I have studied half a dozen languages and I am currently learning Japanese with the goal of someday, visiting Japan," Kalli said.
On a personal note, Kalli is married to her wonderful husband, Alex Revera. Her hobbies include reading, gardening and spending time outside with their two rescue dogs, a golden retriever, Rosie, and a black lab named Spock.