My Thoughts: Oklahoma needs more registered nurses with bachelor's degrees, not fewer
by Shelly Wells, Ph.D., chairwoman of the Northwestern Oklahoma State University Division of Nursing
The recent Governor's STEM Education Conference brought to light the plight of the state's higher education financial crisis. Among other things, it has been suggested that registered nurses could be adequately prepared through the state's associate degree programs. While there are opportunities for improvement, care must be taken not to cut the throat of Oklahoma's already bleeding health care system.
The largest sector of the health care workforce is made up of registered nurses, and there is a pronounced shortage of registered nurses on the health care team in Oklahoma.
The health of Oklahomans is directly impacted by the lack of highly educated registered nurses. The complexity and technological advances in health care call for a well-educated nurse workforce.
The 2018 Commonwealth Fund Score Card on Health System Performance ranks Oklahoma at No. 50 on overall health performance with the 30-day hospital mortality rate and mortality amenable to health care being two of the indicators that worsened from previous years' rankings.
Published February 4, 2019. Go to www.oknursingtimes.com and click download latest issues / February-04-2019-issue-r to read OR VISIT OUR FACEBOOK PAGE.
FACEBOOK: What you are saying
ASHLEY SAYS: What's the difference in pay for a RN A.D.N. and a RN B.S.N.? What's the cost for a BSN verse ADN?
There you have it. Pay up. Oklahoma needs to PAY their healthcare professionals what they're worth. I'm not saying there aren't A.D.N. RN's out there just as wonderful as BSN R.N.'s, but seriously, if you want the cream of the crop, and if you think BSN is just that, then pay up! Give an incentive for that extra time in school and extra debt.
JAMIE SAYS: Ashley, Integris Health does have a pay ladder based on degree, and pays a substantial amount to encourage their employees to attain a BSN or advanced degree.
MARTY SAYS: We need more nurses nursing. More 6-8 hour shifts (great creativity not required to make this work!), more part time jobs. Good options for people with families, those who have retired from other jobs and want to keep their skills or refresh them would be a start. I have been an RN 40+ years, never enough bedside nurses.
MICKIE SAYS: And the problem is this; patient to nurse ratio. They don't care if you have your BSN or your ADN, you're still gonna have the same number of patients, you're still gonna be receiving the same stupid HCAP scores no matter which initials you have behind your name! I'm a 40 year ADN and have been told I can't get a raise because I'm at the top of my pay grade which is an reduced amount from what nurses with less experience are making in larger cities. Three more initials, it's the same headache with the same low pay. No thank you.
AMY SAYS: Mickie, I went back to get my BSN only for promotion in the guard. No raise at work for obtaining it No change in how I nurse because I have it. It focused on management not bed side nursing. We don't have a shortage of managers but certainly for bed side nurses
To read more, visit our facebook page at: https://www.facebook.com/oklahomas.nursingtimes/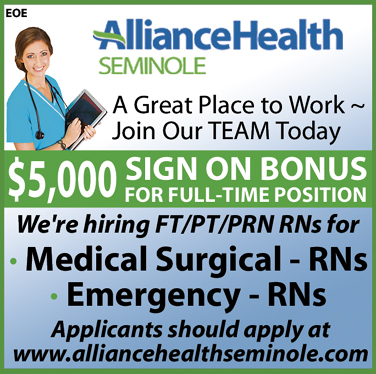 A Great Place to Work ~
Join Our TEAM Today
$5,000 SIGN ON BONUS FOR FULL-TIME POSITION
We are hiring RNs for
Medical-Surgical – RNs
Emergency – RNs
Applicants should apply at
www.alliancehealthseminole.com