by Bobby Anderson, Staff Writer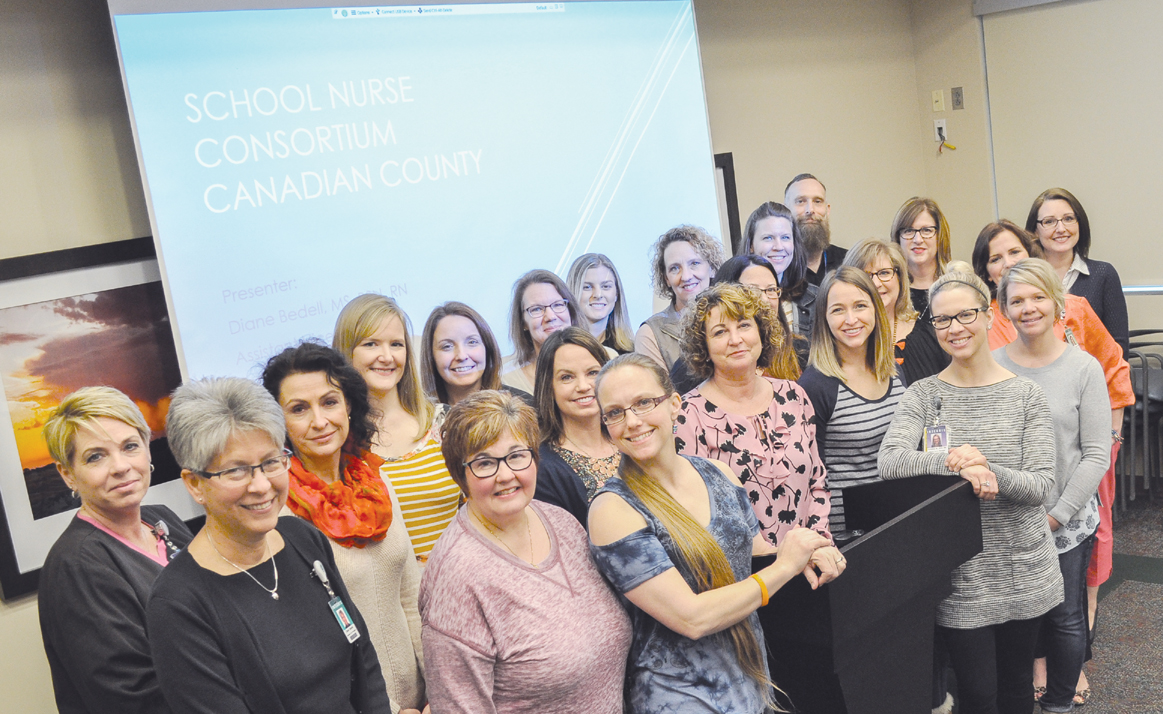 During a break between speakers at the recent Canadian County School Nurse Consortium, Teresa Gray, RN, BSN, MBA looked around the room and had to smile.
The Integris Canadian Valley Hospital Chief Nursing Officer watched as a school nurse from Yukon talked to another school nurse from Mustang.
To her right a representative from the Oklahoma State Department of Health was talking to a school nurse from Piedmont. And all around the room, school nurses from every school district in Canadian County were engaged in conversation that – without the consortium – likely never would have happened.
It was in early 2015 when Gray came up with the idea of a day-long informational session for school nurses in Canadian County.
It came through dialogue with area nurses at various outreach events. What she kept hearing was that school nurses needed an outlet for greater networking, more education and the ability to standardize processes and develop best practices in school nursing throughout the county.
A partnership was formed to collaborate on ways to help strengthen school nursing throughout the communities and the first Canadian County School Nurse Consortium was formed.
"Often times we are both caring for the same patients," Gray said. "Today they may be a student at their school and tomorrow they may be a patient in our hospital."
The event has become annual and the agenda is set based on topics relevant to practice as a school nurse.
Each session features expert speakers in areas relevant to care of school-aged children.
The group draws from Yukon, Mustang, Calumet, El Reno, Piedmont, Union City, Western Heights and Maple school districts.
The Canadian County Health Department is also represented at each event.
"Each year we have strengthened our relationship and work together in other venues to support the schools," Gray said. "The hospital often sponsors events that promote the education of the school nursing staff. This year we have supported four nursing representatives to attend a local conference designed specifically for school nurses".
Gray said that since school nurses play such an critical role in educating students and are on the front lines of population health Integris considers the consortium as an investment into the health of children and the population at-large.
This year's event included mental health topics, current drug trends among teens as well as abolishing injustice in the 21st century.
The Oklahoma Board of Nursing also sent representatives to update school nurses on changing practices.
Since the event is geared toward the needs of school nurses, Gray explained the event is highly fluid in its composition. She sends each nurse a needs assessment months in advance and pieces together the day based on what the nurses would like to hear more about.
She makes sure lunch is provided as well as a longer lunch break.
"I make lunch longer because they're networking with my leaders and each other."
It makes the veteran nurse smile.
"I heard them talking and talking, sharing things," Gray said with a grin. "It makes sense for us to be on the same page with each other."
A SHRINKING PROFESSION
The American Academy of Pediatrics recommends a full-time nurse be present at every school, but that is often not the case. According to data from the National Association of School Nurses, only 45 percent of the U.S. public schools have a full-time, on-site nurse. Thirty percent had a part-time nurse, often one that splits time between several schools, and a whopping 25 percent have no school nurse at all. When no nurse is available, schools often rely on administrative assistants, counselors and teachers to tend to hurt or ill children and to distribute medicine. Stretching resources and expecting expert advice from those who are not trained in the medical field can have scary consequences when it comes to the health of a child.
Life-threatening conditions like childhood asthma and food allergies are prevalent in most schools. The NASC reported that 67 out of every 1000 students has asthma, while 20.7 out of every 1000 students reported having life-threatening allergies.
Having a professional nurse on site can also cut down on missed school time for students. The first inclination for an untrained staff member tending to a sick or hurt child is often to call the parents.
The NASC reported that of the students seen by a school registered nurse, only nine percent were ultimately sent home from school.
We are NURSE-owned and NURSE-centric, come find out what makes the GIFTED difference.
REGISTERED NURSE · Med Surg · ICU · L&D
LICENSED PRACTICAL NURSE · Corrections · Med Surg · Clinic
Call our Oklahoma City office at (405) 943-7900 or visit our website for more information. www.giftedhealthcare.com