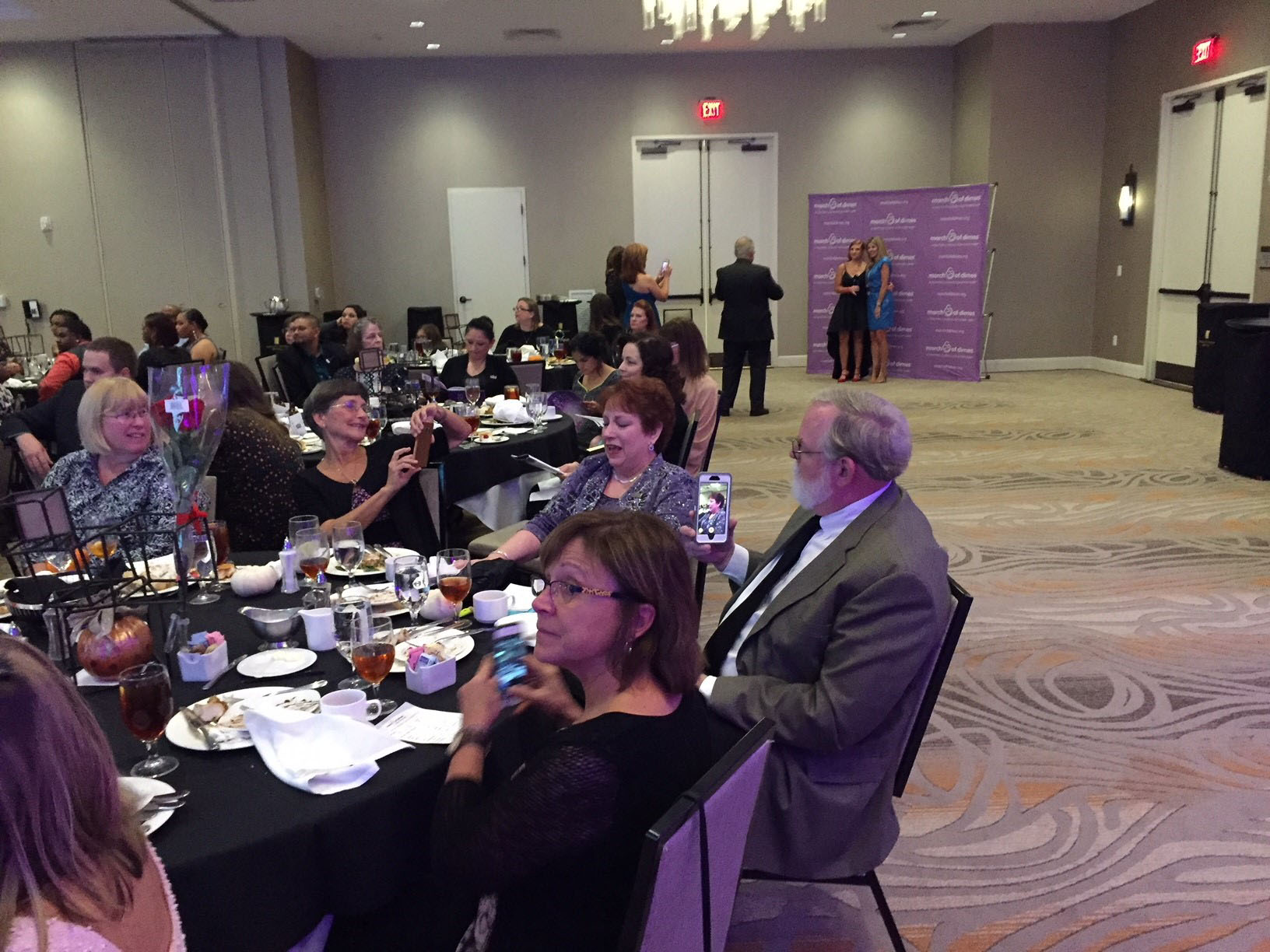 The March of Dimes Oklahoma, in partnership with Title Sponsor, the LeNorman Family, honored 18 outstanding nurses at the 2017 Nurse of the Year Awards. Through Nurse of the Year Awards, the March of Dimes recognizes nurses who demonstrate exceptional patient care, compassion, and service and play a critical role in improving the health of Oklahoma's residents.
The following individuals were honored at the ceremonies:
Christina Stuart, INTEGRIS Southwest Med Ctr.- ADVANCED PRACTICE
Gina Newby, St. John Broken Arrow- CHARGE NURSE
Annie Green, INTEGRIS Health Edmond- CRITICAL CARE
Heidi Gilbert, Stillwater Medical Ctr.- EDUCATION
Michelle Stilwell, INTEGRIS Southwest Med Ctr.- EMERGENCY
Denise Moss, Mercy Hospital, OKC- GENERAL MEDICAL/SURGICAL
Keli Myers-Belding, INTEGRIS, Canadian Valley- INFECTION CONTROL & OCCUPATIONAL HEALTH
Anataya Rucker, OK Health Care Authority- MANAGED CARE
Reagan Robertson, Hillcrest Medical Center- NEONATAL/PEDIATRIC
Debbie Pender, Mercy Hospital Ardmore- NURSING ADMINISTRATION
Christine McMurray, INTEGRIS, Canadian Valley- NURSING MANAGEMENT
Linda Hollan, INTEGRIS Miami Hospital- OTHER NURSING SPECIALITIES
Amy Terry, Oklahoma State Dept Health- PUBLIC HEALTH & AMBULATORY CARE
Robin Yoder, Norman Regional Health System- QUALITY & RISK MANAGEMENT
Stefanie Gonsalves, Mercy Hospital OKC- RISING STAR
Tammy Hogue, INTEGRIS, Canadian Valley- SURGICAL SERVICES
Kaci Brosh, INTEGRIS, Canadian Valley- WOMEN'S HEALTH
Tina Smith, Saint Francis Hospital -LIFETIME ACHIEVEMENT
"It is a great privilege to be able to honor these outstanding individuals, said Karyl James, RN, BSN, MSN, Chief Nursing Officer, Mercy Hospital, Oklahoma City, and Chair of the 2017 event. "What makes this especially meaningful is that through this event, we are celebrating and recognizing these dedicated and compassionate nurses while helping the March of Dimes fight for a healthier future for our babies." The honorees were selected by a committee, Chaired by Linda Merkey, BSN, RN, MBA, NEA-BC, of distinguished nurses honored for their achievement and leadership in their respective professions.
Tina Smith, a nurse and lactation consultant for 39 years received the prestigious March of Dimes Lifetime Achievement Award. During her nursing career, Tina has been a strong breastfeeding advocate and helped countless women breastfeed ensuring every child gets the optimal nutrition and immunity to start life.
The event was hosted by Chad Smith, M.D., Vice Present of Medical Affairs, Mercy Hospital, OKC. Funds raised by the Nurse of the Year Awards support research and other programs that help moms have full-term pregnancies and healthy babies. Funds are also used to bring support and resources to families whose babies are born sick or too soon.
Sponsors of this year's event include: Title Sponsor, The LeNorman Family, Platinum Sponsor Mercy Hospital and Bronze Sponsors, AllianceHealth Deaconess, Chickasaw Nation, EZ Go, INTEGRIS Health System, Norman Regional Health System, Saint Francis Hospital and Stillwater Medical Center.
To learn how to get involved contact or information for the 2018 March of Dimes Nurse of the Year Awards contact, Lisa Liston at 405-415-1265 or lliston@marchofdimes.org.