SPECIAL TO OKNT:
Master's Degree in Nursing: Surprising, Practical and Significant Rewards
By Kathleen O'Grady Winston, PhD, RN, College of Nursing Dean at University of Phoenix
Obtaining either an Associate Degree in Nursing (ADN) or Baccalaureate of Science in Nursing (BSN) is a pre-licensure pathway to becoming a Registered Nurse (RN). This is often the required academic path for entering into the Nursing profession. Earning a Master's in Nursing (MSN) may lead to many new paths and opportunities.
An MSN helps prepare practicing Registered Nurses (RN) for advanced practice by developing skills and knowledge in specialized areas of nursing. It can help enhance a nurse's skills by increased autonomy and expanded practice roles. The healthcare delivery arena broadens beyond acute care hospitals and other traditional healthcare settings. The experience will both challenge and change you.
Here are a few of the practical benefits associated with the MSN:
Learn advanced skills. An MSN program teaches advanced clinical skills and management strategies. The nurse's skills expand with increased autonomy and expanded practice roles. Many MSN programs offer specialized tracks that prepare nurses to learn advanced skills that are applicable to their clinical practice and outside of the normal scope of job responsibilities.
Pursue flexible career options. Nurses who earn an MSN may be able to perform their job remotely, during shifts that are more convenient and with the freedom to determine the workday schedule. With greater flexibility and greater responsibility associated with an MSN, there is also an opportunity to extend the life of the nursing career as those with an advanced degree are often charged with less physically demanding job duties.
Increase professional networks. A graduate degree can help provide added respect from colleagues, other healthcare professionals and peers. Nurses are among the most-trusted professionals in the nation and that trust and admiration can extend and expand as nurses pursue educational and professional growth. Master's programs in nursing help students establish valuable relationships with other nurses and professors.
Partake in lifelong learning. The master's degree often becomes the gateway to the Ph.D. in nursing or a Doctor of Nursing Practice (DNP). Prospective students might consider online programs, or take advantage of bridge programs that help students go directly from the pre-licensure program into a graduate program.
Make a difference. Often nurses enter the profession to make a difference in the lives of others. Expanding knowledge through advanced education can serve as an inspiration to others, including others in the profession. The personal fulfillment and professional satisfaction that accompany the MSN can be measured in the sense of accomplishment and improved self-esteem.
These are just a few of the ways an MSN can lead to career enhancement. To learn more about an MSN at University of Phoenix, visit https://www.phoenix.edu/nursing/msn.html.
About the Author
Kathleen O'Grady Winston, PhD, RN is the College of Nursing Dean at University of Phoenix. She is an accomplished nurse clinician, educator and academic Dean.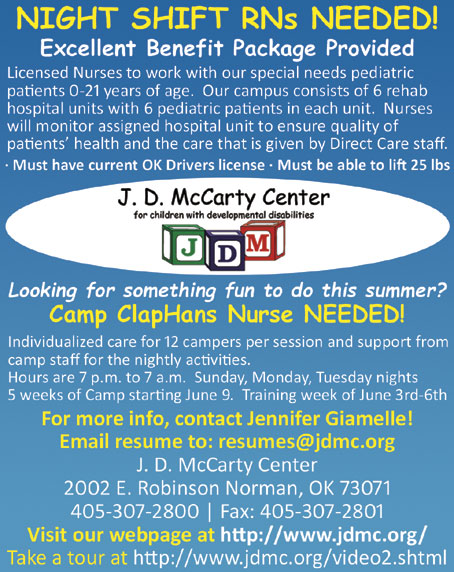 NIGHT SHIFT RNs NEEDED!
Excellent Benefit Package Provided
Licensed Nurses to work with our special needs pediatric patients 0-21 years of age. Our campus consists of 6 rehab hospital units with 6 pediatric patients in each unit. Nurses will monitor assigned hospital unit to ensure quality of patients' health and the care that is given by Direct Care staff.
· Must have current OK Drivers license · Must be able to lift 25 lbs
Looking for something fun to do this summer?
Camp ClapHans Nurse NEEDED!
Individualized care for 12 campers per session and support from camp staff for the nightly activities.
Hours are 7 p.m. to 7 a.m. Sunday, Monday, Tuesday nights
5 weeks of Camp starting June 9. Training week of June 3rd-6th
For more info, contact Jennifer Giamelle!
Email resume to: resumes@jdmc.org
J. D. McCarty Center
2002 E. Robinson Norman, OK 73071
405-307-2800 | Fax: 405-307-2801
Visit our webpage at http://www.jdmc.org/
Take a tour at http://www.jdmc.org/video2.shtml