The last several years have highlighted the extreme importance of nurses in our healthcare system.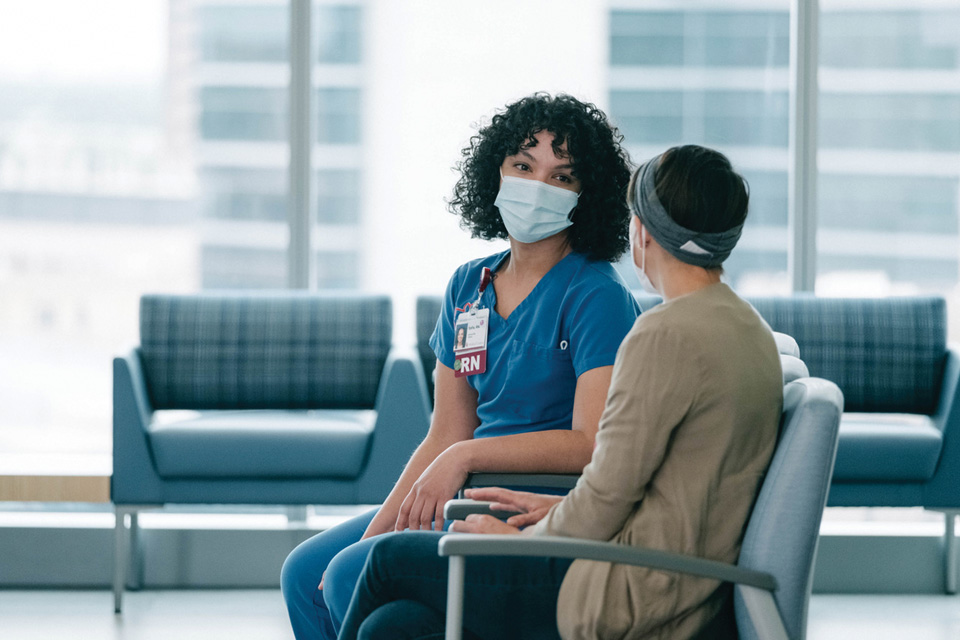 That's why, earlier this year, OU Health made a major investment in the future of its health system and the nurses and nurse managers behind it.
OU Health announced that it is investing $25 million in its nursing workforce, including pay increases across the healthcare system for frontline nurses and nurse supervisors.
This investment positions OU Health as the regional leader in nursing compensation.
This is one of many investments in the OU Health workforce, coming on the heels of a $50 million investment in 2021 that brought new benefits like paid parental leave and $20,000 in fertility services per employee.
OU Health is transforming its nursing workforce through data-driven scheduling and enhanced benefits. The organization previously launched several initiatives to create a better work-life balance for nurses and to grow the future nursing workforce.
By investing in nurses, OU Health is also investing in quality patient care.
OU leadership recognizes nursing is the absolute cornerstone of direct patient care
After the surgery, through rehab or recovery, or throughout an extended illness, the connections that nurses make with patients and families are the foundation of a positive patient experience. At OU Health, the intent is to revolutionize key components of the nursing career experience, from compensation that is meaningful and appropriate to staffing models that are rational and flexible.
The academic nursing component of OU Health, the Fran and Earl Ziegler College of Nursing at the OU Health Sciences Center, also is playing a major role in nursing recruitment and retention. OU Health nurses wanting to continue their education can participate in the OU College of Nursing degree accelerator program.
The OU College of Nursing also is expanding its Bachelor of Science in Nursing degree program by creating new program locations at the Norman Regional Hospital Health System in Norman and at Duncan Regional Hospital in Duncan. The OU College of Nursing is the largest nursing program in Oklahoma.
OU Health System Interim Chief Nursing Executive Julie Hoff, Ph.D., MPH, RN, said the $25 million investment is an important step for rewarding and supporting current nurses, attracting nurses to be a part of the core nursing staff at OU Health and in transforming the future of nursing in Oklahoma. Hoff also serves as Dean of the OU College of Nursing.
OU Health, like most healthcare systems across Oklahoma and the nation, faces a shortage of nurses and a nursing workforce fatigued by the COVID-19 pandemic. In addition to the unprecedented challenges of the pandemic, the nursing profession will continue to face demands associated with an aging population, a retiring workforce and capacity limits of nursing education programs. As the state's comprehensive academic health system, OU Health cares for a higher proportion of patients with complex conditions, requiring an increased bedside presence and specialized knowledge and skills.
"OU Health provides nurses with the opportunity to work in an environment where education and research are combined to provide the best possible clinical care. They gain unmatched experience in breadth and depth due to constant exposure to cutting-edge treatments and interventions not available at other hospitals and health systems in Oklahoma," Hoff said. "By continually investing in our nurses, we create the opportunity for them to thrive and drive the change needed to improve health outcomes in Oklahoma. Nurses are dedicated and compassionate, and they truly make a difference in each patient's well-being. Our mission is to make OU Health the best place to be and grow as a professional nurse and to inspire those who are considering a career in nursing."
To learn more about nursing careers at OU Health, visit www.ouhealth.com/nursing. To have a recruiter reach out to you directly, visit www.ouhealth.com/nurseinterest.