story and photo by Bobby Anderson, Staff Writer
Kathy Ordaz loves the challenge of working in a nursing home.
"I love the difficult residents," said Ordaz, LPN, Golden Age Nursing Center, located in Guthrie.
Those are the ones who need her the most, she said. They tug at her heart as she hears them say her name, she said. A family oriented environment keeps her motivated to continue caring for the elderly at Golden Age.
Golden Age is a family affair employing not only Ordaz, but also her mother-in-law, sister-in-law and husband.
"I've had daughters who have worked here. My son was working here when he was going to high school," Ordaz said. "It's family oriented and on my halls everybody pitches in when something needs to be done."
Help often comes from the nursing aides, she said. They also know she is available to help them when a resident is in need.
"I understand their role because I've been in their shoes," Ordaz added. "But I also understand, too, that I don't mind helping if they're busy. If you're not busy then you need to pick up your pace and you need to help out."
She has never had the desire to work in a hospital. She feels like the nursing home is where she needs to be because of the close relationships she develops with residents.
"We're all here for one thing. We are here for these residents," Ordaz said. "And if it wasn't for these residents we wouldn't have a job."
She often shares with nurses the thought of how would they feel if their mother or father was being cared for at a nursing home.
"You've got to treat these residents the way you'd want your family members to be treated," she said.
The reason she became a nurse was prompted by her late father. Ordaz did not graduate from high school but would later earned her GED. During that process, her dad said, "You need to go to nursing school," Ordaz recalled. "I promised him I would go for my nursing license. And before I got my GED, he passed away."
Almost immediately she pursued her way to nursing school. Ordaz went from being a certified nurse and medication aide, restorative aide and a home health aide to being a licensed practical nurse by attending the Metro Technology Center in Oklahoma City. She has also worked in hospice and has had various leadership roles in long-term care.
She had finished some prerequisites to become a registered nurse, but then she needed to help with her grandchildren, she said.
"To me being an RN – they have a little bit more schooling – but to me a nurse is a nurse and we're here for one thing," she said. "And I love what I do."
Most importantly for an LPN working in a long-term care center is being the doctor's eyes and ears, Ordaz said.
"We have to do a lot more critical thinking, to me, than in a hospital because the doctors are there," she said.
Nursing home physicians and family members rely on the nursing staff to take care of the residents' needs, Ordaz continued.
"Doctors have to be able to rely on us and be able to trust our judgement," she said.
Family members want the peace of mind of knowing they can return home without worrying about their loved ones, especially when feeling sick.
Ordaz has many heartwarming memories of her nursing career that remind her daily why she is a nurse. When a resident thanks her or says "I love you," Ordaz knows the resident understands that she loves them, too. She loves hearing a resident say, "Hear comes Kathy" or "I need you to do this," Ordaz said.
To work in a long-term care facility takes a lot of heart, she said. A compassionate nurse will find that love makes being a nurse easier, she added.
"That's what it's all about," Ordaz said. A nursing career is more than a job. She tells family members that she is a nurse at Golden Age because she cares. Each resident has different things she loves about them.
Ordaz likes it when a resident or family member jokes about giving her permission to take days off work for family cook outs or going to a movie. But when she returns to work they will tell her they missed her.
"You can see it in their eyes," she said. "They are appreciative, and they know that I do care," she said.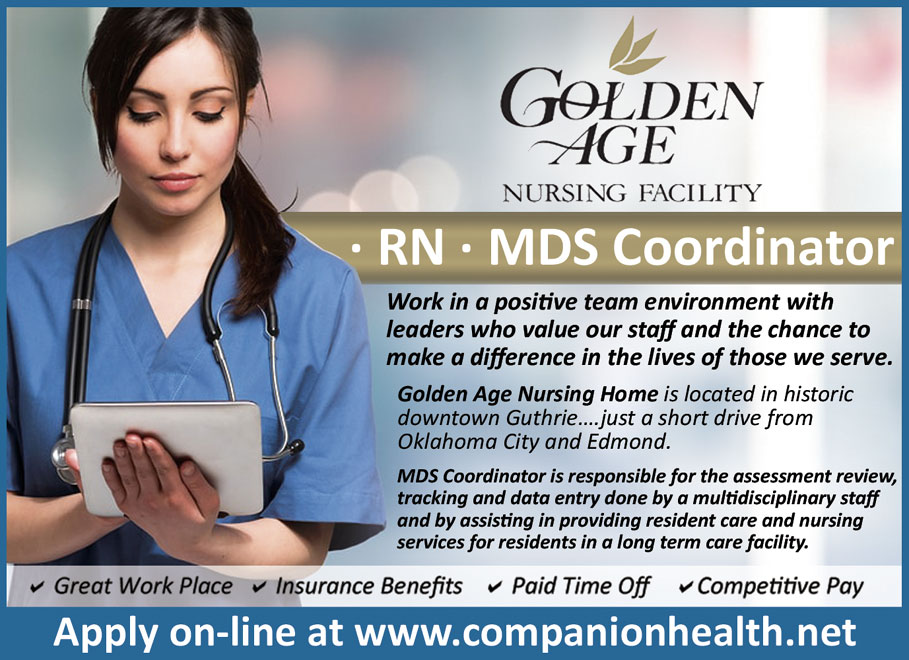 GOLDEN AGE NURSING FACILITY
RN
MDS Coordinator
Work in a positive team environment with leaders who value our staff and the chance to make a difference in the lives of those we serve.
Golden Age Nursing Home is located in historic downtown Guthrie….just a short drive from Oklahoma City and Edmond.
MDS Coordinator is responsible for the assessment review, tracking and data entry done by a multidisciplinary staff and by assisting in providing resident care and nursing services for residents in a long term care facility.
Great Work Place
Insurance Benefits
Paid Time Off
Competitive Pay
Apply on-line at www.companionhealth.net
Take a virtual tour at www.goldenageguthrie.com