The American Cancer Society has awarded a two-year, $100,000 grant to Oklahoma City Indian Clinic to expand access to high-quality breast cancer screening and timely follow-up care for American Indian and Alaska Native women. The grant is one of five across the country made possible through the Community Health Advocates implementing Nationwide Grants for Empowerment and Equity (CHANGE) Program.
"CHANGE grants build community and system capacity to promote health equity, access and navigation to screening resources within underserved communities, increasing access to timely cancer screenings and appropriate follow-up care" said Kasey Volpe, Health Systems Manager, State & Primary Care Systems for American Cancer Society. "Certain racial and ethnic minorities and uninsured individuals are more likely to be diagnosed at later stages, when treatment is usually more extensive and survival rates are lower. The American Cancer Society is committed to addressing the unequal burden of cancer."
The Oklahoma City Indian Clinic is committed to providing life-sustaining breast cancer screenings and prevention services for Native Americans.
"For over 25 years, Oklahoma City Indian Clinic has relied on community partnerships to provide these services," said Ashton Gatewood, Director of Grants Management. "However, the need is so great that many patients were still left without access to essential care. This partnership with the American Cancer Society ACS CHANGE program brings our vision into reality. The clinic will now be able to launch an in-house Mammogram Clinic, which will increase access and quality, decrease cost of care, and fulfill our mission to provide excellent breast care services in the American Indian community for central Oklahoma."
One in eight women in the American Indian and Alaskan Native community will be diagnosed with breast cancer, Gatewood said.
"More American Indians die from their breast cancer diagnosis than any other ethnicity," Gatewood added. "These women are grandmothers, mothers, aunts, sisters and daughters. Oklahoma City Indian Clinic is privileged to partner with the ACS CHANGE program to honor and respect Native traditions by taking care of the community."
Since 2011, the American Cancer Society's CHANGE (Community Health Advocates implementing Nationwide Grants for Empowerment and Equity) program has provided grant opportunities to community health system partners to increase cancer education and awareness and to promote life-saving screening tests in medically underserved communities. To date, CHANGE grants have supported the implementation of 3.2 million evidence-based interventions in over 270 health systems and have contributed to 915,000 cancer screenings across the nation.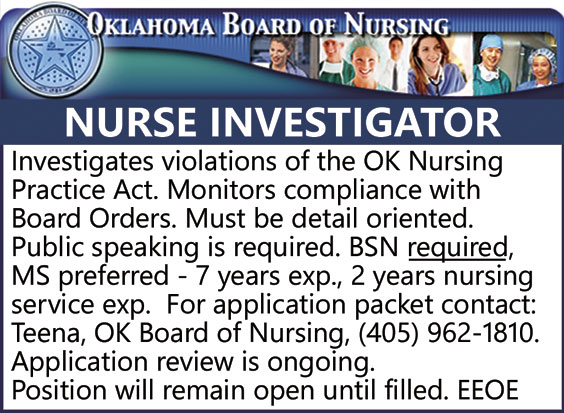 NURSE INVESTIGATOR
Investigates violations of the OK Nursing Practice Act. Monitors compliance with Board Orders. Must be detail oriented. Public speaking is required. BSN required, MS preferred – 7 years exp., 2 years nursing service exp. For application packet contact: Teena, OK Board of Nursing, (405) 962-1810. Application review is ongoing. Position will remain open until filled. EEOE