by Darl Devault – Staff Writer
A nurse practitioner with an entrepreneurial spirit recently started a mobile urgent care practice for homebound patients, on-the-go parents and families. Based in Edmond, with scheduling available online, by text or phone, this groundbreaking advanced practice registered nurse delivers convenient, urgent care to her patient's home.
Research shows that as a member of the American Association of Nurse Practitioners, Kara De La Pena is the only individual advanced nurse providing this service, NP 2 Go, in the Metro area. Her certifications in advanced cardiac life support, basic life support, and pediatric advanced life support allow her to claim first-in-market status.
Several corporate entities are dispatching caregivers at this level to people's homes. Those companies are not matching the direct-fee, comprehensive impact De La Pena delivers to her patients.
"NP 2 Go's mobile urgent care or house call service was born from seeing so many patients who could benefit from a more convenient option to get healthcare," De La Pena, APRN-CNP, said.
The nursing profession is in high demand in Oklahoma. She also serves as a registered nurse at OU Medical Center Edmond part time in perioperative services, as she launches her new community-wide service.
De La Pena provides in-home urgent care visits, migraine treatment, primary care (for homebound patients), weight loss consults, IV vitamins/hydration, and sports physicals. She also helps patients needing advanced directive planning counseling. To answer those questions she says she draws on her experience as an ICU nurse being with many patients during their end-of-life period.
She says several patient populations need intravenous fluids, but have no other options than going to an emergency room. She serves that need in patient's homes. She stresses how her practice assists other practices and medical offices to help keep their patients out of ERs.
When the flu, food poisoning, or a stomach bug causes some mild dehydration a patient fills out a health history and assessment. She calls the patient if there are any questions. If an emergency room visit is indicated, she sends them on, instead of seeing them. If the ER is not indicated, she provides the hydration in their homes.
De La Pena says many migraine sufferers can have an acute or chronic migraine that can last for several days and be debilitating. She can give the same medications an ER provides, after assessing their condition. Another ER trip avoided.
De La Pena was born and raised in Enid, Okla. She earned her associate's degree in nursing from Oklahoma City Community College in 2012, and her bachelors of science in nursing from Northwestern Oklahoma State University in 2014.
In 2019, she earned a master's degree in nursing while graduating as a family nurse practitioner from Maryville University in St. Louis. The school, founded 150 years ago, provides a technology-driven, mentor-inspired education.
Along the way she has been a certified nurse's aide and licensed practical nurse before becoming a registered nurse. She says her mother prompted much of this by being a mentor and role model.
"My mother is the best nurse that I have ever met, often teaching me things that are not in books. She taught me about the comfort provided by simply flipping over a pillow, or the skill of practicing compassion towards people with unknown struggles," De La Pena said. Her mother, Karla Brock, an RN since 1991, has worked at St. Mary's Hospital in Enid for 28 years.
De La Pena has a combined 15 years of experience helping patients throughout her years of basic patient care, nurse tech, CNA, LPN, RN, and now APRN-CNP status.
Her early caretaking skills were honed taking care of her great-grandmother who suffered a stroke when De La Pena was a teenager. She attended to her daily needs, as well as drove her to appointments.
Nurse practitioners in Oklahoma need only a supervising physician to oversee their prescriptive authority. They are prohibited from prescribing Scheduled 2 medications (Hydrocodone, Adderall, etc.).
Oklahoma Nurse practitioners are continuing to pursue legislation that allows for full practice of their license without a supervising physician. These nurses pushed legislation in 2018 seeking full practice authority. Their position then was that 22 states, most with better health outcomes than Oklahoma, allow this status.
De La Pena and her supervising physician have agreed on specific medication protocols for her new outpatient emphasis at NP 2 Go. They went over her business plan extensively before she started her private business ventures.
The company is private-pay only. When patients invite NP 2 Go to come to their homes, they get one bill. The NP 2 Go Website and Facebook cite the costs for the services provided.
De La Pena believes that patients deserve to have transparent billing and to know the costs of services before booking their appointments. NP 2 Go works with local companies to provide the most cost-effective labs, medications, or radiology. She says this provides a thorough solution to the patient's needs.
De La Pena, 33, has lived in Edmond for more than 11 years, marrying Jason in June of 2014. They now have two daughters 8 and 4 years old. The family attends Victory Church in Warr Acres and enjoys boating at Lake Arcadia often. As soon as her new venture gives her more time, she plans to be more active in local government and volunteer in the community.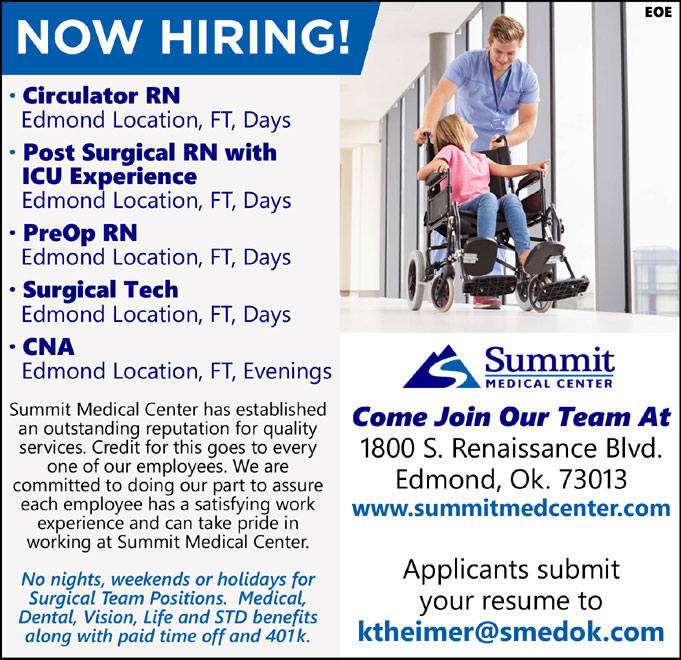 NOW HIRING!
· Circulator RN
Edmond Location, FT, Days
· Post Surgical RN with
ICU Experience
Edmond Location, FT, Days
· PreOp RN
Edmond Location, FT, Days
· Surgical Tech
Edmond Location, FT, Days
· CNA
Edmond Location, FT, Evenings
Summit Medical Center has established an outstanding reputation for quality services. Credit for this goes to every one of our employees.
We are committed to doing our part to assure each employee has a satisfying work experience and can take pride in working at Summit Medical Center.
No nights, weekends or holidays for Surgical Team Positions. Medical, Dental, Vision, Life and STD benefits along with paid time off and 401k.
Summit Medical Center
Come Join Our Team At
1800 S. Renaissance Blvd.
Edmond, OK 73013
www.summitmedcenter.com
Applicants submit
your resume to ktheimer@smedok.com