I am the parent of two teenagers who have been encouraged by their social studies teacher to learn about the election process. I think this is a great idea but as I have been watching the debates, news shows and what is posted on social media, I was also acutely aware of how much I didn't want them to watch and listen to the negative education they were receiving. Here is what I want to share.
WHAT I WANT MY CHILDREN NOT TO VIEW AS ACCEPTABLE:
1. People do not have to trash talk each other. Educated adults do not need to seek media attention based on the nasty statements they make about one another.
2. Lying is not a positive character trait.
3. Blaming is a sign of insecurity.
4. Giving false hope is mean. (anyone tired of the same old rhetoric, "we are going to create jobs, repeal Obama care, strengthen the middle class, etc, etc.)
4a. We have to remember the people talking about the middle class are not the middle class. Is any one of these people paying $900.00 for their health care premium? Does any one of them wait to buy a new vacuum cleaner until it goes on sale? Do they fear loss of their job because the government might shut down and relocate to Mexico?
whew……sorry about that! Back to my list.
5. Rationalizing and minimizing bad behavior is very ugly. If you said it, admit it.
6. Bullying is shameful.
7. If you are going to run for office, know what you are talking about. Talk smart.
We cannot let the behavior of politicians determine what our norms should be, nor should we emulate bad behavior or make lies our truth. We CANNOT become desensitized to irresponsible, inappropriate behavior and call it "the new norm."
A quote that says it all: THE FURTHER A SOCIETY DRIFTS FROM TRUTH THE MORE IT WILL HATE THOSE WHO SPEAK IT. – George Orwell
Vicki L Mayfield, M.Ed., R.N., LMFT Marriage and Family Therapy Oklahoma City
If you would like to send a question to Vicki, email us at news@okcnursingtimes.com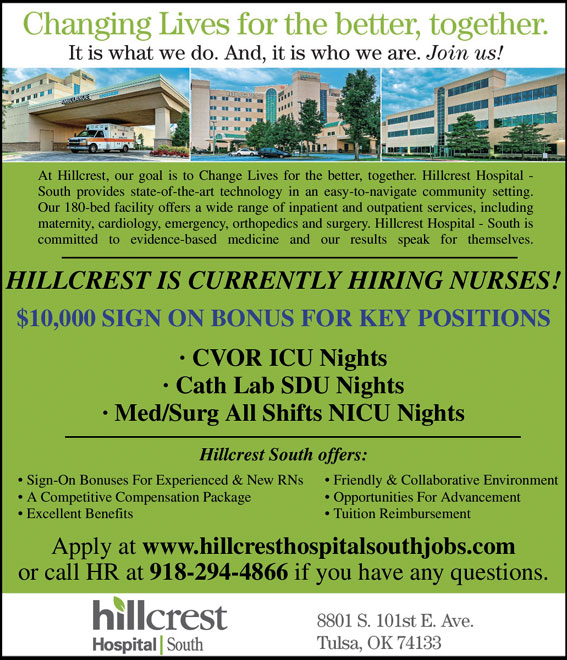 Changing Lives for the better, together.
It is what we do. And, it is who we are. Join us!
At Hillcrest, our goal is to Change Lives for the better, together. Hillcrest Hospital – South provides state-of-the-art technology in an easy-to-navigate community setting.
Our 180-bed facility offers a wide range of inpatient and outpatient services, including maternity, cardiology, emergency, orthopedics and surgery.
Hillcrest Hospital – South is committed to evidence-based medicine and our results speak for themselves.
HILLCREST IS CURRENTLY HIRING NURSES!
$10,000 SIGN ON BONUS FOR KEY POSITIONS
· CVOR ICU Nights
· Cath Lab SDU Nights
· Med/Surg All Shifts NICU Nights
Hillcrest South offers:
• Sign-On Bonuses For Experienced & New RNs
• A Competitive Compensation Package
• Excellent Benefits
• Friendly & Collaborative Environment
• Opportunities For Advancement
• Tuition Reimbursement
Apply at www.hillcresthospitalsouthjobs.com
or call HR at 918-294-4866 if you have any questions.
Hillcrest Hospital South
8801 S. 101st East Ave.
Tulsa, OK 74133