Q. Is it possible to meet someone, date them for awhile and not realize that person is a narcissist?
My friends tell me they think Brad is a narcissist. He can at times take over the conversation and make it all about him and he accepts no responsibility for the breakup of his marriage. Maybe I need some help identifying someone who is a narcissist.
— Karen
A. Narcissistic Personality Disorder (NPD) is a condition where a collection of personality traits associated with the ego have become oppressive and the more traits that are present at the same time, the higher up the narcissist scale a person becomes.
Karen, here is a list of 9 traits of narcissistic personality. Compare this list to what you see and hear in Brad's personality:
1. GRANDIOSITY – Exaggerated sense of self-worth.
2. SUCCESS – Dreaming and fantasizing of success.
3. UNIQUENESS – Whole-heartedly believes they are unique.
4. ADMIRATION – An overwhelming need to be admired.
5. ENTITLEMENT – Expects favorable treatment.
6. EXPLOITATIVE – Will manipulate and take advantage of others.
7. LACK OF EMPATHY – Uncaring for the feelings of others.
8. ENVIOUS – Believes people are envious of them.
9. DOMINEERING – Can come across as very arrogant.
Many of us show some of these traits to various degrees and this is part of who we are as human beings. Those who show multiple traits and specifically five or more together, however, are those who are truly narcissistic.
Karen, one of the most damaging of all 9 traits is lack of empathy. This can often be presented as a subtle lack of caring for others and their feelings but in reality, narcissists have NO true feelings for others, NO guilt, and NO remorse. They are great manipulators. They can spot the needs, emotions, and weaknesses in those around them and use this information to their advantage very quickly with NO sense of regret.
Karen, I would suggest you listen to your friends and your gut. Brad will never change. Narcissists do not go to therapy to "work on their issues." because they DO NOT HAVE ISSUES TO WORK ON !! They believe everyone else has issues.
Do some reading and suspend dating Brad while you are fine tuning your narcissistic radar.
Vicki L Mayfield, M.Ed., R.N., LMFT Marriage and Family Therapy Oklahoma City
If you would like to send a question to Vicki, email us at news@okcnursingtimes.com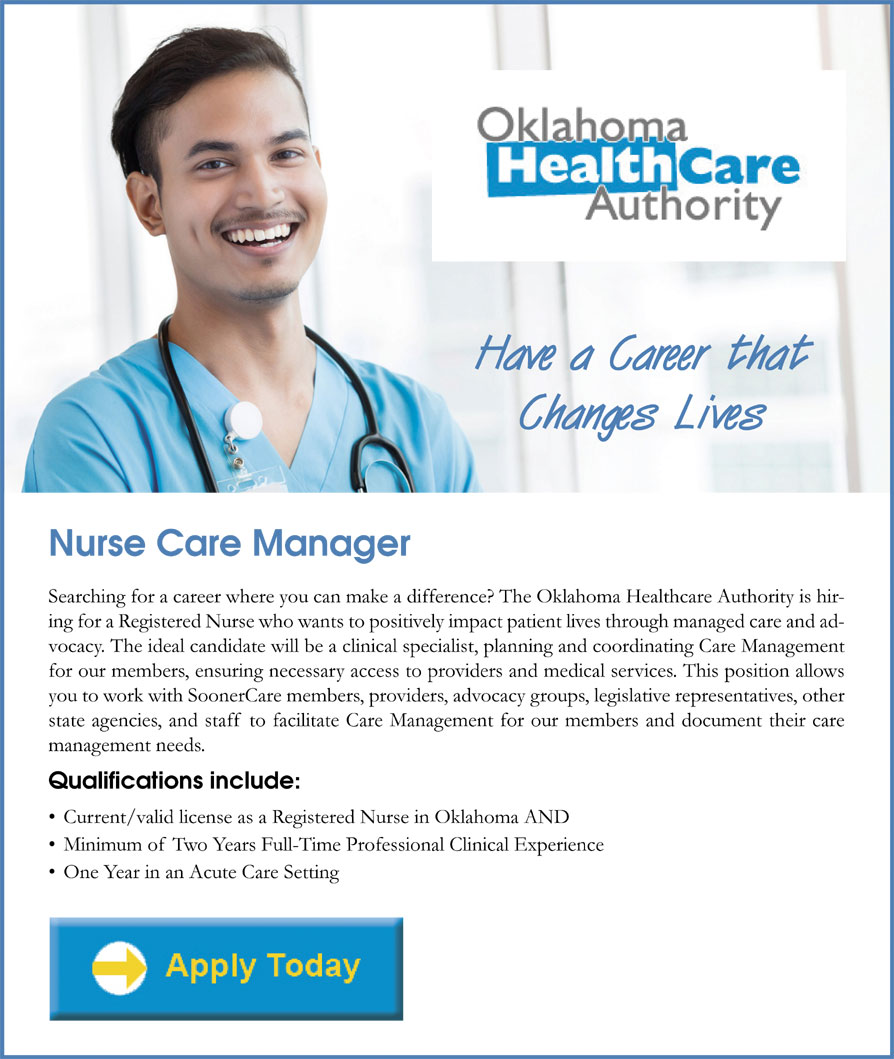 http://okhca.org/xJobs.aspx?nJobPostingID=40749