by Vickie Jenkins, Staff Writer
Life stays busy for Stacy Rogers, RN, MSN/Ed, CCRN-K, Assistant Professor of Nursing at Southern Nazarene University and PRN as an Educator for Community Hospital, LLC in Oklahoma City.
Stacy has been a nurse for thirty-six years. "On the hospital side, I have taught for over twenty years with some breaks to do other things. In academic, I have served as Adjunct Faculty on several occasions for one of our state's great nursing programs. I have been teaching at SNU for only three months, so this is a new role for me," she said. (story continues below)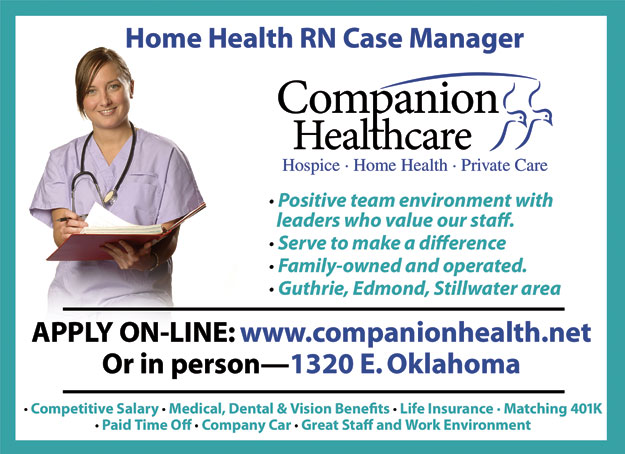 Stacy grew up in Duncan, OK. Every little girl has a certain dream of what she will be when she grows up. "I wanted to be a piano player or a singer," Stacy said. "Although, as I got older, that changed. From a young age, I was around people in the medical field and I saw the love and care that was shown to others. My mother worked for a physician although she was not a medical person at all. I believe that exposure that I had sparked an interest in the health care for me. That's why I thought the medical field seemed like a perfect fit."
"I became a nurse after starting a pursuit of a music degree my first year of college. I loved music but felt a real calling other than education and that calling was health care. I soon developed a fondness for the nursing students in our local hospital, where I worked at the time and I loved seeing them grow from the novice level into professionals in the course of their nursing education. This is where I started to work as an adjunct faculty member and I knew I wanted to teach in a nursing school one day, " Stacy commented.
"I love working at SNU; working where I believe strongly in the mission and vision of this University and ascribe to the Christian principles they display on a daily basis. Working at a faith based business is rewarding, in and of itself, and makes me realize the high calling of being a nurse educator," Stacy added.
What is your biggest reward as a nurse? Stacy replied, "The biggest reward in nursing, is being able to work with people from birth to the end of their life, and everything in-between, and making a difference. This is what we have to hold on to as there are honestly few accolades in nursing as we are educated that it is a position of servitude, but honestly, the rewards are exponential if you're doing the job you were called to do. As in nursing, the biggest reward is ministering to patients and families during their most vulnerable times."
What is your biggest reward as a Professor? "The biggest reward of being a professor has been staff and student education and seeing someone's light come on when they learn something, teaching the students those memorable ah-ha moments."
If Stacy were to give advice to someone going into the medical field, she would tell them the pros and cons of the health care. "If they want to work in health care, but they are not sure about nursing, medical doctor, advanced practice nurse, pa, imaging professional, physical therapy or even dietetics, I would invite them to do career exploration and job shadowing if possible to aide them in their decision. It is not good for anyone if someone ends up working in a profession they don't like and in health care, the ones that suffer the most from theses situations is ultimately the patient. Patients deserve the best," Stacy explained.
On a personal note, when asking Stacy if she had any hobbies: "Who has time for hobbies when starting a new job at a university? I guess when I do find myself with some extra time, I go back to my roots: my music. I still play and sing in church, and play clarinet in the Community Band in Duncan. Unfortunately, COVID-19 made us call off our season this past summer. I dabble in playing string instruments such as guitar and mandolin and a very scratchy fiddle! My next endeavor will be the hammered dulcimer and banjo this summer. I also love gardening, traveling and collecting old hymnals. My prize is the old Baptist Broadman Hymnal," she said with a smile.
Describing her life in three words, she said, LOVE, LAUGH and FAITH.