by Vickie Jenkins – Writer/Photographer
Growing up in Mustang, OK, life was good for Meagan Bridgforth. She is a graduate of Mustang High School. When it came to careers, she wanted to be a police officer. Little did she know that later on, her mom would be her inspiration to become a nurse, changing her goal of police officer to RN.
Meagan is an excellent nurse. She has been a nurse for three years now and loves her job at SSM Health in El Reno, OK. With the responsibilities of caring for the patients in an emergency situation, she is still willing to do any job around SSM Health if needed. "All of us are actually a Jack-of-all-Trades," she said with a smile. "From the minute the patient checks in until they leave, they are in our care and we are all going to join in and work together as a team. Sometimes, we have 3-4 patients in a 12-hour work day and other times, we have so many that we get overwhelmed, checking the patients in one after another, non-stop. No matter what, we are there to help these people in the best way we can," Meagan said.
"When I entered college, I wanted to be a police officer and knew I would make a career out of it. My mom was a paramedic and decided that she would go to school and become a nurse. She got a job in labor and delivery at St. Anthony hospital downtown. My younger sister is an RN at St. Anthony's and my older sister was a scrub tech there. Shortly afterwards, I got a job at St. Anthony's as a medical assistant in a float pool, going around to different offices there. I helped wherever I was needed. Then, I had kids and my life changed. I decided that I would take my medical experience farther and become a nurse. I went to OCCC, got my nursing degree and worked at St. Anthony's also. There was a time that all four of us worked at St. Anthony's at the same time. So, my initial inspiration came from my family. They were all great supporters. Even though I loved working at St. Anthony's downtown, I know that SSM Health is where I am meant to be and I love it," Meagan said.
Asking Meagan what her favorite part of her job is, she said, "Without a doubt, it is caring for the patients. Working here, we never know what kind of injury will be coming through the door. It could be the smallest of things; yet, it makes a big difference in the patient's life. That is so gratifying and rewarding to know that we are making a difference."
Do you prefer working in a small place like SSM Health over working in a big hospital? "I actually like working in a rural area like this. Of course, that could be because I grew up in Mustang, OK. Even though it can be hard to get certain resources for the patient, I love the small town feel like we have here. It's like one big family here we all get along with each other, making a great team. We work together and I think that is very important. I love my job here," Meagan replied.
When asking Meagan to describe herself. "I really like to be on a personal level with my co-workers and with the patients. When I get on a personal level, the patient seems to open up more, putting their trust in me and knowing that I am going to make them feel better. I also work well with others and I am very compassionate. I am quick at responding and consider myself a leader," Meagan replied.
What advice would you give to someone going into the medical field? "The best advice I could give them is, don't ever lose your compassion for you patient and co-workers. Keep a tough skin and always do your best," Meagan said.
Meagan's motivation comes from her husband, children and family. Her encouraging words are, "Stay patient all day and breathe!" She looks forward to seeing what lies ahead and what the future holds for her.
On a personal note, Meagan is married to her wonderful husband, John who supports her in everything she does. Her pride and joy are her two children, Maranda, 15 and Hank, 9 years old. Her hobbies include traveling and going to the lake.
If Meagan were to sum up her life with one word, it would be, REWARDING.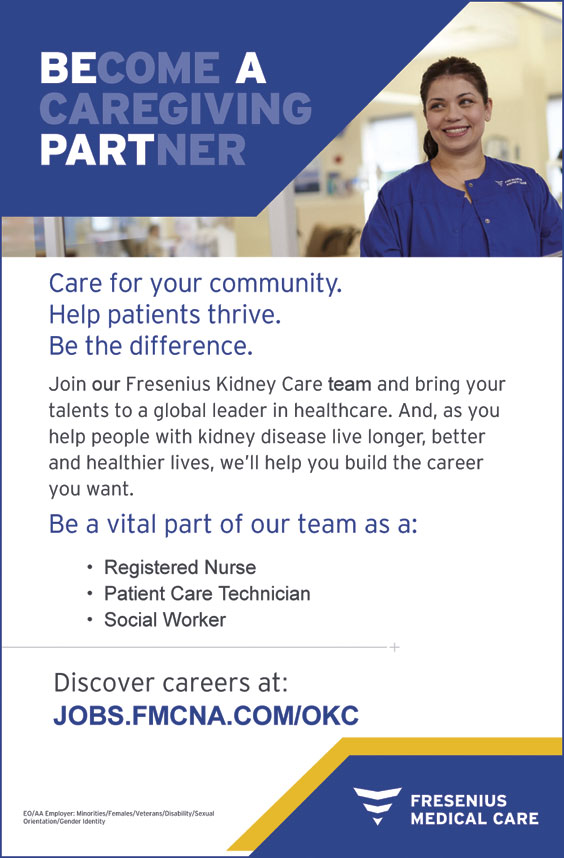 BECOME A CAREGIVING PARTNER
Care for your community.
Help patients thrive.
Be the difference.
Join Fresenius Kidney Care team and bring your talents to a global leader in healthcare.
And, as you help people with kidney disease live longer, better and healthier lives, we'll help you in build the career you want.
Be a vital part of our team as a:
· Registered Nurse
· Patient Care Technician
· Social Worker
Discover careers at:
JOBS.FMCNA.COM/OKC
FRESENIUS MEDICAL CARE
EO/AA Employer: Minorities/Females/Veterans/Disability/Sexual Orientation/Gender Identity