By Vickie Jenkins, Staff Writer
Jenna Waddell is a flight nurse, flying out of Air Evac Lifeteam in Ada, Oklahoma. She has been a nurse for almost six years now and has been flying for a year and seven months. "I always wanted to work in the medical field, ever since I was a child. I truly believe it is a calling for me to serve others. Growing up, my dad, now a 100% disabled combat veteran Navy SEAL, would sometimes come home from deployment with an injury. I would help him in any way that I could. After a traumatic parachuting accident that almost amputated his right leg, I knew for sure that I was supposed to go into trauma and emergency medicine. I grew up taking care of others, so it is only natural for me to be a nurse. It's in my bones. No pun intended," Jenna said with a smile. (story continues below)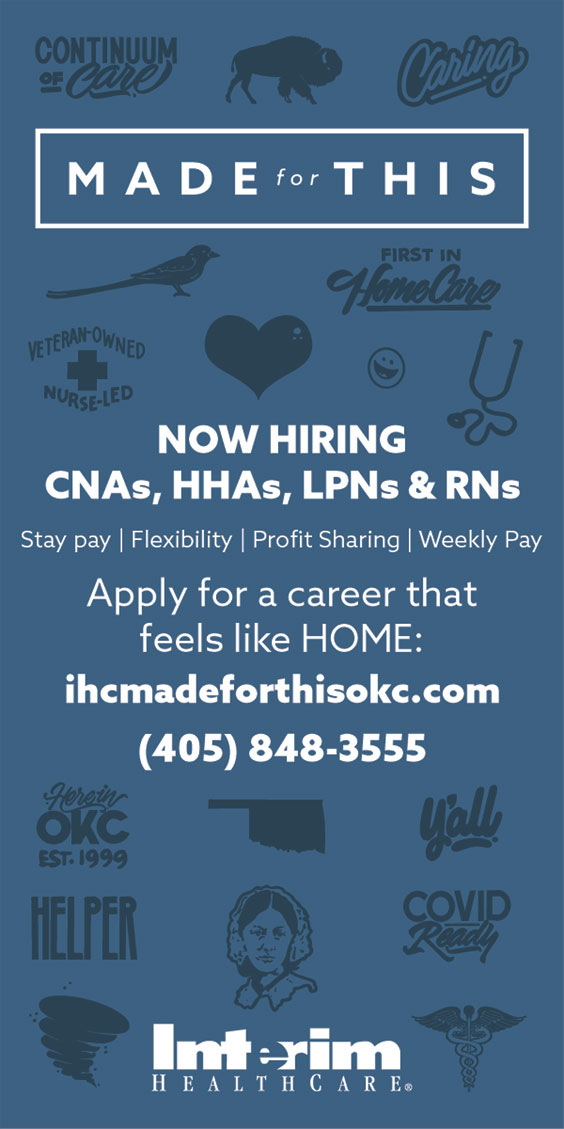 "Being a flight nurse is the best job in the whole world," Jenna said. "I don't just have one favorite thing about my job but the ones that stand out are: 1. The amount of autonomy that I have in the air. I do not have to ask a physician for orders. It is me and my partner making critical life or death decisions. 2. We are held to a higher standard as clinicians with an enhanced scope of practice. The requirements, certifications and education needed are next level and we are expected to know our stuff. 3. I take care of patients in a helicopter."
Jenna got her first degree at Baylor University in Health and Human Science. "I initially was going to be a physical therapist. During my senior year at Baylor, I was completing my clinical nurse in an inpatient setting for physical therapy school admission. During that rotation, I was working alongside other nurses. I watched as they worked tirelessly to provide the best care for their patients. I knew right then that was going to become a nurse. I applied last minute into UCO's Nursing program after graduation from Baylor. I went through the fast track nursing program at Oklahoma City University Kramer School of Nursing. I did not realize that nursing had so many specialties and opportunities. After doing more research about the profession, I never looked back," Jenna said.
To qualify for a flight nurse, more training is needed. "You must have 3-5 years of critical care experience, have BLS, ACLS, PALS, PHTLS, PHNRP, an advanced certification such as TNCC and an advanced nursing certification to include either CFRN, CCRN, or CEN. After being accepted into the new role as a flight nurse, there is a six month orientation/training process," Jenna explained. "During those six months, you have to attend and pass three regional intensives which test you on your knowledge and skill set during any quizzes and stimulations. There are four flight nurses, four flight paramedics, and four pilots at each base," Jenna added.
Jenna's flight flies out of Ada, Oklahoma, working 24 hours on, 24 hours off each week. She works in the trauma bay at the hospital during her week off. "I truly experience the best of the nursing world-in air and on the ground."
"Our service area is 75 nautical miles from the base in Ada, Oklahoma. However, we have found ourselves in many states across the Midwest and southeastern regions to include Kansas, Arkansas, Louisiana and Texas."
At the base, Air Evac Lifeteam 26 in Ada, there were seventy-four flights this past month, the most in the state of Oklahoma.
What are some of the qualities of a good flight nurse? "Compassion, hard-working, detail-oriented, empathetic, being a strong, patient advocate, an effective communicator, a leader but also a team player," Jenna said.
Asking Jenna if she had received any awards or recognitions, she replied, "I received honors for grades all through undergrad and nursing school including Cum Laude, the honor society for nurses, President's List, Dean's List, a Base Recognition Award, etc. I volunteered at Habitat for Humanity and the Humane Society."
When Jenna is not working she enjoys spending her time, running, cycling, Body Pump and CrossFit, etc. Jenna likes to travel and spend time outdoors, whether it be hiking, boating, camping, kayaking and scuba surfing. She enjoys walking Bentley, her Australian Shepherd mix. Jenna also likes to read and play the violin.
Summing up Jenna's life in three words, she replied, "Faith, adventure and ambition."
For more information visit: www.lifeteam.net.