THE PIEDMONT CLINIC
Vickie Jenkins, Staff Writer
When you enter The Piedmont Clinic, you will be greeted by a friendly staff. One of the nurses that you will see is Cassie Chapman, Clinical Nurse Specialist. Cassie is a resident of Piedmont, who has worked in health care since 1995. She is a Licensed Practical Nurse who has experience in radiologic technology, phlebotomy and direct patient care in both inpatient and outpatient settings. She joined The Piedmont Clinic in 2018 and plans to complete an LPN to NP bridge to become a provider at the practice. (story continues below)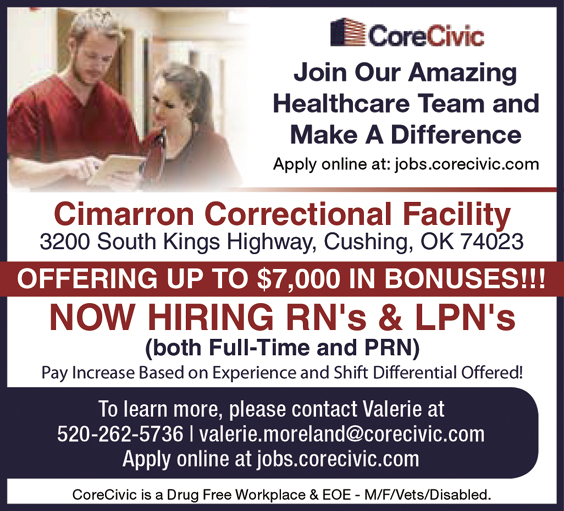 Cassie grew up in Elkhart, Kansas, a small town north of Guymon, Oklahoma. Asking Cassie what she wanted to be when she was a little girl, she replied, "I always wanted to be a cosmetologist but as I got older, I knew that I wanted to take care of people. I wanted to be a nurse. I set that as my goal and knew that someday I would reach it. I attended Seward County Community College in Liberal, Kansas and continued to reach my goal."
"My grandmother was a grandfathered in CAN/nurse on med/surge for forty plus years, my mother was a CNA, physical therapy assistant and administrative assistant to DON. At sixteen years old, I started at the hospital on the med/surge as a ward clerk, CNA. I floated to nursing homes, and clinics until 2004. As an LPN, I worked med/surge, ER until 2011 when I moved to Oklahoma City and have been in the clinic setting ever since," Cassie commented.
"The hospital was a rural hospital so as an LPN, I did most everything an RN did aside from cardiac ICU, thiamine drip and start blood. I assisted in the ER, assisting when needed, seeing burn patients, cardiac patients, all disease processes and many MVA with multiple system trauma. I am IV certified and continue to administer IV fluids in clinic settings when needed. I love working for Dr. Corman and enjoy getting to know the patients.
Asking Cassie if she had any mentors in nursing school, she replied, "As far as mentors throughout school, the nurses that were around me while working at the hospital in Kansas were my mentors and they influenced me to move forward, supporting me in my nursing career. Even though I have moved away, those nurses still support me. They taught me everything I know and I appreciate each one of them. Most of those nurses have moved on to become director of nurses in hospitals or nursing instructors. I still stay in contact with some of them."
"Here at the office, we stay busy. We see about five hundred patients a month. My day starts out as a phlebotomist. I draw anywhere from two to fifteen labs every morning in between procedures. I stay busy with working on patients medication refills, phone calls, prior authorization for medications and referrals to specialist. I will also do injections or anything that is required during an office visit if ordered by the physician and an occasional x-ray," Cassie said.
What is your biggest reward as a nurse? Cassie replied, "The biggest reward as a nurse is a patient being satisfied with the care they receive. On the other hand, the biggest challenge or disappointments has been the lack of LPN's in the hospital setting."
Cassie recently remarried in 2019. Her ex husband was killed in a car accident August of 2004. It was one day before Cassie was to take her LPN NClex. That is the reason that Cassie did not continue to the RN program the next year. That is when Cassie knew that it was the time to stay at home and raise her kids, spending time with them, giving them lots of love and attention. "As of May 2020, I decided to be a stay-at-home mom. I delivered a little girl in November. With two little boys at home, five and six years old, I decided that I would enjoy spending time with her family, She considers that precious time as her favorite hobby!
"As of May, I started taking more prerequisites to complete my nursing career. My goal is to become a Nurse Practitioner and practice in Florida. My retirement plan, "Cassie said with a smile. As Cassie continues to set goals and reach them, I am sure that someday, Cassie will be in Florida, knowing that she accomplished what she set out to do.