By Vickie Jenkins, Staff Writer
Mixing professionalisms and friendliness together you will find Carissa Burpo, CMA, phlebotomist and x-ray tech who works for Anton Dreier MD, at Total Healthcare Partners. Being a CMA for twenty-four years has given Carissa true qualities of a CMA; empathy, patience and the ability to multitask.
Anton Dreier, MD, is a family medicine specialist who finds joy in caring for patients in all stages of life from newborns to seniors. (story continues below)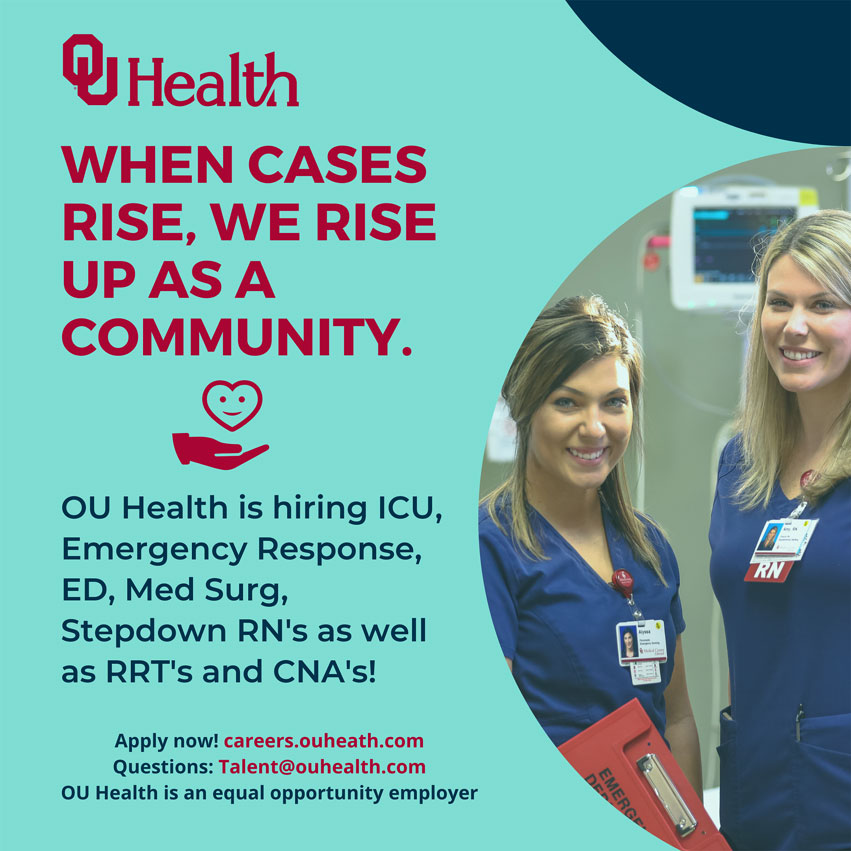 "Working for Dr. Dreier allows me to wear many hats. I triage, room patients, schedule appointments, do referrals, medication refills, give immunizations, teach self-care, assist with procedures and take x-rays," Carissa said. "I see an average of four-hundred fifty patients per month. That can vary; there is not a day that is considered typical. I am both a leader and a follower, whichever is needed more at that time."
Born and raised in Kingfisher, OK, Carissa always wanted to grow up and be a mom. "That was my number one dream," Carissa said. "Secondarily, I wanted to be a teacher or a nurse. I taught pre-school for two years and then went into healthcare. I attended AMTI and SWOSU."
Carissa had several mentors along the way. "There were so many but some of the fabulous originals were Bridget Keast, Virginia Grape, Betty McCully, to name just a few."
"My first job as a CMA was at Kingfisher Family Clinic and Kingfisher Regional Hospital. I worked in Kingfisher until two years ago when I moved to THP and now work for Dr. Anton Dreier. I love my job here and enjoy the satisfaction of helping others."
"Being a Certified Medical Assistant is a very rewarding job. The biggest reward for me is helping people and coworkers, along with watching some of my littlest patients grow up," Carissa said. "My favorite part of being a CMA is the way I love the people I work with. I am with them more than my family. They really are more than co-workers. They are some of the most amazing nurses, mothers, daughters and friends that I have ever known."
What advice would you give to someone going into the medical field? "I would tell them to embrace the changes. They are happening quick and often."
"Most people consider me an easy-going person but in my opinion, most nurses are. I think a lot of healthcare professionals try to take matters into their own hands and handle the situations themselves. We are movers and doers. As a CMA, we realize that when our patients call, they are hurt, scared or even worried about a loved one. Each situation is different and unique and we have to handle things in the appropriate way. Some patients don't know how to manage certain aspects of their health, perhaps, due to lack of prior healthcare. Not everyone is on the same level. Most diagnoses seem confusing and as a CMA, we need to make his or her condition understandable so they can make appropriate decisions. There also needs to be a certain type of tough-love where the patient has to participate for it to work. On a personal level, I try to combine my best aspects of a mom and a healthcare professional," Carissa commented.
How has the Coronavirus changed your life? Carissa replied, "It has brought new challenges daily in the form of constantly changing information as well as a completely new level of precautions for work and family life in general. Not to mention the toll it has taken. Frankly, it's exhausting."
Carissa is single, has four grown children, Austin, 29, Taylor, 27, Jordan, 25, and Lauren, 23. "I have two daughter-in-laws, Macey and Ashley, and a son-in-law, Payton. I have seven grandchildren who are my world."
When not working, Carissa enjoys spending time doing gardening but most of all, playing with all of the grandchildren. She has two shih tzus. "May become one if one of them doesn't quit chewing on the furniture, said Burpo.
Asking Carissa where she sees herself in five years, she replied, "I hope to be retired, living off of my lottery winnings – I should really buy a ticket – and playing with my seven grandchildren all day long while we travel the world. Most likely… I will be working, playing with my ten grandchildren along with working in my flowerbeds."
Summing up her life in three words, Carissa replied, "Blessed beyond Measure."
Visit: www.thpok.com for more information.