by Vickie Jenkins – Writer/Photographer
It is amazing how when we are young, we admire the people around us and what they do all day while they are at work. We want to grow up and be just like them. That is the case for Nathan Elliott, LPN. "I became a nurse because I admired the professionalism, and strength of some of the people that took care of my Granny Annie, "Nathan commented. "She was taken care of from the time I was born until I was nine when she passed away. She will always be my gold standard; she deserved the best; just like I treat my patients," he added.
"I work at the Oklahoma City Indian Clinic because I was told to do so after meeting with my supervisor outside the clinic. I had just finished school and passed the NCLEX-PN. I had no idea what I was getting myself into. She told me that she needed a strong male nurse to work with Dr. Kong, and asked me when I could start," Nathan said with a smile. "To this day, I still do not think that I had any choice in the matter and I have been here ever since," he laughed.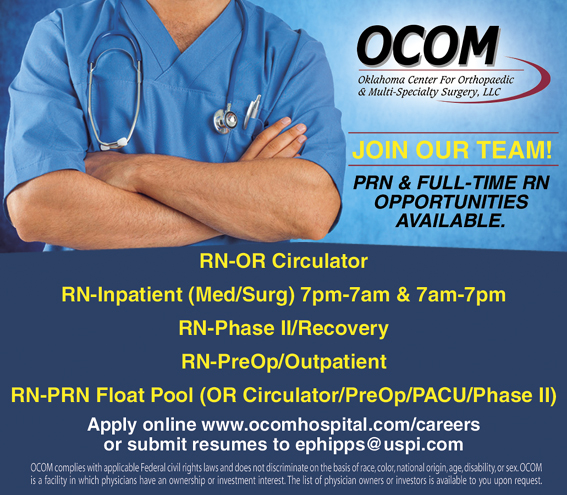 "The OCIC is a good place to work and I consider myself fortunate to have the opportunity to work at such a special place. I have worked here on several other teams and I am grateful to have worked with all of them, learning something from each of them. However, Sage Team is home, and I am glad to be back where I started, at my old desk. My teammates are truly wonderful, and I could not ask for anything more."
When it comes to leadership, Nathan knows when to take command of a situation and when to follow instructions. "Nursing is a team sport, compatibility with coworkers and different departments are both key in achieving the best possible outcome for my patients."
Nathan's biggest reward is seeing his patients' conditions improve. "My job is to be a benefit and never a hindrance. I will always strive to increase my masterly of nursing skills, so that I may benefit all my patients as much as possible," he said. Nathan's biggest challenge right now is fighting disease in its many forms, especially at this time when the coronavirus is spreading so fast.
Nathan grew up moving from Oklahoma City, Harrah, and Yukon, OK. He attended Canadian Valley Technology Center and has been a nurse for a little over two years. "My Granny Annie was a big influence on me becoming a nurse, along with my cousin, Angie Elliott who always encouraged me to be proud of my work, to take pride in giving my best effort no matter the situation, and to always believe in myself. When I was in nursing school, I was fortunate to have Mrs. Jones as one of my instructors. She always told me that I would be successful. I learned how to be strong, not only as a nurse but as a person. I still try to think about Mrs. Jones grading and charting actions and I want to meet those high standards of hers," he said.
What qualities make a good nurse? "I think a nurse needs to be safety conscious, have integrity and determination and grit. They need to be adaptable, dependable, and confident. A nurse needs to possess patience, kindness and be a mastery of nursing skills, mixing all of those qualities together. It's taking difficult tasks and seeing them through to the end. Patients are of the greatest importance and a nurse needs to always remember that," Nathan replied.
How has the Coronavirus changed your life? "I wear a lot more PPE at work. I also work at home on rotations and I keep my distance from people as much as possible. I am proud to say that I have been implementing most, if not a lot of these, extra precautions, continuing my journey in nursing. Mrs. Jones once gave me a lecture in the skills lab at CVTC about the need to keep everything clean as much as possible while I was being checked off for putting on sterile gloves. She showed me how easy it was to touch something accidentally or inadvertently and the consequences for doing such. I will never forget that lesson and I will forever strive to keep everything around me and in my workplace as clean and sterile as possible."