by Vickie Jenkins – Writer/Photographer
EXCELL's mission is to provide the highest quality of genuine care for our clients and their families. Through personalized service and coordinated assistance, Excell Home Care, Hospice and Personal Care are committed to helping individuals maintain their comfort, independence and dignity.
Excell provides exceptional, comprehensive assistance to ensure the well-being of each patient we serve. As an established, reputable and highly-diversified service provider, Excell offers a wide array of skilled nursing and rehabilitation services, hospice care, personal care, Geriatric Care Management and the ADvantage Program.
Excell's commitment to excellence, integrity, honesty, caring, compassion, attentiveness, creativity and innovation means that all of our customer's needs, both expressed and unspoken, are met with the highest level of attention. –Excell Private Care Services-
Carol Mulligan, LPN is the backup case manager supervisor at Excell Private Care Services. "I started out as a nurse's aide in a nursing home in 1990. I really enjoyed working with the elderly and I worked in several nursing facilities over the years. It was around 1995 that I found that it was hard for me to continue as a nurse due to being on my feet for eight hours a day. I still wanted to continue my career in nursing, yet I wanted to find something a little less strenuous. That is when I found out about Excell Private Care Services. I can still be a nurse and help the patients with the ADvantage program, finding them a place to live that suits them, along with a place that makes them feel comfortable and at home. There are some apartments and assisted living facilities in Oklahoma that are contracted with the state. That means that there are a certain number of rooms that might be available if they are an ADvantage member," Carol commented.
"On an average, we have about eight case managers and each one of them usually carries forty to fifty members throughout Oklahoma. I worked with elderly people for numerous years while being a nurse. Working with the ADvantage program, I feel like I am on the other side of the spectrum now; helping the people get to a place that they enjoy as much as they can without putting them in nursing homes," Carol said.
What qualities do you feel like make a good nurse? "I think one of the most important qualities to have is to be a good listener. It makes such a difference to both the nurse and the patient. Also, a nurse needs to be able to get along with others, no matter what the setting, whether it is in a hospital, home health or hospice. Teamwork always plays a big part in any job, no matter what the situation might be," Carol replied.
Asking Carol how she can relate to patients in a positive way, she replied, "I realize how some people feel a little awkward about meeting a nurse or case worker for the first time and discussing their medical issues. When I meet a patient or a family member that may have someone that qualifies for one of our programs, I try to show kindness and compassion. They are more likely to relax and open up and know that I am there to help them. They just need someone to listen to them."
Carol is married to her wonderful husband and they enjoy spending time with their three children, thirteen grandchildren and three great grandchildren. That makes for a fun time when they all get together! Adding to the fun are their four Boxers; Gus, Molly, Jojo and Bess. What motivates Carol? "My motivation comes from my family and spending time with them. They keep me going," Carol smiled.
What advice would you give to someone going into the medical field? "I would tell them to start off as a nurse's aide first. You need to go into nursing with a genuine love and compassion for it. If you don't feel that from the beginning, nursing is not the right job for you. Move forward and don't look back," she said. "You will find out that it can be the most rewarding job that you have ever had. Working for Excell has shown me how much it means to help others, getting them to their comfort place that they can call HOME. I love being a nurse, helping others and making them happy," Carol added.
Asking Carol how she would sum up her life in one word, she replied, "FULL."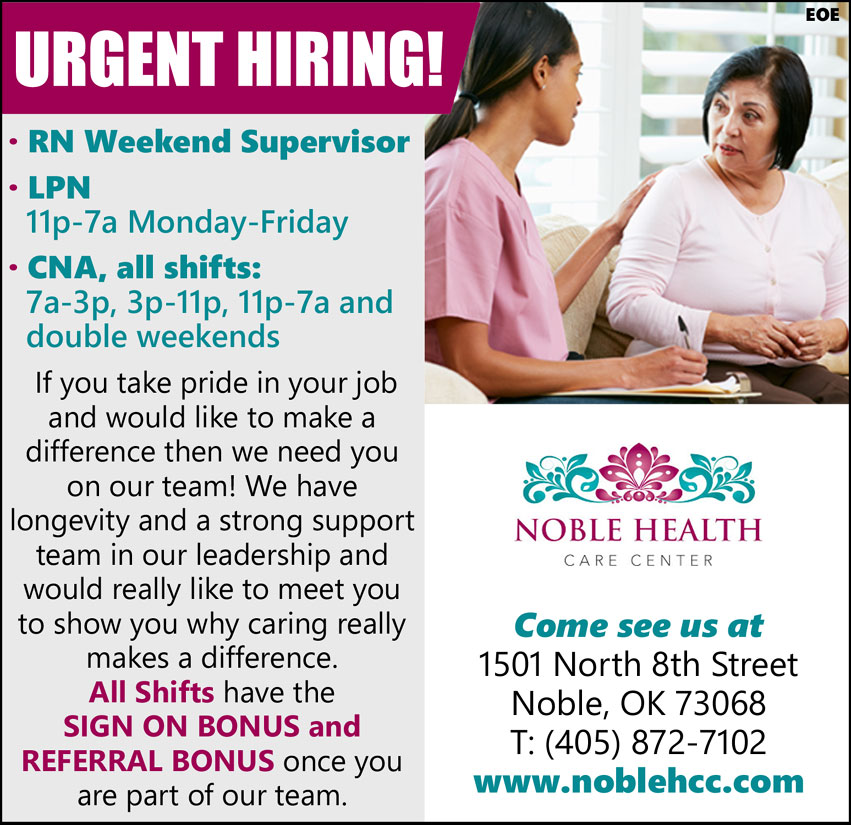 URGENT HIRING!
· RN Weekend Supervisor
· LPN 11p-7a Monday-Friday
· CNA, all shifts: 7a-3p, 3p-11p, 11p-7a and double weekends
If you take pride in your job and would like to make a difference then we need you on our team!
We have longevity and a strong support team in our leadership and would really like to meet you to show you why caring really makes a difference.
All Shifts have the SIGN ON BONUS and REFERRAL BONUS once you are part of our team.
Noble Health Care Center
Come see us at 1501 North 8th Street, Noble, OK 73068 T: (405) 872-7102
www.noblehcc.com