by Vickie Jenkins – Writer/Photographer
Located at Memorial Road and MacArthur Boulevard in Northwest Oklahoma City you will find Mercy Rehabilitation Hospital, where we provide inpatient rehabilitation services for patients recovering from strokes, brain or spinal-cord injuries, amputations, complex orthopedic injuries and other conditions. –Mercy Rehabilitation Hospital-
With a staff full of compassion, there is one particular nurse that stands out from the rest. Clara N. Omeke, RN, BSN is the charge nurse and has been a nurse for a total of twenty years, spending the last fourteen years serving at this facility.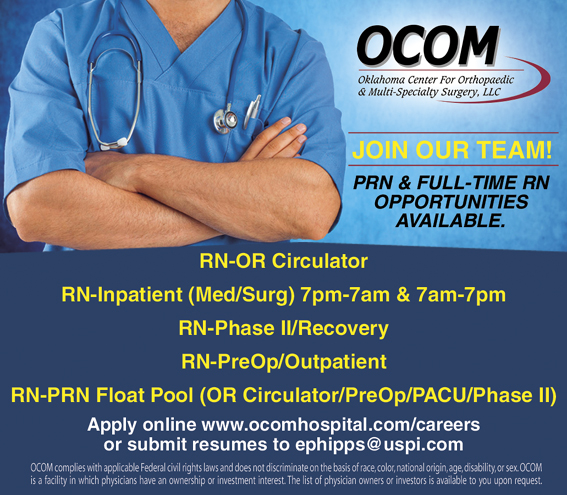 Growing up in Rivers State, Nigeria, Clara's life was different than most. With drive and determination, she knew she would be a nurse one day.
"When I was a little girl, I wanted to be a nurse or a teacher but since there was no one to train me, I didn't really think it would be possible. In Nigeria, the amount of education you can receive depends on how well off your family is. My parents died early; my father died when I was four years old, my mother when I was eight years old, and I was the youngest of seven children. I had to go from one sister's house to another, basically rotating around several different foster homes. After finishing high school, I had no idea how I would continue with my education but I trusted God to make a way. When I was nineteen, I got engaged to my husband who was living in the United States at the time. Then I lived in Nigeria with my mother- in-law for three years while waiting to get my visa so I could join my husband. I came to the United States in July 1991 and started school Oklahoma Christian College the very next fall semester. It was quite an experience adjusting due to the language barrier as I had to change from the British English I learned in school, to learning in American English. I attended Langston University, Oklahoma for my Bachelor of Science and got accepted into their Nursing program," Clara explained.
"I enjoy my job; my first job as a nurse was working as a Licensed Practical Nurse at a Long-Term," Clara said. "I dedicated my life to working as a nurse because I believe that nursing is my calling. I enjoy seeing the miracles that come with it. The reason that I enjoy working at Mercy Rehab Center is the transformation observed in patients going through or being unable to perform activities of daily living to have the a ability to perform them, " she added.
Asking Clara how she would describe herself, she replied, "I am a mother and a mentor to the younger generation. I always try to look out for others. I love sowing into people's lives and seeing the seed grow and when it blooms it brings jobs and a sense of accomplishment that tells me I was a part of their journey. I enjoy fellowshipping with people that God brings into my life. I am also a prayer warrior."
"My biggest reward as a nurse is the satisfaction that I know that I played a part in the healing process of the patients whose care I manage. It is extremely rewarding to see a person come in sick and hurting and walk out the door in a better state. Another reward is being able to minister to patients, not just physically but emotionally and spiritually it is so great, it is unimaginable," Clara commented.
What advice would you give to someone going into the medical field? "I think that nursing must be a calling. Someone must have the mindset," Clara replied.
Are you a leader or a follower? Clara replied, "I believe God has given me the ability to lead because as a leader you must learn to sacrifice so it is my calling leading and shaping the next generation."
How has the coronavirus changed your life? "It has really and completely turned things upside down. In my life, I had to get use to distance learning and the effect it has as it is extremely hard on the younger children who have never experienced not going to school. As a nurse we believe in touching and feeling and nurturing the patient. Treating the patient is harder and more heartbreaking now that the family cannot visit as that is sometimes what motivates them to continue.
Summing up her life in one word? "It would have to be, minister."