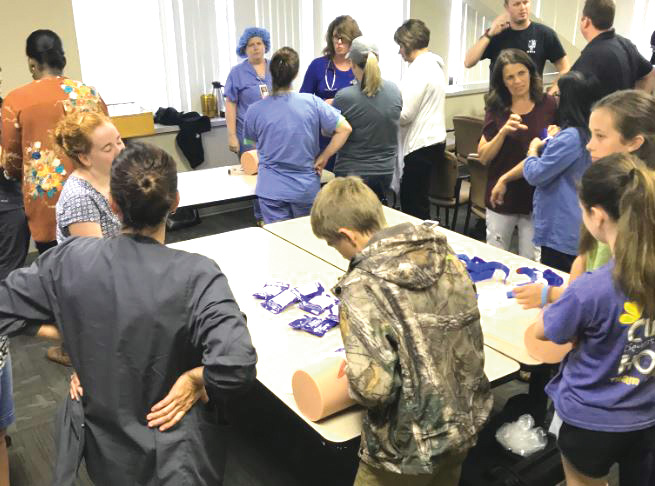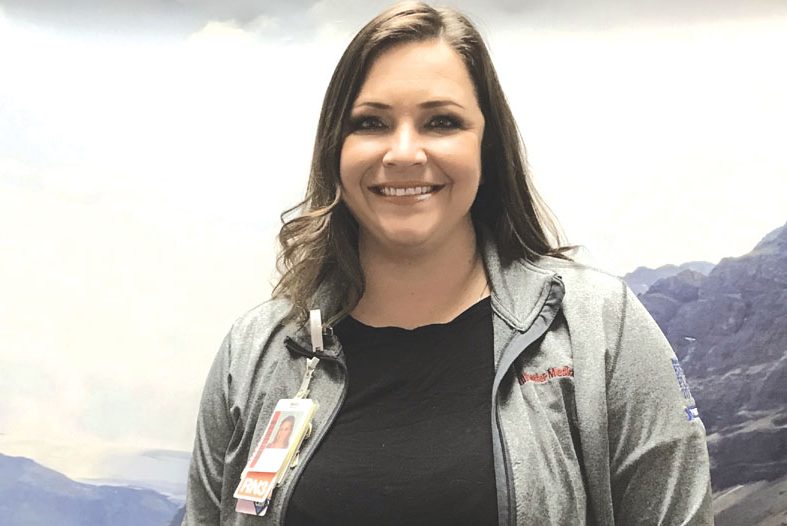 by Vickie Jenkins – Writer/Photographer
Meet Heidi Gilbert, BSN, RN, CEN, SANE at Stillwater Medical Center. As an Emergency Department Educator, along with SANE (Sexual Assault Nurse Examiner) Program Coordinator, Heidi's life stays busy doing what she loves to do, helping save lives.
I interviewed Heidi several months ago and was so impressed with what she does and what she stands for in the medical field, I wanted to share the information with every one so they can learn to save lives too. It is amazing how many lives are changed daily just by reaching out to others.
Heidi is one of the Emergency Department Educators spreading the word about the 'Stop the Bleed' or 'Bleeding Control Basics' class at Stillwater Medical Center on June 29, 2018. "Since then we have held another 35 courses with over 750 students." Heidi said. "Some of the places we have taught are, Meridian Technology Center, Wings of Hope Family Crisis Center, Oklahoma State University, Stillwater Elks Lodge, Fairfax High School, Carney Public Schools, Ponca City Oil Refinery, various churches, and several classes at Stillwater Medical Center. I also taught Bleeding Control Basics at the National Emergency Nurses Association (ENA) Conference in Pittsburgh in September. We have about 20 dedicated nurses from SMC actively teaching these courses throughout the community. The class is free and takes about an hour to an hour and a half. This matter is serious and we hold classes for all different ages. We have had students as young as seven in our class actively participate and easily apply a tourniquet," Heidi commented.
The numbers prove themselves. The current bleeding control statistics says it all. As of December 2018, there were almost 40,000 instructors in almost 90 countries and all 50 states. There are more than 500,000 people trained.
To become an instructor a nurse needs to first take a Bleeding Control Basics course. They would then register as an instructor on the bleedingcontrol.org website. Training materials for the class (Power Point, sign-in sheets, hand-outs, etc.) are free through the website. "We were fortunate to have our Stillwater Medical Center Foundation purchase 2 training kits for our campaign," Heidi said.
The Stop the Bleed program was started in April 2013, just a few months after the active shooter disaster at Sandy Hook Elementary School in Newtown, CT. The committee was formed under the leadership of trauma surgeon Lenworth M. Jacobs, Jr., MD, MPH, FACS, to create a protocol for national policy to enhance survivability from active shooter and intentional mass casualty events.
Because these meetings initiated in Hartford, CT, the Joint Committee's recommendations became known as the "Hartford Consensus." One of the recommendations of the Hartford Consensus was to turn bystanders into immediate responders at the scene of wounding before first responders arrived. This step would improve the survivability of victims with severe bleeding. As soon as the area became safe, these immediate responders could act to stop bleeding if they were properly trained in the bleeding control techniques.
That recommendation gained widespread recognition in October 2015 when Stop the Bleed, a national awareness campaign and a call to action, was launched at the White House. Stop the Bleed is intended to encourage bystanders to become trained, equipped, and empowered to help in a bleeding emergency before professional help arrives.
Today, the ACS Committee on Trauma is leading the effort to save lives by teaching the civilian population to provide vital initial response to stop uncontrolled bleeding in emergency situations. This effort is being accomplished by the development of a comprehensive and sustainable bleeding control educational and informational program targeted to civilians that will inform, educate, and empower the more than 300 million citizens of the United States.
"Studies have shown that the help given by an immediate responder can often make the difference between life and death, even before professional rescuers arrive. The Bleeding Control Basic Course provides participants with the necessary tools to become empowered immediate responders," Heidi commented.
If you are interested in finding a class, go to Find a Class search tool at BleedingControl.org and use the contact information included in each class listing to reach out to your local, approved instructors. If you don't see any classes scheduled near you now, keep checking back, new classes are added every day. You can also reach out to your local trauma care providers to see if they have an approved instructor already on staff or an eligible individual willing to register and teach the community.

Join Oklahoma's largest healthcare network.
$10,000 sign-on bonus for experienced RNs.*
Saint Francis Health System is Oklahoma's largest healthcare provider, delivering a
comprehensive range of high-quality services from more than 90 locations throughout eastern
Oklahoma. As a nurse, you can find the career opportunity you've been looking for, including
the benefits and scheduling flexibility you want, and the patient-focused environment you need
to excel in your profession.
Why now is a great time to join our team:
• $10,000 sign-on bonus and relocation assistance for experienced RNs*
• Great benefits, including paid time off, tuition assistance, medical and dental insurance, retirement plans, on-site childcare, adoption benefits and more
• We are a qualified not-for-profit organization, so you may be eligible for federal student loan forgiveness**
• With hospital campuses and Warren Clinic locations throughout eastern Oklahoma, we offer opportunities in virtually any nursing capacity
Saint Francis Health System includes:
• Saint Francis Hospital
• The Children's Hospital at Saint Francis
• Warren Clinic
• The Heart Hospital at Saint Francis
• Saint Francis Hospital South
• Laureate Psychiatric Clinic and Hospital
• Saint Francis Hospital Muskogee
• Saint Francis Hospital Vinita
• Saint Francis Cancer Center
• Saint Francis Glenpool
Explore nursing opportunities with Saint Francis Health System today.
To view our current openings, please visit saintfrancis.com/nursing.
For more information, please call 918-502-8300 or toll-free 800-888-9553.
*Applies to registered nurses in select patient units with at least two years of nursing experience. Two-year work commitment
required.
**View program details at 
studentaid.ed.gov.
EOE Protected Veterans/Disability