CAREERS IN NURSING
TURKEYS, GOATS AND PEACOCKS, OH MY!: THE TIMBERS – EDMOND
by Vickie Jenkins – Writer/Photographer
Sometimes, a single event can change your life. Perhaps, it is an unexpected health emergency such as a stroke or heart attack. When difficulties take place, the clinical staff, including their certified Physical, Occupational and Speech Therapists, are available to help you regain independence, mobility and function at your own pace.
Friendly and outgoing, Ron Holt, RN is Assistant Director of Nursing. Ron explains why he likes working at The Timbers. "I work here because I like caring for others. My mother always told me that I needed to be a nurse so I went to nursing school because she persuaded me to do it," Ron said. "I've been a nurse for twenty years now and I can't image doing anything else," he added.
Asking Ron what he favorite part of his job was, he replied, "I just love taking care of others, especially the ornery ones; the ones with a little spunk to them. I also feel like the elderly patients get neglected and I want to change that."
"Of course, the biggest challenge about my job is when I see one of the longtime residents die. I am the one that takes care of them in their last days, dealing with their families in their loss. Just being here for the families is such a big relief to them," Ron commented.
Ron was born in Oklahoma but moved to Kansas when he was five. "I attended school in Kansas and when I was out of school, I joined the Navy, where I was stationed in Holy Loch, Scotland for four years, where the Navy submarine base is. I tell you, it was the roughest sea I had ever seen. Four years was enough for me so I decided to move back to Oklahoma. This is where I'm going to stay," he said.
I asked Ron what qualities make a good nurse and he replied, "Compassion is the main quality a nurse should have; first and foremost. A nurse needs to have a lot of patience, especially taking care of the residents that have lost or are losing their memory. It can be tough sometimes, but a nurse needs to deal with it in the best way they know how. Of course, a nurse needs to have plenty of knowledge, knowing what to do in every situation."
Ron offered some advice for anyone going into the medical field; "First of all, know that being a nurse is an excellent job with so many different areas to choose from. A person should find their nitch, whether it is pediatrics or geriatrics or something else, know what you want to do with your life and stick with it. Learn as much as you can and don't be afraid to get out of your comfort zone. Being a nurse gives you a great feeling knowing that you are helping others."
Between Ron's mothers telling him he should be a nurse, it seems as though one of Ron's friends was also pushing him that direction into the medical field. "His name was Roger Schucki and he actually walked with me to the college to get enrolled. I'm not sure I would have gone that day if it wasn't for him. Roger was a nurse at that time and he was also my mentor. He helped me out in so many ways so I feel like I owe all of this to him. Roger has passed away now but I will never forget how he helped change my life," Ron commented.
Ron has several interesting hobbies. Besides the usual hobby of going to movies and hanging out with friends, he raises turkeys, goats and exotic white peacocks. "I love animals and I really like taking care of them. I live out in the country and enjoy raising them. It keeps me busy," he said with a smile. "Outside of that, I have three very large dogs too," he added.
Ron is definitely a leader when it comes to work. "I was a charge nurse previously but now I am the assistant director of nursing. I can take charge yet be gentle when it comes to the residents, even the spicy ones," he added. "My biggest asset that I contribute to my work every day is just enjoying taking care of the residents' needs and giving them a sense of well-being and helping the families deal with their loved ones," he said.
Summing up Ron's life in one word, he said, "It would have to be ADVENTUROUS."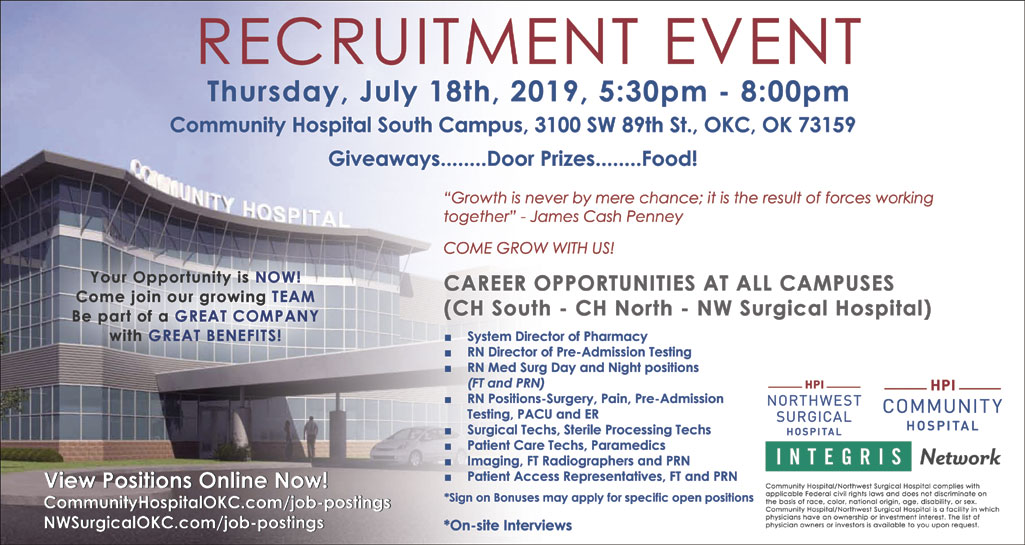 RECRUITMENT EVENT
Thursday, July 18th, 2019, 5:30pm – 8:00pm
Community Hospital South Campus, 3100 SW 89th St., OKC, OK 73159
Giveaways……..Door Prizes……..Food!
"Growth is never by mere chance; it is the result of forces working together" – James Cash Penney
COME GROW WITH US!
CAREER OPPORTUNITIES AT ALL CAMPUSES
(CH South – CH North – NW Surgical Hospital)
■ System Director of Pharmacy
■ RN Director of Pre-Admission Testing
■ RN Med Surg Day and Night positions (FT and PRN)
■ RN Positions-Surgery, Pain, Pre-Admission Testing, PACU and ER
■ Surgical Techs, Sterile Processing Techs
■ Patient Care Techs, Paramedics
■ Imaging, FT Radiographers and PRN
■ Patient Access Representatives, FT and PRN
*Sign on Bonuses may apply for specific open positions
*On-site Interviews
View Positions Online Now!
CommunityHospitalOKC.com/job-postings
NWSurgicalOKC.com/job-postings
Your Opportunity is NOW!
Come join our growing TEAM
Be part of a GREAT COMPANY
with GREAT BENEFITS!
COMMUNITY HOSPITAL
NORTHWEST SURGICAL HOSPITAL
Integris Network
Community Hospital/Northwest Surgical Hospital complies with applicable Federal civil rights laws and does not discriminate on the basis of race, color, national origin, age, disability, or sex.
Community Hospital/Northwest Surgical Hospital is a facility in which physicians have an ownership or investment interest.
The list of physician owners or investors is available to you upon request.