LABOR AND DELIVERY
Vickie Jenkins, Staff Writer
Virginia Hubble, RN, BSN can be found at the Women's Center/Integris Baptist Medical Center. Beginning a job as a nursing assistant/med technician in the medical field in 1977, her job soon turned into a career. Graduating from University of Oklahoma, Virginia received her bachelor's degree. "I initially thought I would work in the newborn area of Children's Hospital. It wasn't long after that, I was asked by the supervisor if I would consider working in Labor and Delivery. I fell in love with the mother/childcare and I have never considered anything else," Virginia commented. (story continued below)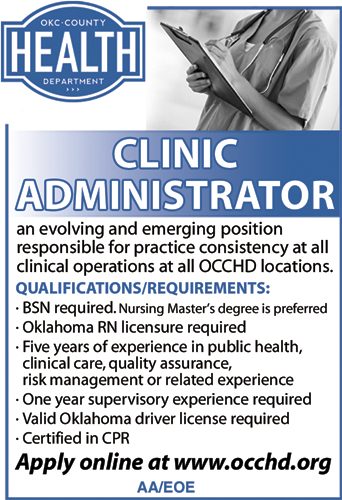 Growing up in Ponca City, OK, Virginia is the fifth child of ten children. "Being a middle child, I caught myself wanting to take care of everyone! My parents worked hard to provide for their children and they wanted to make sure all of us had an education. It was my mother that influenced me to be a nurse. My mother knew it was important for all of us to be well educated, leading us to successful careers. She always told me that I would make a good nurse. I followed her advice and feel very fortunate that I found my calling," Virginia said. "She was right!"
"Another person that had an influence on me was actually my high school choir teacher, Robert Moore. He placed challenges before us that required hard work, dedication and the desire to strive for excellence not only in performance but in every aspect of life. He made a profound impact on my belief that impossible things could be possible," Virginia said.
"My rewards as a nurse are too numerous to count. It fills my soul to attend to a young mother, giving her the reassurance that I will be by her side to aide her in bringing her new baby into the world. I love being present to witness the love between two people blossom instantaneously once the child arrives. I feel so honored to be a part of one of the most important days a of a women's life," Virginia commented.
Virginia explained how there are also challenges that appear everyday. "I always enter the hospital with a silent prayer to protect my patients and coworkers, to guide our minds, hands and heart to make the best decisions and provide the very best care to others. I also hold close the relationships I have with the physicians, scrub techs, unit coordinators, housekeepers and other staff members. I have spent a lot of time with them and consider each one as family."
"Some people desire to have an administrative position but my desire is the bedside of the patient." Virginia said that she was overwhelmed to be given the award from the March of Dimes this year, receiving the highest honor; The Lifetime Achievement award, given to her by her church the year of the OKC bombing. "How strange to have received two awards in two momentous times," Virginia said. "There are countless nurses, women and men, who go to work each day and display exemplary attitudes, compassion and care to others. To be selected as one of them is truly an honor." she added.
When Virginia is not working at the hospital, she enjoys spending time with her husband, Dennis, of forty two years. They have three sons and two daughters, two daughter-in-laws, one grandson, and another grandbaby expected April 2021.
My life as a nurse? "I am a leader. I have had the privilege of training many nurses over the years and have been excited to see these woman excel in the nursing profession. It is fulfilling to see young nurses develop their skills and critical thinking to provide excellent care to their patients. I feel like it is also important to promote a good morale in the workforce so I enjoy the camaraderie we share amongst ourselves in having fun at work an outside of work." Virginia stated. "I am also a follower at times when I may not agree with things related to change but I know I must give change a try before I make comments or suggestions for a more efficient or practical application. Nursing is not something one can do without care. Just as a master craftsman hones his skills, a nurse also works over time to master her/his skills to truly develop an art of nursing." Virginia added.
To sum up Virginia's life in three words? " Family, faith and friendship," Virginia replied.