by Bobby Anderson, RN, Staff Writer
Roxanne Melot, RN, CCDS, has been away from the bedside for a few years but she's still having a daily impact on patients in the Integris system.
"The patient doesn't even know we exist," Melot says of her role as a clinical documentation integrity specialist. "We're kind of in the background."
On any given day, Melot works 12-14 patient accounts. She doesn't usually wear scrubs but that doesn't mean she isn't digging deep into a patient's stay, making sure they're moving on towards positive outcomes.
This week is Clinical Documentation Integrity week honoring those nurses and other clinical professionals who make sure a patient's medical record tells the whole story.
"I speak with nurses all the time and tell them their documentation does matter," Melot says. "I always remind them if you didn't document it it's almost like you didn't do it. We use not only the physician's documentation but the nursing documentation to be able to paint an accurate picture from beginning to end."
CDI specialists review patient records and assess whether all conditions and treatments are documented. This documentation helps paint an accurate picture of the severity of a patient's illnesses and the extent of the care required.
When the documentation is unclear or deficient, CDI specialists prompt – or query – physicians to provide clarification. CDI specialists serve as the bridge between the health information management and clinical staff. They must comply with Medicare and/or private payer rules and regulations.
Specialists include a variety of licensed healthcare providers across multiple disciplines. The most important trait of a CDI specialists is clinical knowledge since they decipher complex medical records and need to be able to recognize treatments and diagnoses that may not be clearly documented. They also need to be comfortable educating busy physicians on documentation requirements.
The majority of specialists are RNs, but also include coding professionals, physicians and quality improvement staff.
The growth of the CDI specialist profession has mirrored the healthcare industry's increased focus on compliance with regulations, managed care profiles, payment for services rendered, quality of care improvement measurements and liability exposure.
All these factors increasingly depend on the integrity of complete and specific documentation in the medical record.
Melot has been a nurse since 2004, starting as an LPN then getting her RN in 2009.
Coming out of school Melot worked as a staff nurse in an ortho/neuro setting at Integris Baptist.
"I loved the work I was doing," she said. "I've worked in a lot of fields as well but I pretty much decided to transition to the role I'm in now just because it was something different, an opportunity to learn.
"And I felt it was an opportunity to take care of a patient in a different way than the bedside."
The flexibility her new job provided was also appealing. Instead of working a 12-13-hour shift she was able to work Mondays through Fridays with no holidays.
"You're still utilizing your nursing skills because you have to be able to review a medical record and decipher what the physician is saying," Melot said. "You're still reviewing lab results and interpret what the doctor is thinking."
Melot feels like her knowledge base grows daily. And the impact she has on patient outcomes has increased exponentially.
"Definitely," she said. "Even though the patients don't see us per se we impact their care just because sometimes the physician will be assessing the patient with the nurse every day and documenting certain things. I feel like we are helping the doctor really show how sick they are.
"Sometimes an insurance company may not understand why a patient needs a certain procedure or they may try to deny a patient from receiving a certain medication. As a clinical documentation specialist you may see something a doctor documents and you basically query the physician … but they not saying the diagnosis.
"I feel like you're helping the physician just to make his or her documentation become more clear and concise."
With the ever-changing healthcare landscape and reimbursement models, CDI specialists are increasingly seen as a key solution in meeting regulatory policy changes.
Working on revising coding templates to tie them to evidence-based medicine and shoring up intake documentation helps hospitals stay in line with coding guidelines as well as quality measures.
That results in fewer rejections and documentation already in place for the appeals process.
Simply for Melot, it means she's able to tell the patient's whole story from admission to discharge.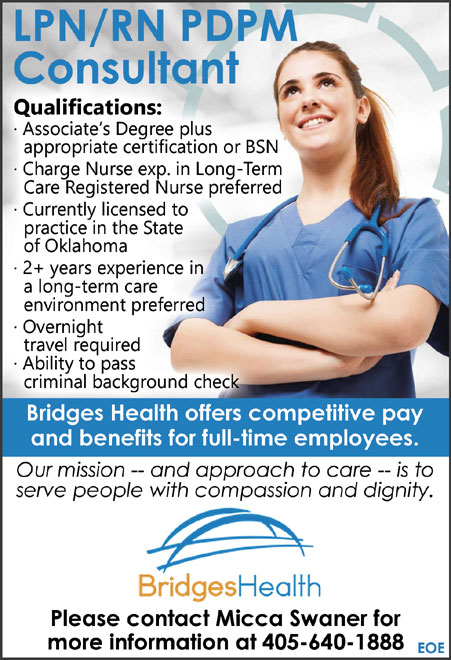 LPN/RN PDPM Consultant
Qualifications: · Associate's Degree plus appropriate certification or BSN · Charge Nurse exp. in Long-Term Care Registered Nurse preferred · Currently licensed to practice in the State of Oklahoma · 2+ years experience in a long-term care environment preferred
· Overnight travel required · Ability to pass criminal background check
Bridges Health offers competitive pay and benefits for full-time employees.
Our mission — and approach to care — is to serve people with compassion and dignity.
Please contact Micca Swaner for more information at 405-640-1888
EOE