On Thursday, the Oklahoma Medical Research Foundation honored Congressman Tom Cole (R-OK) with its inaugural Multiple Sclerosis Advocate Award.
Cole received the award for his role in championing biomedical research on MS and other diseases. The ceremony took place at the Oklahoma City Golf and Country Club, during a dinner that also raised more than $270,000 for research and patient care at OMRF's Multiple Sclerosis Center of Excellence.
During his nine terms in the U.S. House of Representatives, Cole has advocated for biomedical research on the national level. Cole is the former Chairman and current Ranking Member of the House Appropriations Subcommittee on Labor, Health and Human Services, Education, and Related Agencies. Under his leadership, the National Institutes of Health's budget has grown almost $8 billion since 2014.
"Congressman Cole has used his considerable influence to benefit those suffering from disease," said Chickasaw Nation Governor Bill Anoatubby, who serves on OMRF's board and presented the award to Cole. "Multiple sclerosis is one of many diseases that impacts the lives of Oklahomans, and Tom understands their struggle. It fuels his passion for funding research that ultimately will make a difference for countless Americans."
MS causes vision problems, tremors, paralysis, painful spasms, imbalance and cognitive changes. At OMRF, more than 3,000 MS patients receive treatment from clinicians, who also team with laboratory researchers in an effort to develop new treatment options.
"Everyone has family members and loved ones who are affected by some form of disease," said Cole. "Regardless of your politics, funding for biomedical and disease research is always a worthy cause. As I serve in Congress, I will continue fighting to sustain and increase the gains that we have made, so centers of research excellence like OMRF can continue to pursue groundbreaking research to find more cures and treatments that benefit all of society."
Those efforts, said OMRF President Stephen Prescott, M.D., have indeed made a difference.
"Congressman Cole prioritized research funding and has been responsible for historic increases," said Prescott. "Because of his leadership, we're now seeing new and meaningful discoveries that will change—and save—lives."
The Chickasaw Nation served as the lead sponsor of the event, which also received support from Nancy Ellis, Lou and Jim Morris, Susan and Louis Dakil, the Clyde Evans Trust, and the Scaramucci Foundation.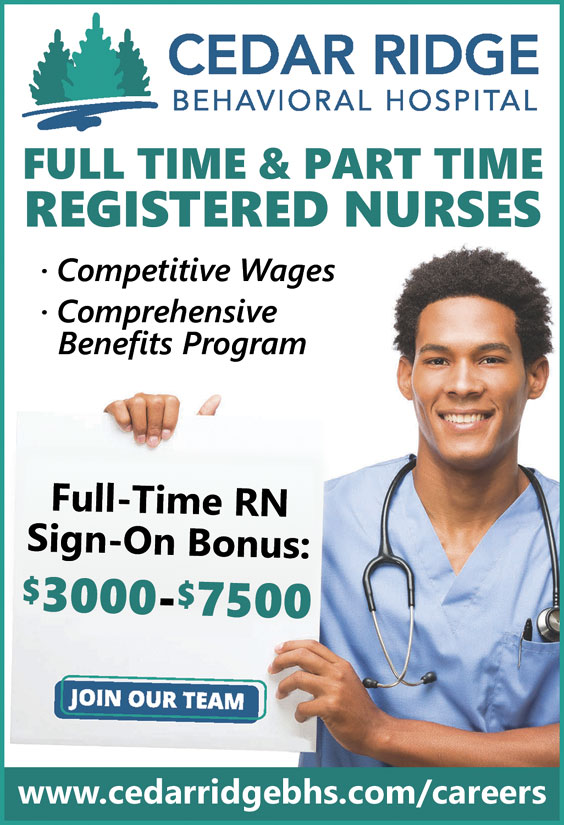 Cedar Ridge Behavioral Hospital

FULL TIME & PART TIME REGISTERED NURSES
· Competitive Wages
· Comprehensive Benefits Program
Full-Time RN Sign-On Bonus: $3000-$7500 
JOIN OUR TEAM