by Vickie Jenkins, Staff Writer
Grace Living Center, located in El Reno, OK is a long term care facility that is a very special place to eighty-one residents and thirty nurses. These residents are cared for with the utmost dignity. One particular person working here is Christie Fontenot, LPN who is also the Chisholm Trail charge nurse and has been for the last four years. Christie has been a nurse for a total of twenty-seven years, working in different areas of several hospitals; "I have worked in the ER, Dialysis, Rehab, Ambulance Service and Home Health. Here at Grace Living Center is by far my favorite job that I have ever had. I enjoy getting to know the residents and their families and hearing all about their career and their lives. We have had all sorts of people here; housewives, nurses and business executives just to name a few. Why, we even had an astronaut here at one time! We have had some very interesting people," Christie commented.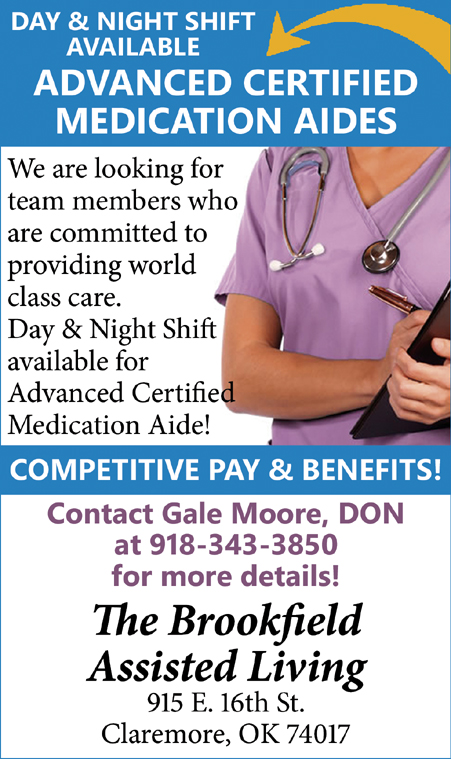 Christie became interested in nursing when her mom worked in the medical field. "My mom worked in respiratory therapy in a small hospital and I got to go to work with her every once in a while. She also worked as a nurse on an ambulance. I loved hearing all of the stories from my mom. Being around all of the nurses that she worked with was always so interesting to me. I learned at an early age how loved and respected nurses were. As I got older, I knew that I wanted to go to nursing school but there was a problem that was holding me back; I didn't know how to read a thermometer! As silly as it sounded, I knew it would keep me from becoming a nurse. My mom was very understanding and she actually taught me how to read a thermometer. If I could read a thermometer, I knew I could become a nurse," she said with a laugh.
Born and raised in a small town in Caddo County, OK, Christie went to school at Caddo-Kiowa Vo-Tech at Fort Cobb. "This is really going to tell my age but I believe the year that I graduated was the last year that we had class lectures instead of the self-paced and it was also the last year that the test was taken on paper and we had to wait six weeks before we knew if we had passed. It was nice to know that one hundred percent of the class passed. Between my mom and a wonderful nurse that worked for the doctor that delivered my babies, they both had a big influence on me and my life. This nurse was the sweetest, kindest, nurse that I had ever met. That was thirty years ago and I still think of her often and the impact that she had on my life," Christie said. "One of my mentors in nursing school was one of my instructors, Becky McBride. I actually would babysit her boys when I was in high school and she was always telling me, you should be a nurse. Apparently, she influenced me too."
All of the nurses at Grace Living Center have special qualities about themselves; compassion, empathy and respect. "We all love the residents here and we are like one big family," Christie said. "The biggest reward that I receive from being a nurse is making lasting friendships with residents and their families. Of course, the biggest challenge right now is the Covid-19 virus and not being able to allow the residents to have visitors. Our main focus is making sure the residents are safe from the virus," she added.
"The residents here have activities to keep them busy, allowing them to have a lot of fun. We even have burger day here for the residents and their families to go along with El Reno's annual burger festival. It's outside, and there is a dance floor, games and petting zoo along with grilled hot dogs and hamburgers for everyone," Christie stated.
Currently, Christie and her husband, Benji live in Hinton, OK and enjoy spending time with their five children and their two grandchildren. They live on a lot of land where they have some cattle, quite a few horses and numerous dogs. They recently started raising mini Australian Shepherds.
What one word would you use to sum up your life? I asked Christie. "I would say the word would definitely be blessed.