Story by Darl Devault, Feature Writer
COVID-19 patients without serious symptoms requiring hospitalization and high flow oxygen or mechanical ventilation may receive Eli Lilly's bamlanivimab and Regeneron's casirivimab / imdevimab COVID-19 infusion therapies at the Oklahoma COVID Care Center in Edmond. Patients should be infused within 10 days of onset of any symptoms.
The single intravenous (IV) infusion therapy is U.S. Food and Administration authorized for the treatment of mild to moderate coronavirus disease 2019 (COVID-19). The FDA Emergency Use Authorization (EUA) was issued to Regeneron Pharmaceuticals Inc. November. 21, 2020 (story continues below)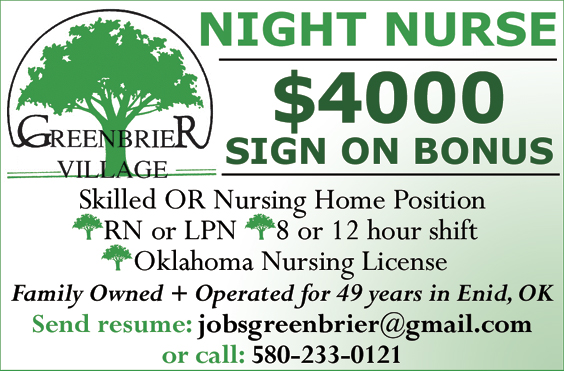 A member of the American Association of Nurse Practitioners, Kara De La Pena, who owns an Edmond based urgent care mobile practice, is advising COVID-19 patients over the age of 65 to take advantage of this life-saving infusion. With 15 years of experience in healthcare and recently treating COVID-19 patients in the outpatient setting, De La Pena says "I have seen many people, including close family members, almost lose their life to this disease. These infusions, also termed "BAM" infusions, along with mass vaccinations for COVID-19, will hopefully end this pandemic."
This infusion treatment is for mild to moderate COVID-19 positive testing adults and pediatric patients (12 years of age or older weighing at least 88 pounds) who are at high risk for progressing to severe COVID-19. This includes those who are 65 years of age or older or who have certain chronic medical conditions.
This is the same therapy first described in the media as a Regeneron cocktail when given to former President Donald Trump in early October under an emergency, single-person authorization. Infectious diseases expert Anthony Fauci, M.D., has said of Regeneron's experimental antibody cocktail: "There is a reasonably good chance in fact it made (President Donald Trump) much better."
These two therapies infuse monoclonal antibodies (mAbs) intended to directly neutralize the COVID-19 virus and prevent progression of the disease.
"The FDA Authorizes these monoclonal antibody therapies that may help outpatients avoid hospitalization and alleviate the burden on our health care system," said FDA Commissioner Stephen M. Hahn, M.D. "As part of our Coronavirus Treatment Acceleration Program, the FDA uses every possible pathway to make new treatments available to patients as quickly as possible while continuing to study the safety and effectiveness of these treatments."
High risk is defined as COVID-19 testing patients who meet at least one of the following criteria:
* Have a body mass index (BMI) over 35.
* Have chronic kidney disease.
* Have diabetes.
* Have immunosuppressive disease.
* Are currently receiving immunosuppressive treatment.
* Are over 65 years of age.
* Are over 55 years of age AND have:
* cardiovascular disease, OR * hypertension, OR * chronic obstructive pulmonary disorder/other chronic respiratory disease
* Are 12-17 years of age AND have: * BMI over 85th percentile for their age and gender based on CDC growth charts, OR * sickle cell disease, OR * congenital or acquired heart disease, OR * neurodevelopmental disorders, OR * medical-related technological dependence, OR * asthma, reactive airway, or other chronic respiratory disease that requires daily medication for control
For more info call 405-726-9859 to speak to an infusion coordinator or visit www.okcovidcare.com
The scheduling team coordinates convenient infusion appointment times.
Please note hydrating 2-3 days before a scheduled infusion appointment is encouraged to aid with the infusion treatment.
Patients begin their infusion day by completing a one-page health assessment so infusion nurses can identify current medications and recent health events. The nurses take patient vital signs and review overall health condition. Patients should make the infusion team aware of any recent surgery, scheduled surgery, or infections, as this could interfere with that day's scheduled treatment.
Once all assessments and reviews are completed, the infusion nurse inserts a small IV needle into the hand or arm. Depending on the medication therapy selected for treatment, infusion times will vary from 30 minutes to six hours; however, most medications are administered in two hours or less.
Every patient is closely monitored from start to finish. Most patients feel normal after their infusion and can resume their daily activities, while others experience acute fatigue. The Oklahoma Covid Care Center strongly encourages patients to consider having transportation available to them.
In a clinical trial of patients with COVID-19, casirivimab and imdevimab, administered together, were shown to reduce COVID-19-related hospitalization or emergency room visits in patients at high risk for disease progression within 28 days after treatment when compared to placebo.
Monoclonal antibodies are laboratory-made proteins that mimic the immune system's ability to fight off harmful pathogens such as viruses. Casirivimab and imdevimab are monoclonal antibodies specifically directed against the spike protein of SARS-CoV-2, designed to block the virus' attachment and entry into human cells.
"The emergency authorization of these monoclonal antibodies administered together offers health care providers another tool in combating the pandemic," said Patrizia Cavazzoni, M.D., acting director of the FDA's Center for Drug Evaluation and Research.
The issuance of an EUA is different than FDA approval. In determining whether to issue an EUA, the FDA evaluates the totality of available scientific evidence and carefully balances any known or potential risks with any known or potential benefits of the product for use during an emergency.
When used to treat COVID-19 for the authorized population, the known and potential benefits of these antibodies outweigh the known and potential risks. There are no adequate, approved and available alternative treatments for the authorized population.
"I get emotional thinking about these infusions. I am overjoyed we have a tool in helping prevent COVID-19 from replicating and causing more harm in the body. I wish we had this tool sooner to help save some of the 400,000 Americans we have lost already, 3,293 of those being Oklahomans," De La Pena said.
As an advanced practice registered nurse her certifications in advanced cardiac life support, basic life support, and pediatric advanced life support allow her to fully evaluate her senior patient's situations. She has been nursing COVID-19 outpatients since the beginning of the pandemic as the owner of NP 2 Go.
"Many people qualify for the infusion." De La Pena said. "If they have questions, they may call the center to confirm their qualification. There is another infusion clinic at St. Mary's Regional Hospital in Enid (patients just need a referral from their provider). Oklahoma ER and Hospital in Edmond expects to add the infusion services soon."
Fact sheets about using casirivimab and imdevimab administered together in treating COVID-19 are available to patients. These fact sheets include dosing instructions, potential side effects and drug interactions. Possible side effects include anaphylaxis and infusion-related reactions, fever, chills, hives, itching and flushing.