My Thoughts: Oklahoma needs more registered nurses with bachelor's degrees, not fewer
by Shelly Wells, Ph.D., chairwoman of the Northwestern Oklahoma State University Division of Nursing
The recent Governor's STEM Education Conference brought to light the plight of the state's higher education financial crisis. Among other things, it has been suggested that registered nurses could be adequately prepared through the state's associate degree programs. While there are opportunities for improvement, care must be taken not to cut the throat of Oklahoma's already bleeding health care system.
The largest sector of the health care workforce is made up of registered nurses, and there is a pronounced shortage of registered nurses on the health care team in Oklahoma.
The health of Oklahomans is directly impacted by the lack of highly educated registered nurses. The complexity and technological advances in health care call for a well-educated nurse workforce.
The 2018 Commonwealth Fund Score Card on Health System Performance ranks Oklahoma at No. 50 on overall health performance with the 30-day hospital mortality rate and mortality amenable to health care being two of the indicators that worsened from previous years' rankings.
Published February 4, 2019. Go to www.oknursingtimes.com and click download latest issues / February-04-2019-issue-r to read OR VISIT OUR FACEBOOK PAGE.
LOUISA SAYS: Whether you're an ADN or BSN doesn't matter when you sit down to take the NCLEX!! Back when I decided to go to nursing school a major play in my decision was their percentage rate on their students passing the NCLEX the first time. Guess what? The program I chose was an ADN. They beat all the BSN programs in their area.
AMY SAYS: OKlahoma nurses are lowest paid ranking 48 of 50 states.
SHAY SAYS: There is only one hospital that pays a difference from ADN to BSN and that's the VA. I went to Oklahoma panhandle state university and they have tuition waivers. Please look into them. The tuition waivers are for RNs who graduated from a Oklahoma Community college, there is a list of schools. It's called the BSN Connection Scholarship. I just graduated in Dec.
DEBBIE SAYS: Retired after 45 yrs at the bedside, big deciding factor was the 12 hr shift requirement, even the youngsters are exhausted, can you imagine what the future will bring? All I see now is cranky nurses these days, that wasn't the case years ago
ASHLEY SAYS: What's the difference in pay for a RN A.D.N. and a RN B.S.N.? What's the cost for a BSN verse ADN? There you have it. Pay up. Oklahoma needs to PAY their healthcare professionals what they're worth. I'm not saying there aren't A.D.N. RN's out there just as wonderful as BSN R.N.'s, but seriously, if you want the cream of the crop, and if you think BSN is just that, then pay up! Give an incentive for that extra time in school and extra debt.
JONATHAN SAYS: Mickie, I'm an ADN RN, and I've seen some crappy BSN RN's and some LPN's that work circles around them and are better nurses. I know I eventually want to get my BSN just to say I got it, but I don't see the point as no one will get a pay raise anyway. RN's and LPN's and CNA's are underpaid as it is.
To read more, visit our facebook page at: https://www.facebook.com/oklahomas.nursingtimes/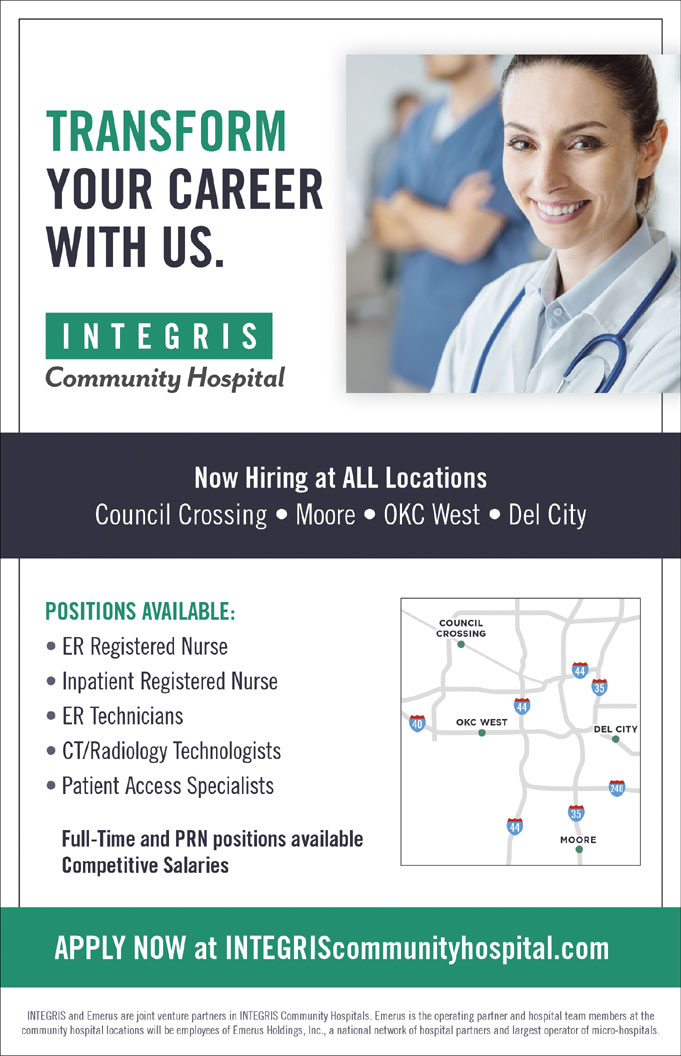 TRANSFORM YOUR CAREER WITH US.
INTEGRIS Community Hospitals
Now Hiring at ALL Locations
Council Crossing • Moore • OKC West • Del City
POSITIONS AVAILABLE:
• ER Registered Nurse
• Inpatient Registered Nurse
• ER Technicians
• CT/Radiology Technologists
• Patient Access Specialists
Full-Time and PRN positions available
Competitive Salaries
APPLY NOW at INTEGRIScommunityhospital.com
INTEGRIS and Emerus are joint venture partners in INTEGRIS Community Hospitals. Emerus is the operating partner and hospital team members at the community hospital locations will be employees of Emerus Holdings, Inc., a national network of hospital partners and largest operator of micro-hospitals.