Annual faculty lip sync battle helps fill UCO Student Nursing Association coffers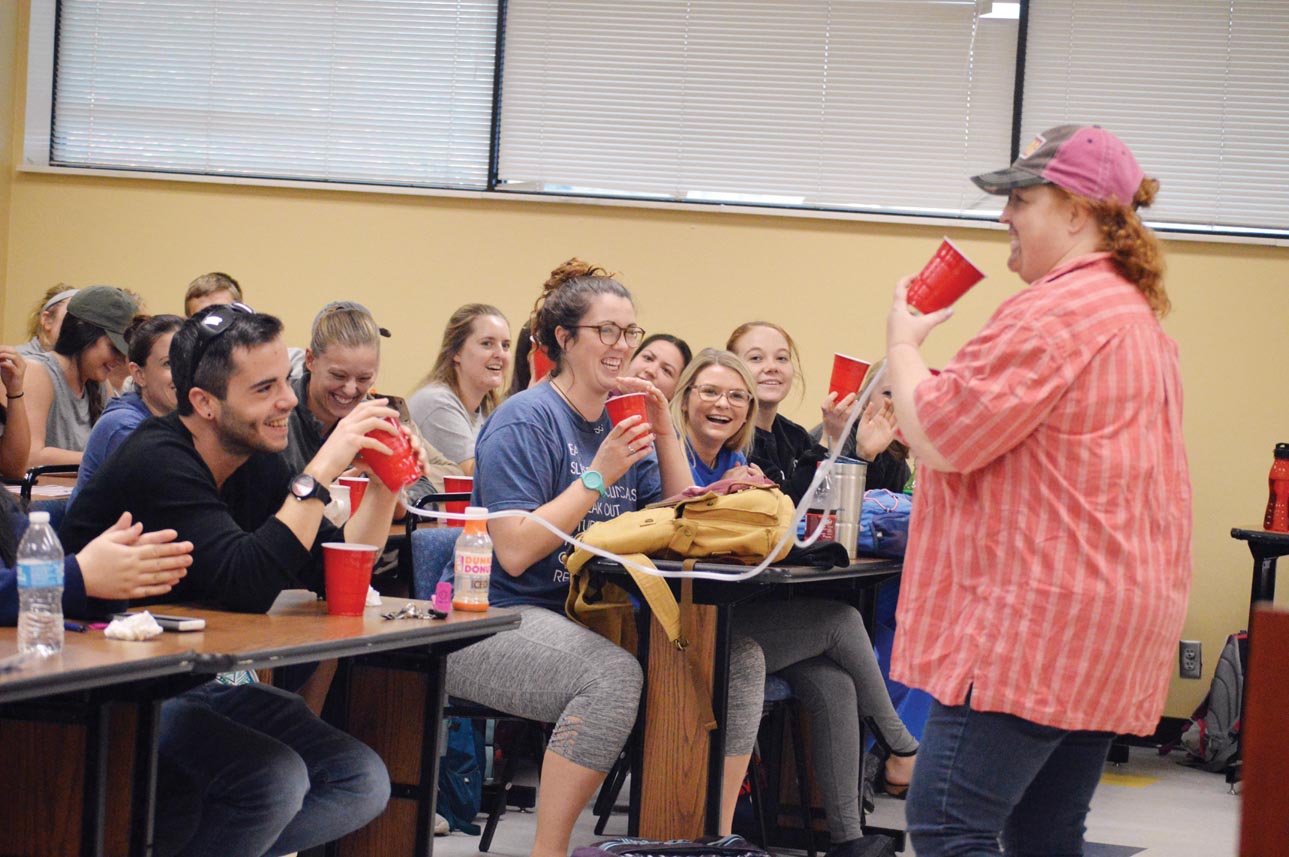 story and photos by Traci Chapman, Staff Writer
While University of Central Oklahoma's Student Nursing Association takes its work seriously, its annual lip sync battle fundraiser is anything but.
"It's always a lot of fun – it's a great way to raise funds, while having a great time and seeing another side to our professors," said Alex Hughes, SNA special events coordinator.
Funds raised go toward the nursing school's senior celebration and pinning ceremony, Hughes said. The $150 to $200 raised annually by the event – now in its fourth year – goes a long way toward making sure those special activities go on without a hitch, he said.
"For pinning, we do a special second graduation after the main graduation on campus strictly for the nursing program, where the graduating class is presented awards and receive their pins," he said.
All lip sync battle participants are faculty members, and this year six of them went head-to-head to give it their best. Participants this year were professor Dr. Nancy Dentlinger Ed.D RN; instructor Jodi Elderton, MSN, RN; clinical instructor for foundations and maternal-child Christina Pickle; Angela Willis, MS, RN, career advancement coordinator and instructor; assistant professor Dr. Stefani Legrande Ed.D; and instructor Kathy Smith, MSN, RN. Instructors got into the program as much as their audience, which packed the room in which it was held until it was standing room only. Pickle was the big winner of the year – but Hughes said students were always the big winners, because the competition not only cuts the stresses found near the end of each semester, but also gives them a glimpse into the other side of professionals who are helping them fulfill their dreams.
"This is one of our funniest fundraising events we do every year," Hughes said. It is also our last meeting for the year, which means we hand over responsibilities during this meeting from our senior officers to our next group of officers."
Officers and SNA Student Leadership Council member roles are very specific and include a president, president-elect, secretary and treasurer; leadership council roles include class liaison and special event, fundraising and philanthropies coordinators.
UCO's Student Nursing Association is very active and dedicated to promoting nursing students, official said. It is open for membership to all nursing majors; that membership is required for anyone admitted to the nursing program's upper division.
The group holds monthly meetings on campus, as well as special events like the faculty lip sync contest.
UCO's SNA is affiliated with both the Oklahoma and national Student Nurses' Associations, officials said. The National Student Nurses' Association has more than 45,000 members across all 50 states, as well as the District of Columbia, Guam, Puerto Rico and the U.S. Virgin Islands.
More information about UCO's Student Nursing Association can be found on the university's website at https://sites.uco.edu/cms/nursing/Current_Nursing_Students/student_organizations.asp or by searching for "UCO SNA" on Facebook.
"It's a great organization with a lot of people who care about nursing and who like to work together to make the school, and the nursing program, better for everyone," Hughes said.