By Valerie Pautsch, OU Medicine
It was 1981, and Betty Lausen, having raised a family, found herself with an "empty nest" and a little time and energy to spare. So when a friend began a persistent recruitment effort urging Lausen to join the volunteer auxiliary at OU Medical Center Edmond, she finally said yes.
"She literally begged me to sign up," Lausen said.
Just a month later, the persistent recruiter-friend quit the auxiliary. Nearly 37 years later, Lausen, 88, continues to help patients and their families, and loves the adventure she finds in every day.
In recognition of last week's National Volunteer Week, the staff of OU Medical Center Edmond thanks all their dedicated volunteers who are an important part of the team that keeps the hospital running smoothly.
Lausen's fellow volunteer-adventurer, Nina Ingram, 93, has been with the auxiliary for more than 30 years. Ingram, a former secretary, came to the auxiliary after her husband retired and became an avid golfer. Her vision of the "Golden years" didn't include hours spent daily on the golf course. The prospect of volunteering at the hospital gained new appeal, enhanced by the fact that Ingram had friends already active in the auxiliary.
"The gift shop had a spot for a volunteer, but the front reception desk was more what I had in mind," Ingram said.
Leslie Buford, assistant vice president of operations for OU Medical Center Edmond, said the contributions made by volunteers may not be great in terms of labor, but they are nonetheless significant. "Front desk volunteers help direct traffic and provide discharge assistance," she said. "They may courier lab samples and other items between various hospital departments. Small things, like assembling welcome kits and delivering newspapers and magazines, make a positive difference for patients and their families. It is not always about the particular task or errand being done. It's always about the kindness and encouragement offered in circumstances that can be challenging."
Why OU Medical Center Edmond? The answer is simple and transparent: at the time, it was the only hospital in town, and being close to home made it a good fit. Both Lausen and Ingram come to the hospital each week, typically working a four-hour shift.
"We love to meet people, and the social connection is very important. But we also try to help people with their problems," said Ingram.
The two friends say the volunteer auxiliary has opened the door to many lasting friendships. Both women, now widows, value those relationships as well as the opportunities they have to serve others.
"Our families haven't grown smaller – they are bigger now," Lausen said, citing their connection to hospital employees as well as friends in the auxiliary.
The facility is a hub of activity for Ingram and Lausen. Nearly every week, Lausen's son, daughter and grandson arrive at the end of her shift to enjoy lunch together. They look forward to these weekly gatherings that have become something of a tradition.
In addition to their dedicated volunteerism, Lausen and Ingram are regular participants at the hospital's Senior Class events, a series of monthly lunch and learns where topics of particular interest to older adults are presented. Both are active members in Senior Connection, an organization that provides a range of social opportunities. Lausen teaches line dancing at the Senior Center and previously taught tap dancing as well.
The close friendship Lausen and Ingram share today took root, grew and blossomed in the heart of the auxiliary community, and has included many adventures through the years. It all started, they say, when Lausen expressed a desire to visit her daughter, then stationed in Germany. She was hesitant to go alone, and although practically strangers to each other at the time, Ingram offered to accompany Lausen on the trip. Lausen still remembers the unspoken thought, "Gee…I hope this goes well. I'll be stuck with this lady for a month!" A lasting bond was forged during those in-flight hours.
Remembering another adventure, the pair collapsed into giggles, recounting their visit to Amsterdam's "red light" district. As traveling companions, Lausen and Ingram have taken to the road, often in Ingram's full-size RV, from the west coast to Las Vegas, to wintering in south Texas. Just last year, they ended a 15-year tradition volunteering together at the annual Guthrie Bluegrass Festival.
"We had a great time setting up the RV for a weekend of bluegrass and fun," Ingram said.
Each woman's husband received care at the hospital prior to their deaths, strengthening their sense of connection. Lausen was actually working her volunteer shift the day her husband was brought to the emergency department. She remembers the kindness shown to her by the staff and how much it meant in those difficult hours.
"Volunteer support is crucial to the caring mission of OU Medical Center Edmond and the volunteer auxiliary welcomes more enthusiastic participants like Betty and Nina," Buford said. "We need many more men, women and young people, 18 and older, who are willing to share a little time with others. While volunteers are not compensated financially for their work, the rewards are priceless."
For information about volunteer opportunities at OU Medical Center Edmond, contact Leslie Buford, assistant vice president of operations, at 405-359-5580 (office) or 405-834-3111 (cell).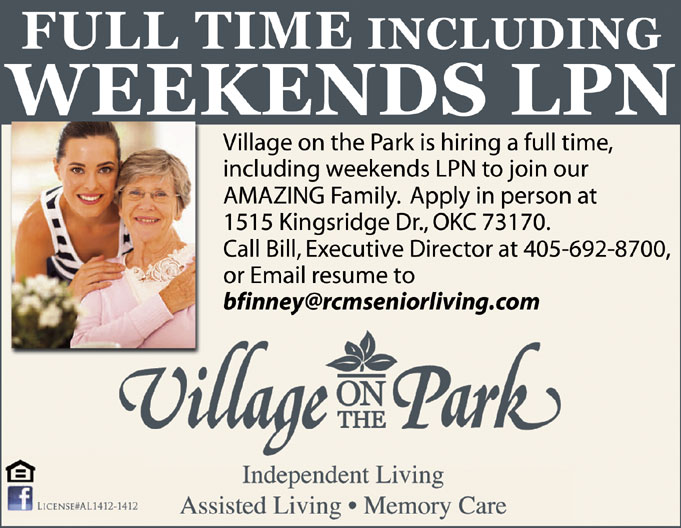 FULL TIME INCLUDING WEEKENDS LPN
Village on the Park is hiring a full time, including weekends LPN to join our AMAZING Family. Apply in person at 1515 Kingsridge Dr., OKC 73170.
Call Bill, Executive Director at 405-692-8700, or Email resume to bfinney@rcmseniorliving.com