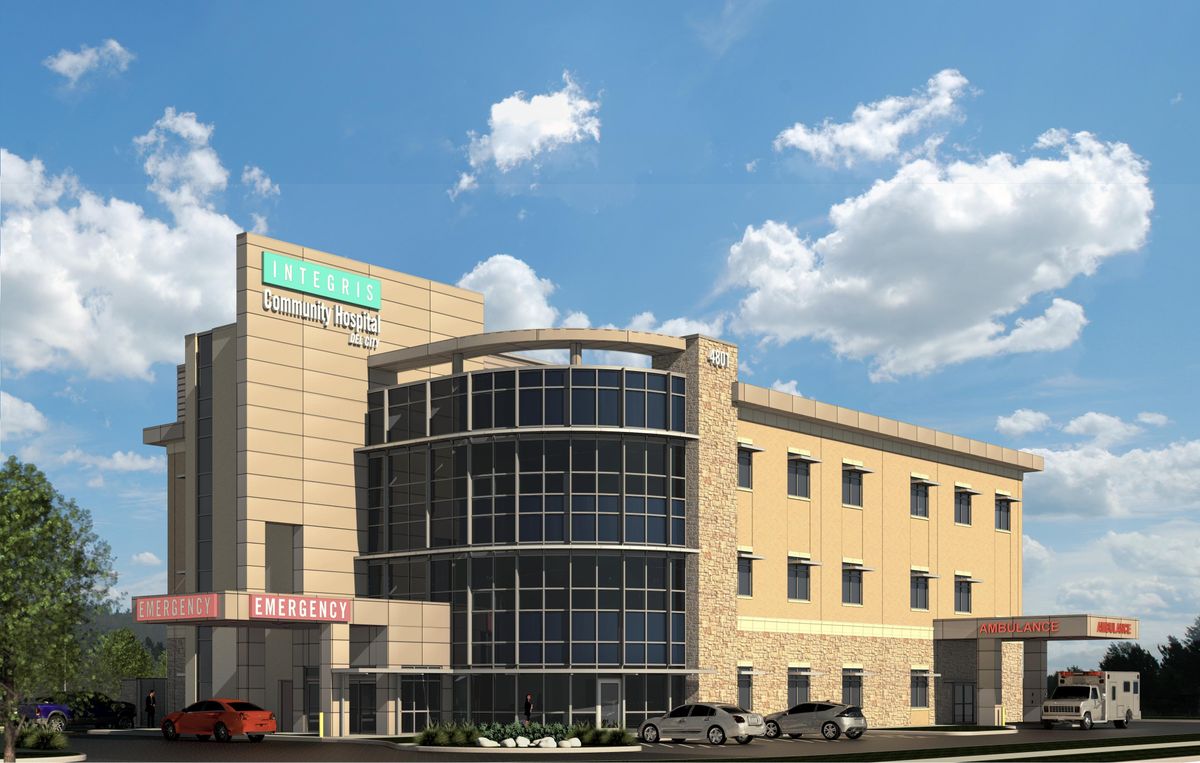 The new INTEGRIS Del City Community Hospital, which brings a transformative concept of health care to Central Oklahoma, is officially open and accepting patients.
A Grand Opening ribbon-cutting event was held March 5 to introduce the new hospital, 4801 SE 15th St., in Del City. Speakers included Brian Linley, mayor of Del City, Arti Patel, president of the Del City Chamber of Commerce, and Sunny Cearley, vice president of membership for the Greater Oklahoma City Chamber of Commerce.
The 36,120 square-foot INTEGRIS Del City Community Hospital, which opens to the public today (March 6), is part of a major initiative in which INTEGRIS will, in 2019, open four new community hospitals – small-format facilities also known as micro-hospitals or neighborhood hospitals – in the Oklahoma City metropolitan area.
The INTEGRIS Community Hospital at Council Crossing, 9417 N. Council Road., opened Feb. 6. The INTEGRIS Moore Community Hospital at 1401 SW 34th St., opened Feb. 27, and the INTEGRIS OKC West Community Hospital at 300 S. Rockwell Ave., will open in May.
As part of its expansion initiative, INTEGRIS, the state's largest nonprofit health care system, entered into a joint venture partnership with Emerus, the nation's first and largest operator of micro-hospitals hospitals, to build and manage the facilities.
"Oklahomans have told us they want quicker, more convenient medical care without compromising quality or safety," said Timothy Pehrson, president and chief executive officer at INTEGRIS. "These community hospitals allow us to do just that, bring high-quality care closer to home for many of the residents we serve."
Emerus Chief Executive Officer Craig Goguen said the company is honored to partner with INTEGRIS, an award-winning, highly respected health system brand, as it expands its footprint throughout central Oklahoma. "Our transformative concept of health care allows great health systems like INTEGRIS to expand its reach into the community to provide a variety of patient services that are fast, convenient and economical."
These new community hospitals will serve a variety of patient needs including emergency medical care, inpatient care and other comprehensive health services. While the ancillary services vary, each community hospital has a set of core services including the emergency department, pharmacy, lab and imaging.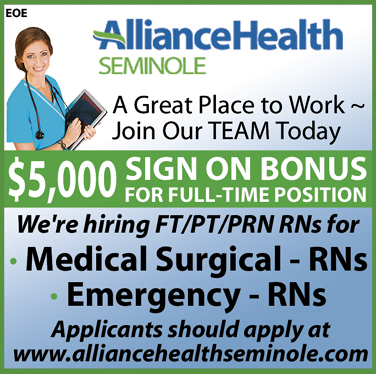 A Great Place to Work ~
Join Our TEAM Today
$5,000 SIGN ON BONUS FOR FULL-TIME POSITION
We are hiring RNs for
Medical-Surgical – RNs
Emergency – RNs
Applicants should apply at
www.alliancehealthseminole.com