by Vickie Jenkins, Staff Writer
It's easy to see why Karissa Pruitt, RN likes her job and the patients like her. Friendly, bubbly and a smile on her face shows. "If you have a job, you need to like it, and I happen to like my job very much," Karissa said.
"I spent a lot of time in the medical field in the past; I worked as a medical assistant and Phlebotomist; working in home health, Urgent Care of Edmond and Urology Associates of Oklahoma. I like this job. In fact, I would like to go on to work in the OR and surgery in the future. I like the diversity of the age ranges, pediatrics to geriatrics and the different kinds of surgeries." Karissa commented.
On a personal note, Karissa thinks that every nurse should have plenty of compassion for people. "There is a certain desire inside that comes naturally by taking care of someone. To love others, you need to love yourself, and the love will always show through," she said. "My favorite part of my job is when I get to interact with the patients. Learning about the patient gives me the anchor to them. Most of the patients are stressed out when they get here. I want to be that nurse that calms them down, eliminating their anxiety. I feel like making the patient and their families feel comfortable is a big help to them. After a while, I see the patient relax and a smile come through," Karissa added.
Karissa grew up in Oklahoma, attending school at OSUOKC. "When I was a little girl, I wanted to be a Speech Pathologist. At that time, I watched my mom and aunt take care of my uncle and my grandmother. I saw the struggle they dealt with; I decided to go into nursing. Even at a young age, it was as though I was meant to take care of others. Now, I know that I was being prepared to do the job I have now as an RN. I can't wait to see where I will be led next. I know that being a nurse was a real calling for me," she said.
What advice would you give to someone going into the medical field? "I would tell them to study, study, study and never give up! I'll admit it, school can be brutal but with a good support group and study group, you will succeed."
"One special person, Debbie Crow was a great mentor of mine. She was a team leader and was an advocate for all of us in nursing school. She was amazing. She taught me how to love someone even when I don't even know that person! Do you know how hard that is to do? She taught me how to grow as a nurse and as a person. Plus, my support group was awesome." Karissa said. "We were there for each other, encouraging each other on. In fact, I have a feeling we are all going to be friends for quite a while. We just got back from a girls trip over the weekend. It was a blast." she added.
Karissa is married to her wonderful husband, Ryan. They have a little boy, Rylee who is four years old. When Karissa is not working, she likes to spend her time hanging out with her family. "We love going to the park, zoo and the Children's Museums. Of course, Rylee likes to play with our dog, Oliver. Oliver is a Rhodesian Ridgeback. Most people have never heard of that kind of dog so I will say Oliver is not a purebred dog and is actually a cross between a Rhodesian Labrador and the Labrador Retriever. He is a friendly dog and Rylee just loves to play with him, "she said with a laugh.
Karissa's biggest asset at work is the way she can be friendly to anyone. "The patients are the ones having the bad day," she said. "I feel like the minute I get to work and I am ready to take care of the patients. I try to make them feel comfortable; setting that as my goal and making sure I can make them smile. If I can make them happy for just a moment, I have done a good job. Every day, when I leave work, I feel like I am fulfilled," she said.
Summing up her life with one word, Karissa said it would have to be the word: BLESSED.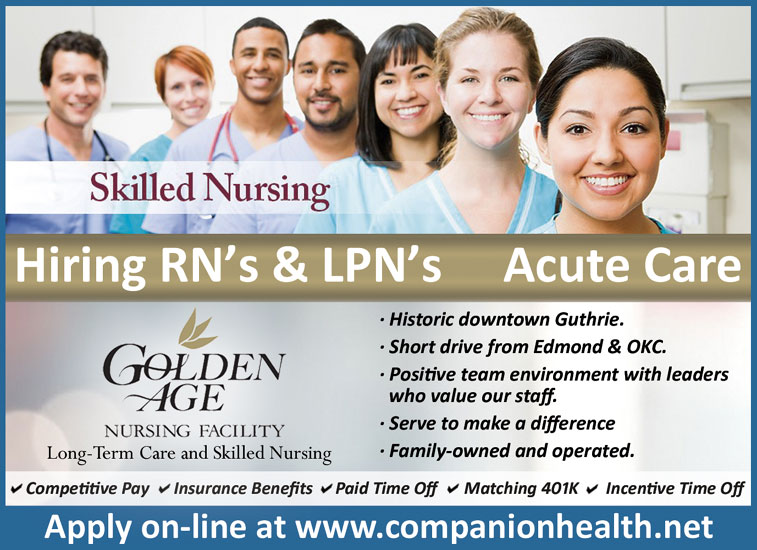 GOLDEN AGE NURSING FACILITY
Long-Term Care and Skilled Nursing
HIRING RN's & LPN's | Acute Care
· Historic downtown Guthrie.
· Short drive from Edmond & OKC.
· Positive team environment with leaders who value our staff.
· Serve to make a difference
· Family-owned and operated.
· Competitive Pay
· Insurance Benefits
· Paid Time Off
· Matching 401K
· Incentive Time Off
Apply on-line at www.companionhealth.net