by Bobby Anderson, RN – staff writer/photographer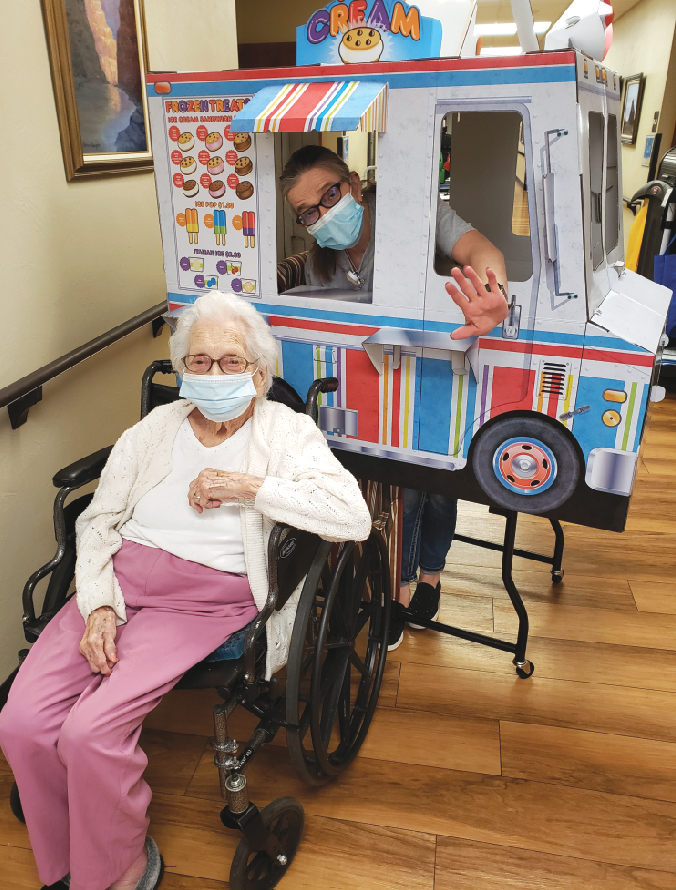 Moving from Hugo to Guymon was about as far a move as Dan Stiles could pull off and still stay in Oklahoma.
"A lot of people think Oklahoma ends at Woodward," Stiles says with a laugh.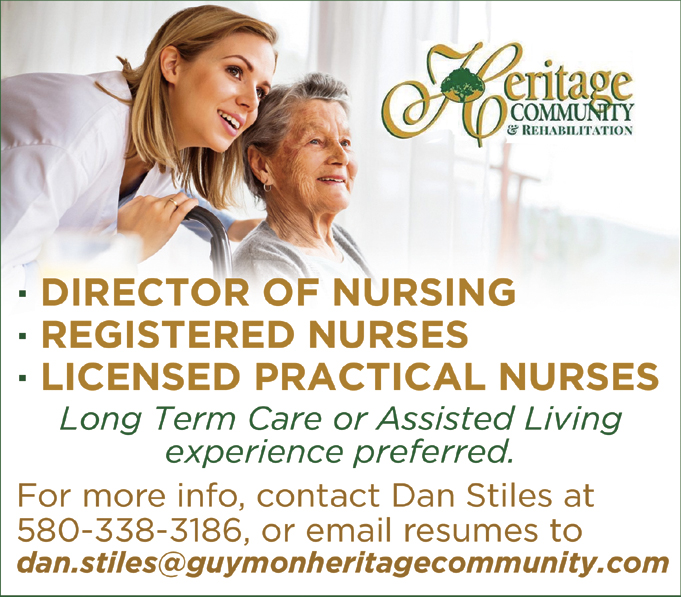 Guymon – a place where the wind definitely comes sweeping down the plains – is just under two hours away from Amarillo. It's three-and-a-half hours from Denver and just 125 miles away from the end of the central standard time zone.
But Guymon itself is also a mecca for healthcare in Northwest Oklahoma and Stiles is in the middle of it all leading Heritage Community and Dunaway Manor.
Dunaway Manor is the only Skilled Nursing Facility in the Panhandle, the only Assisted Living in the Panhandle and the only licensed and locked Memory Assisted Living in the Panhandle.
The stand-alone non-profit is not owned by any governmental agency, church or other entity and has been that way since 1962.
The facility offers long term care, Physical and Occupational Therapy, Respite Care, Assisted Living, Memory Care Assisted Living and Assisted Living Respite care.
In 1960 a group of concerned citizens gathered and decided there needed to be a residence for senior citizens in Guymon.
Local veterinarian W.F. Dunaway and wife Mada donated a substantial sum which was matched by local residents for the facility to be built.
The residence was called Dunaway Manor.
Dr. Dunaway and wife also set up a foundation that is now called the Texas County Foundation.
Dunaway Manor is a 77-bed skilled nursing facility with long-term care and respite care offerings.
In the late 2000s, the fact that no assisted living properties existed became a topic of conversation.
In 2012 Heritage Community Assisted Living and Heritage Community Memory care opened.
The assisted living facility side has 25 apartments. The locked memory care unit has 15 residences.
All sit on land owned by the City of Guymon.
"We are not owned by anybody. We have a board of directors," Stiles said, noting most board members are residents of Texas County. "Most are ranchers and farmers. I think we're the only one set up like this."
Stiles is actually the chief executive officer but goes by the title of campus director.
He says he was never much for titles and admits to no pretense on campus, just a focus on neighbors helping members.
"We have a ton of community support," said Stiles.
To that end, a group known as Helping Hands for Heritage took shape a little over a year ago with the specific aim at fundraising for projects needed on campus.
"It has been a good deal," he said.
Covid has hit the area hard. In fact, Guymon was the No. 2 site in the state in the number of Covid infections, fueled by positives at the local meat processing plant.
And while Guymon may be one of the most diverse cities in the United States – boasting 32 nationalities – the number of healthcare facilities is limited to Heritage Community and Dunaway Manor.
"The biggest problem we have out here is getting nurses," Stiles said. "You've got to want to live in the panhandle and there's a lot of different opportunities out here."
Population growth has boosted Guymon to a Class 5A school, which means Guymon students travel around the state more than any other school.
"We are very big on culture change and patient-centered care," Stiles said. "We call (residents) neighbors that live in our neighborhood. I feel like when you get the staff and team to buy into that it's a whole lot different to take care of a neighbor than a resident or patient."
One of the great advantages Stiles has to offer his staff is the sheer number of opportunities they can choose from.
There's long term care as well as skilled nursing availability.
"But we always need people in assisted living which is a total different population to work with," he said. "There's also opportunities in memory care for working with patients with Alzheimer's and dementia. We offer a huge variety."
As healthcare reimbursement drives care out of the hospital faster, facilities like Heritage Community and Dunaway Manor are taking care of more medically complex patients.
"People are being sent to us a lot sicker than they used to be," Stiles said. "We do a lot of IVs and wound care. We have several trachs in the building."
Right now Stiles' largest need is for charge nurses – LPNs or RNs – who are able to step onto the floor to take care of neighbors.
"Unlike the hospital or even a doctor's office the majority of the people you'll care for are going to be here long term," said Stiles, who noted even his skilled nursing side has an average stay of 35 days. "There are people in this building who have lived here for 10 or 11 years. You develop a close relationship with them. It's not 'Mr. Smith came in on Tuesday, had his hip replaced Wednesday and leaves on Friday."'
"When they come here you're going to spend time with them so it's a more long-term atmosphere where you're caring for people you know. You grow very close and very attached to your people."
And your people quickly become your neighbors.