Jennifer Oakley has been a nurse for more than four decades. The daughter of a lymphoma survivor, and a lymphoma survivor herself, her most meaningful years have been spent at Cancer Treatment Centers of America (CTCA) in Tulsa caring for patients battling the same disease. She has also taken her passion outside the walls of the hospital into her community to offer hope to others in their journey with blood cancer.
In April 2013, Oakley was working as a registered nurse in the intensive care unit. While changing multiple dressings on a patient that took two-and-a-half hours to complete, she developed an intense back pain that wouldn't go away. A few days later, she consulted the hospital nurse and was sent to the minor emergency clinic for evaluation. After hearing her symptoms, the physicians sent her to the emergency room to have a CT scan done.
The scan revealed that her peritoneum was filled with enlarged lymph nodes, and she was given the diagnosis of lymphoma or non-Hodgkin lymphoma.
"I was relieved for a moment that I had an explanation for the pain but alarmed at what the final outcome might be," Oakley said. "The doctor suggested that I be admitted immediately, and I told her I would call CTCA."
The next day was filled with scans, lab tests, a lymph node biopsy and a bone marrow biopsy. The lymph node biopsy was conclusive for non-Hodgkin lymphoma (NHL), but inconclusive as to what kind. An open biopsy revealed an eight-inch-long abdominal tumor that was wrapped around her aorta and vena cava that could not be surgically removed. An exploratory laparotomy was then performed, followed by a five-day hospitalization. With her pain increasing daily, Oakley met with a pain management physician to control the pain. She was given a final diagnosis of Stage 2 Large B-Cell NHL and would be treated with the R-CHOP regimen.
"I was told by the oncologist that there was no cure for NHL, but it could be treated and controlled, with a five-year survival rate of 85 percent," Oakley said. She began chemotherapy quickly after surgery, rather than waiting the typical four to six weeks post-surgery. "My doctor wanted to begin treatment quickly, as he felt the cancer was aggressive."
Oakley began her first round of chemotherapy on her birthday. A few days prior, her fellow nurses threw her a birthday party, and her beautician shaved her head. She went on to complete six rounds of chemotherapy, spaced three weeks apart.
Oakley battled various side effects throughout her treatment, including nausea, hair loss, fatigue, anorexia and mood swings. She remembered the fatigue and weight loss her father had experienced during his battle with lymphoma years earlier.
"My husband called it the 'worst diet ever'," Oakley recalled, regarding the 39 pounds she lost during treatment. "But together, we made it through."
Since then, she has worked in the stem cell transplant unit in two of the CTCA hospitals, which involves taking care of patients with a variety of blood cancers such as leukemia, lymphoma and NHL.
"There was an instant connection for me with those patients," she said. "They were intrigued that I was one of them. We swapped stories, and I was sought out with questions about my reaction to the medications. I was also able to give reassurance that we will fight this together," Oakley said.
"Jennifer has some of the fiercest passion I have ever seen," said Maloree Hamel, Special Care Unit Manager at CTCA. "As a cancer patient, Jennifer has been where our patients are, and because of this, she can articulate hope in a very raw, honest and vulnerable way with her patients. She can walk into a patient's room and be quick to respond as well as empower the patient to remember that they can persevere."
Oakley participated in her first "Light the Night" walk for Leukemia and Lymphoma Society (LLS) a few months after finishing chemotherapy and has attended every walk since. She has been the CTCA Tulsa team captain for the past three years and has recruited her nursing team to help with her annual fundraising campaign, which raises thousands of dollars for LLS each year.
"It is so magical to see all of the people carrying their lanterns as survivors, supporters or in memory of loved ones," Oakley said. "Light the Night is an emotional experience that touches the lives of people affected by blood cancers; but most importantly, it helps fund education, research and various types of support for patients and their families. LLS is near and dear to my heart, as I have a passion to help others with blood cancer."
This past year, Oakley celebrated five years since her diagnosis and received CTCA's first Community Impact Award, recognizing her for her community involvement efforts.
Cancer Treatment Centers of America Global, Inc. (CTCA) is a comprehensive cancer care network of hospitals and outpatient care centers in Atlanta, Chicago, Philadelphia, Phoenix and Tulsa. Specializing in the treatment of adult cancer patients, CTCA® offers an integrative approach to care that combines surgery, radiation, chemotherapy, and immunotherapy with advancements in precision cancer treatment and supportive therapies designed to manage side effects and enhance quality of life both during and after treatment. CTCA also offers qualified patients a range of clinical trials that may reveal new treatment options supported by scientific and investigational research. CTCA patient satisfaction scores consistently rank among the highest for all cancer care providers in the country. Visit cancercenter.com, Facebook.com/cancercenter and Twitter.com/cancercenter for more information.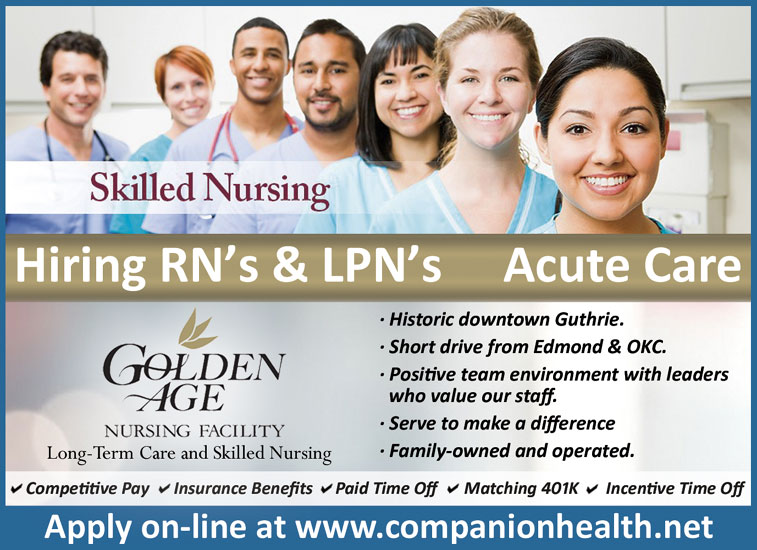 GOLDEN AGE NURSING FACILITY
Long-Term Care and Skilled Nursing
HIRING RN's & LPN's | Acute Care
· Historic downtown Guthrie.
· Short drive from Edmond & OKC.
· Positive team environment with leaders who value our staff.
· Serve to make a difference
· Family-owned and operated.
· Competitive Pay
· Insurance Benefits
· Paid Time Off
· Matching 401K
· Incentive Time Off
Apply on-line at www.companionhealth.net