Mercy Hospital Kingfisher for the first time has earned the Joint Commission's Gold Seal of Approval™ for hospital accreditation, a national symbol of quality that reflects a hospital's commitment to providing safe and effective patient care.
Mercy Hospital Kingfisher is one of only two critical access hospitals among 39 in the state to ever achieve Joint Commission accreditation.
"I'm so grateful for our co-workers and their commitment to provide the best care for our patients every day," said Brian Denton, administrator of Mercy Hospital Kingfisher. "The people of Kingfisher are full of community pride with high expectations of our businesses, leaders and schools. Our Joint Commission accreditation reflects the high standards set by our community and we are honored to provide the high-quality health care they deserve."
The Joint Commission is the nation's oldest and largest standards-setting and accrediting body in health care. Around 77 percent of all U.S. hospitals currently maintain accreditation from The Joint Commission. However, only about 25 percent of the 1,300 critical access hospitals are accredited.
"The Joint Commission is the gold standard of independent hospital accreditations" said Jim Gebhart, regional strategy officer for Mercy. "I can't emphasize enough how rare it is for a critical access hospital to earn the prestigious Gold Seal of Approval and what an accomplishment this is for the entire team at Mercy Hospital Kingfisher."
Hospitals apply for a three-year accreditation but cannot pay for the recognition.
Mercy Hospital Kingfisher has worked toward this designation for more than three years and underwent a rigorous, unannounced onsite survey with interviews in December. During the review, a team of Joint Commission surveyors evaluated compliance with hospital standards in several areas, including emergency management, environment of care, infection prevention and control, leadership and medication management.
"Joint Commission accreditation provides hospitals with the processes needed to improve in a variety of areas from the enhancement of staff education to the improvement of daily business operations," said Mark G. Pelletier, chief operating officer, Division of Accreditation and Certification Operations, The Joint Commission. "In addition, our accreditation helps hospitals enhance their risk management and risk reduction strategies. We commend Mercy Hospital Kingfisher for its efforts to become a quality improvement organization."
The Joint Commission's hospital standards are developed in consultation with health care experts and providers, measurement experts and patients. The standards are informed by scientific literature and expert consensus to help hospitals measure, assess and improve performance.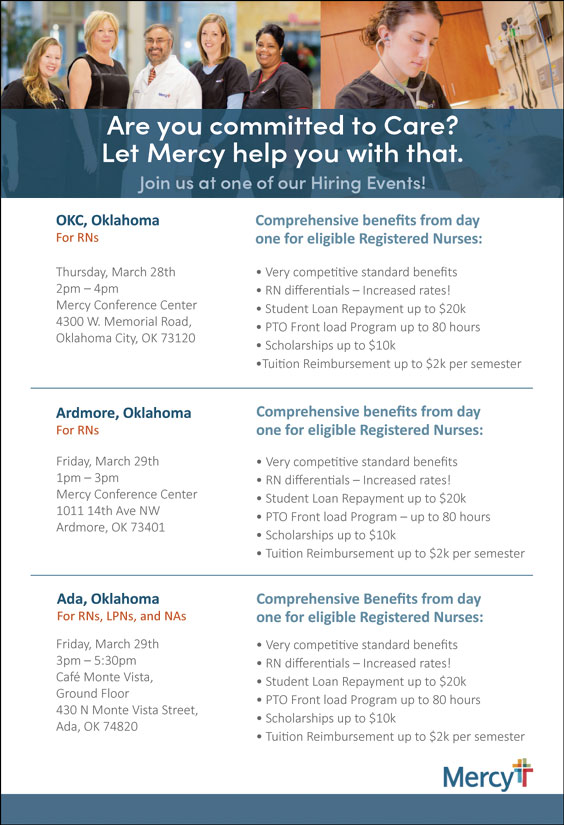 Are you committed to Care?
Let Mercy help you with that.
Join us at one of our Hiring Events!
OKC, Oklahoma
For RNs
Thursday, March 28th
2pm – 4pm
Mercy Conference Center
4300 W. Memorial Road,
Oklahoma City, OK 73120
Comprehensive benefits from day one for eligible Registered Nurses:
• Very competitive standard benefits
• RN differentials – Increased rates!
• Student Loan Repayment up to $20k
• PTO Front load Program up to 80 hours
• Scholarships up to $10k
•Tuition Reimbursement up to $2k per semester
Ardmore, Oklahoma
For RNs
Friday, March 29th
1pm – 3pm
Mercy Conference Center
1011 14th Ave NW
Ardmore, OK 73401
Comprehensive benefits from day one for eligible Registered Nurses:
• Very competitive standard benefits
• RN differentials – Increased rates!
• Student Loan Repayment up to $20k
• PTO Front load Program – up to 80 hours
• Scholarships up to $10k
• Tuition Reimbursement up to $2k per semester
Ada, Oklahoma
For RNs, LPNs, and NAs
Friday, March 29th
3pm – 5:30pm
Café Monte Vista,
Ground Floor
430 N Monte Vista Street,
Ada, OK 74820
Comprehensive Benefits from day one for eligible Registered Nurses:
• Very competitive standard benefits
• RN differentials – Increased rates!
• Student Loan Repayment up to $20k
• PTO Front load Program up to 80 hours
• Scholarships up to $10k
• Tuition Reimbursement up to $2k per semester
MERCY
https://careers-mercy.icims.com/jobs/787997/mercy-oklahoma-city%2c-ada%2c-and-ardmore-hiring-events%21/job?mode=view&mobile=false&width=940&height=500&bga=true&needsRedirect=false&jan1offset=-360&jun1offset=-300