by Shelly Wells, Ph.D., chairwoman of the Northwestern Oklahoma State University Division of Nursing
The recent Governor's STEM Education Conference brought to light the plight of the state's higher education financial crisis. Among other things, it has been suggested that registered nurses could be adequately prepared through the state's associate degree programs. While there are opportunities for improvement, care must be taken not to cut the throat of Oklahoma's already bleeding health care system.
The largest sector of the health care workforce is made up of registered nurses, and there is a pronounced shortage of registered nurses on the health care team in Oklahoma.
The health of Oklahomans is directly impacted by the lack of highly educated registered nurses. The complexity and technological advances in health care call for a well-educated nurse workforce.
The 2018 Commonwealth Fund Score Card on Health System Performance ranks Oklahoma at No. 50 on overall health performance with the 30-day hospital mortality rate and mortality amenable to health care being two of the indicators that worsened from previous years' rankings.
A wealth of empirical data demonstrates that a registered nurse workforce composed of 80 percent baccalaureate-prepared members results in lower overall hospital mortality rates, shorter hospital stays, fewer hospital readmissions and decreasing hospital costs.
A report published by the Governor's Workforces Council in August 2018 cited the increased demand for the hiring of nurses with bachelor's degrees in hospitals throughout the state.
RNs with a bachelor's degree in nursing also are well-prepared to address health care issues outside of the hospital and in the community. Nursing faculty and advanced registered nurse practitioners in all health care settings must possess a bachelor's degree in nursing before advancing their practice. In Oklahoma, only 44 percent of the current RN workforce is prepared at the baccalaureate level; falling far short of the national goal of 80 percent called for by the National Academy of Medicine's Future of Nursing report in 2010.
States throughout the nation are engaging in efforts to increase their numbers of bachelor-prepared nurses instead of reducing them. One state enacted a law requiring all registered nurses to have a bachelor's degree in nursing within 10 years of earning their associate's degree, and other states are exploring similar legislation.
The joint efforts of the state's community colleges and universities continue to be unable to produce the numbers of registered nurses needed for Oklahoma, and partnerships among these programs are being explored to boost the numbers of registered nurses with bachelor's degrees in nursing. Education for registered nurses at the associate and bachelor's degree levels is imperative to health care.
Any plans to curtail funding for development of bachelor-prepared registered nurses is faulty, short-sighted logic and a disservice to Oklahomans.
Shelly Wells, Ph.D., is the chairwoman of the Northwestern Oklahoma State University Division of Nursing. She lives in Broken Arrow.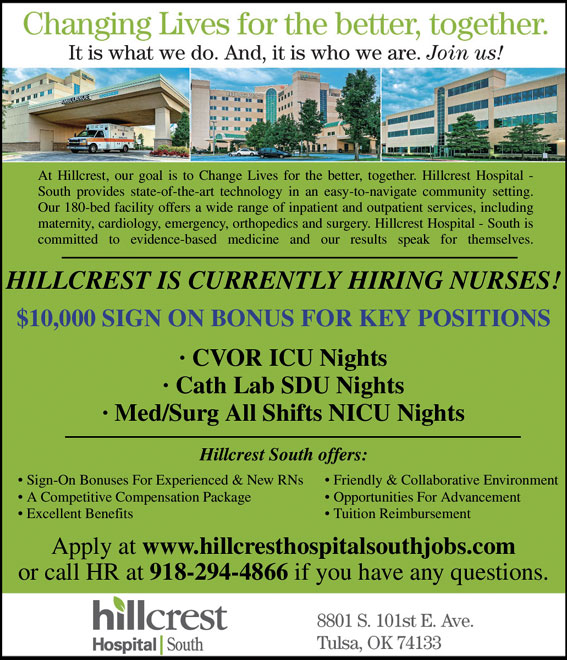 Changing Lives for the better, together.
It is what we do. And, it is who we are. Join us!
At Hillcrest, our goal is to Change Lives for the better, together. Hillcrest Hospital – South provides state-of-the-art technology in an easy-to-navigate community setting.
Our 180-bed facility offers a wide range of inpatient and outpatient services, including maternity, cardiology, emergency, orthopedics and surgery.
Hillcrest Hospital – South is committed to evidence-based medicine and our results speak for themselves.
HILLCREST IS CURRENTLY HIRING NURSES!
$10,000 SIGN ON BONUS FOR KEY POSITIONS
· CVOR ICU Nights
· Cath Lab SDU Nights
· Med/Surg All Shifts NICU Nights
Hillcrest South offers:
• Sign-On Bonuses For Experienced & New RNs
• A Competitive Compensation Package
• Excellent Benefits
• Friendly & Collaborative Environment
• Opportunities For Advancement
• Tuition Reimbursement
Apply at www.hillcresthospitalsouthjobs.com
or call HR at 918-294-4866 if you have any questions.
Hillcrest Hospital South
8801 S. 101st East Ave.
Tulsa, OK 74133