The National Black Nurses Association is pleased to announce its 2019 Presidential Awardees. The NBNA Life Time Achievement Awardee are Sandra Evers-Manly, Dr. Ernest Grant and Gloria Ramsey. The Trailblazer Award recipients are Dr. Scharmaine Lawson, Dr. LaRon Nelson and Dr. Larider Ruffin.
"All of the recipients chosen are stellar nurse leaders in their respective fields", stated Dr. Eric J. Williams, the NBNA first male President. "I am honoring and recognizing these nurses for their extraordinary contributions in academia, research, practice and administration."
The Presidential Awards will be bestowed on Saturday, July 27, 2019 at the President's Gala, at the Hilton Riverside New Orleans Hotel, New Orleans, LA, during the NBNA 47 th Annual Institute and Conference.
NBNA 2019 Life Time Achievement Awardees
Sandra Evers-Manly
Vice President Corporate Responsibility, Northrop Grumman and President, Northrop Grumman Foundation – McLean, VA
Ernest Grant, PhD, RN, FAAN
President, American Nurses Association – Silver Spring, MD
Gloria Ramsey, JD, RN, FNAP, FAAN, Associate Dean, Diversity, Equity and Inclusion – Johns Hopkins University School of Nursing – Baltimore, MD., Member, Black Nurses Association of Greater Washington, DC Area.
NBNA 2019 Trailblazer Awardees
Scharmaine Lawson, DNP, RN, FNP, FAANP, FAAN, CEO, Advanced Clinical Consultants New Orleans, LA., Member, New Orleans Black Nurses Association.
LaRon Nelson, PhD, RN, FNP, FNAP, FAAN, Associate Dean for Global Health and Equity Independence Foundation Professor and Associate Professor Yale University School of Nursing New Haven, CT., Founding Member, Rochester Black Nurses Association
Larider Ruffin, DNP, RN, APN-BC, CRNP, CTTS, President & CEO Reverence Discount Pharmacy LLC, Assistant Professor of Nursing Stockton University School of Nursing, Immediate Past President, Northern New Jersey Black Nurses Association.
The NBNA mission is "to serve as the voice for Black nurses and diverse populations ensuring equal access to professional development, promoting educational opportunities and improving health".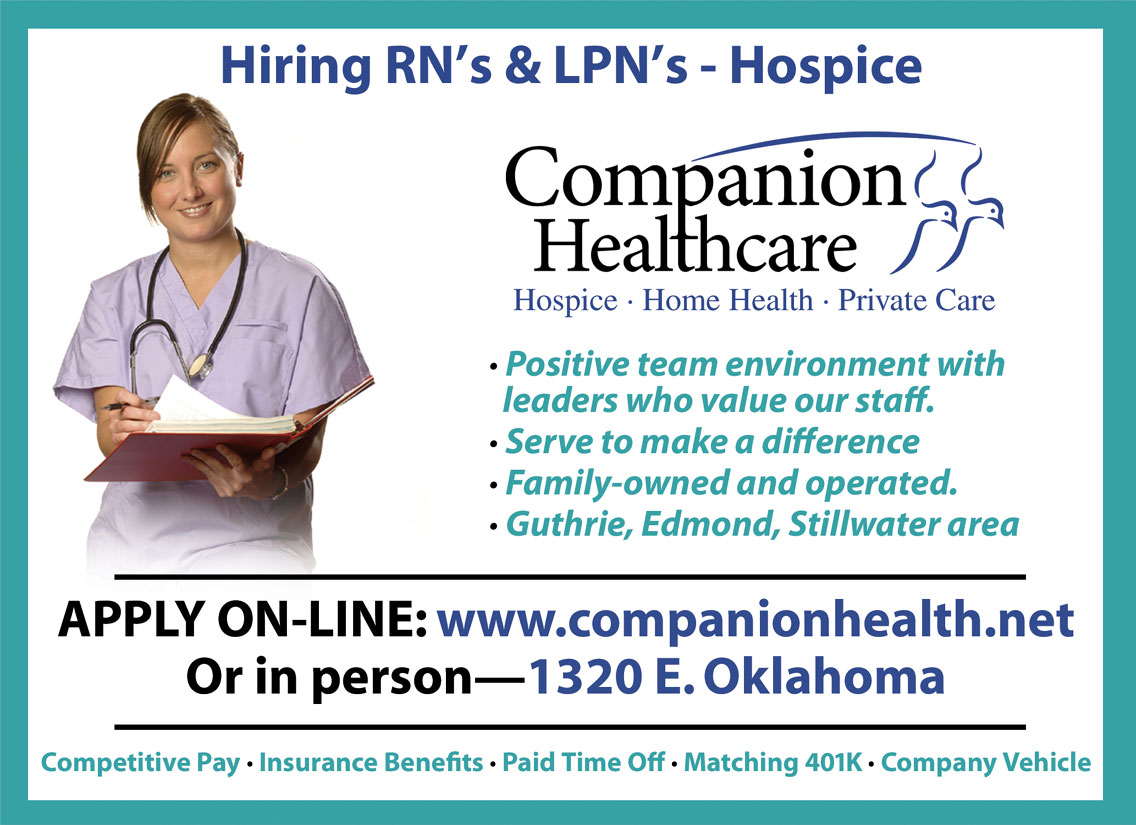 Companion Healthcare  Hiring RN's & LPN's – Hospice
· Positive team environment with leaders who value our staff. · Serve to make a difference · Family-owned and operated. · Guthrie, Edmond, Stillwater area
APPLY ONLINE: www.companionhealth.net
Or in person—1320 E. Oklahoma
Competitive Pay · Insurance Benefits · Paid Time Off · Matching 401K · Company Vehicle