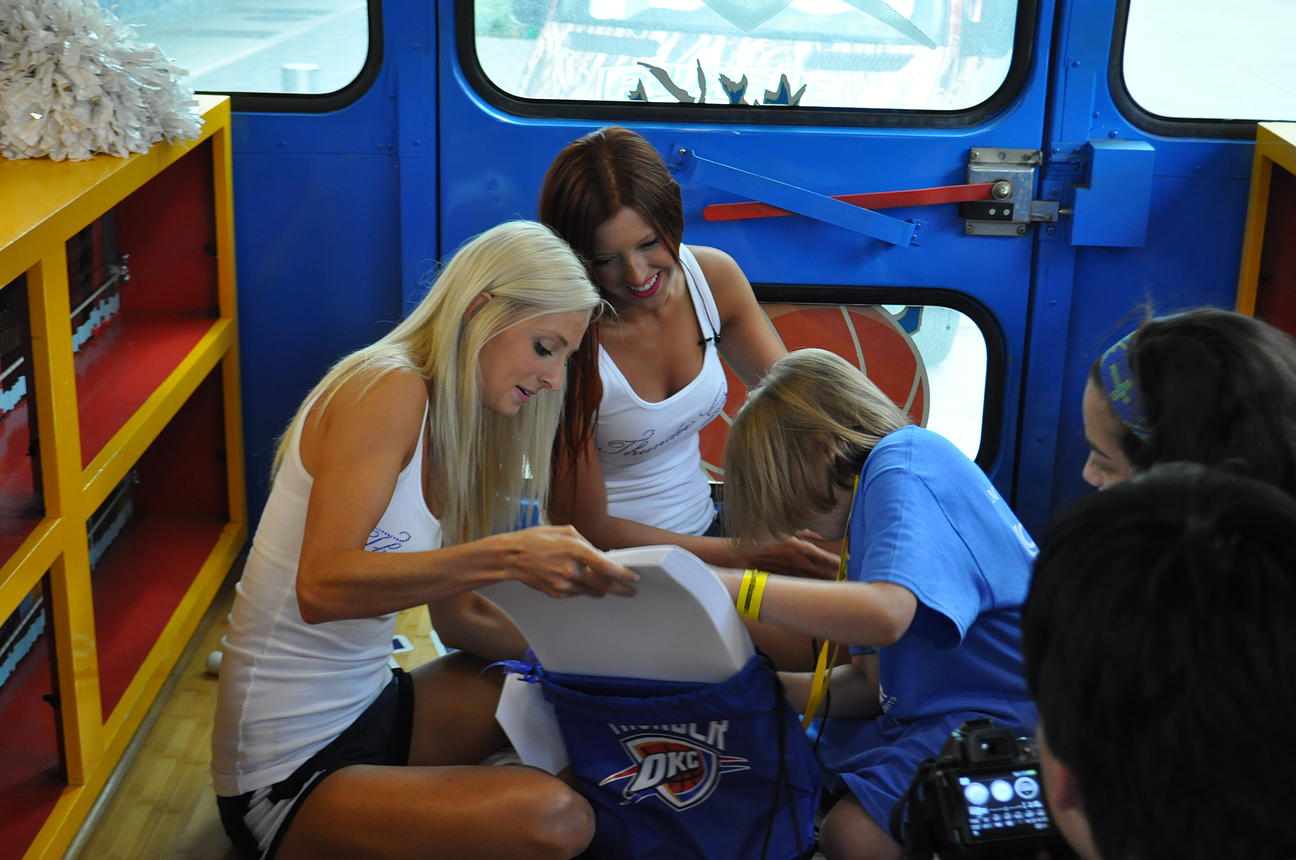 story and photos provided
Julie Hensley is the kind of person that changes lives and puts a smile on people's faces. By profession, Julie is a medical oncology nurse at Mercy Hospital. She dedicates her life to others and works tirelessly to serve the sick, injured and needy.
The impact of Nurse Julie reaches far beyond Mercy Hospital. She has impacted the lives of hundreds of Oklahoma's blind and visually impaired children during her tenure as NewView Oklahoma's summer camp nurse. For 14 years, Julie has taken her personal vacation to help OWL (Oklahoman's Without Limits) Campers have a week of fun and learning.
Julie became involved with NewView in 2002 when her own children wanted to volunteer for OWL Camp. She decided to go with them to see firsthand what camp was all about. She met NewView Oklahoma's President and CEO, Lauren Branch, and they became close friends. At her first camp, she recognized a need for a volunteer nurse and stepped in to help. Many of the youth that attend OWL Camp have additional medical needs beyond their eyesight. One of these campers is Shaylin. Shaylin's mother, Dawn shared, "We LOVE Julie. Shaylin's first year of camp, Julie was warm and welcoming and assured us that she had everything under control. Each year, we are confident and have peace of mind that Shaylin will be safe and well taken care of. We appreciate Julie for her sacrifice each summer! She is allowing special needs kids a week of fun and experiences that they may not otherwise get."
The best part about having Julie as a camp nurse is that she understands the mission of NewView Oklahoma and the long-term goals we are trying to accomplish. She knows that, by having a camp that is accessible to these youth, NewView is opening doors to opportunities that some of these children have only dreamed of.
"I wish every child who is blind or visually impaired had an opportunity to go to camp with us for at least one year," said Julie. "I think it could change their lives in a lot of different ways. Every year, NewView provides new opportunities and challenges. And the children step up to the challenges even though some kids say 'I never had any idea that I could do this."
The success of OWL Camp is directly tied to the contributions of our volunteers, and especially those of Julie Hensley. Not only was she previously awarded our Volunteer of the Year Award, but she has also made an impact on hundreds of Oklahoma's blind and visually impaired children. And for that, we're eternally grateful to this wonderful woman, nurse and friend.