Have you ever been pulled over by a cop? If so, why? The Oklahoma City Indian Clinic
Yes, my lead foot got the best of me!
Selina Tofpi, MA
Yes, following too close!
Kathleen Gray, RN
Yes, speeding.
Tiffany Tate, LPN
Yes, not using my turn signal.
Deborah Byrd, LPN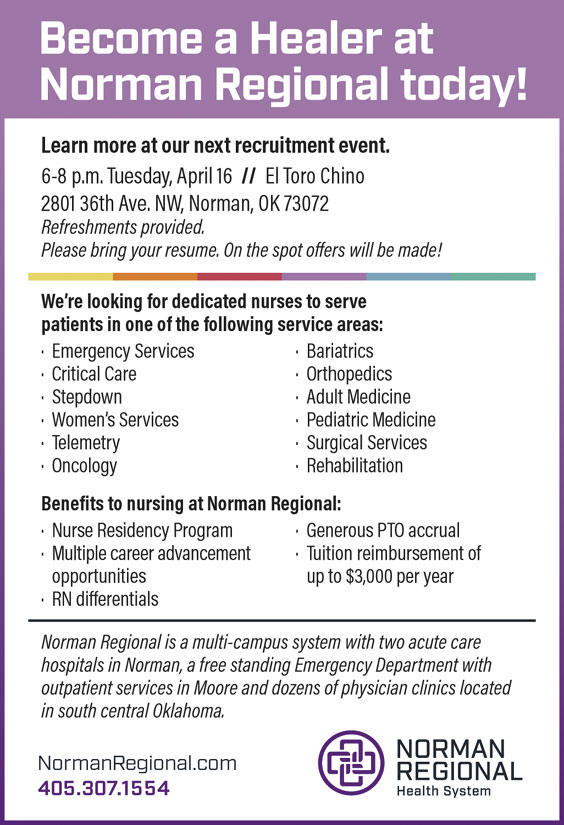 Become a Healer at Norman Regional today!
Learn more at our next recruitment event.
6-8 p.m. Tuesday, April 16 // El Toro Chino
2801 36th Ave. NW, Norman, OK 73072
Refreshments provided.
Please bring your resume. On the spot offers will be made!
We're looking for dedicated nurses to serve patients in one of the following service areas:
· Emergency Services
· Critical Care
· Stepdown
· Women's Services
· Telemetry
· Oncology
· Bariatrics
· Orthopedics
· Adult Medicine
· Pediatric Medicine
· Surgical Services
· Rehabilitation
Benefits to nursing at Norman Regional:
· Nurse Residency Program
· Multiple career advancement opportunities
· RN differentials
· Generous PTO accrual
· Tuition reimbursement of up to $3,000 per year
Norman Regional is a multi-campus system with two acute care hospitals in Norman, a free standing Emergency Department
with outpatient services in Moore and dozens of physician clinics located in south central Oklahoma.
NormanRegional.com
405.307.1554