Oklahoma Heart Hospital
I would appear on CSI because I love to solve mysteries.
Shyann Milner, RN
Saturday Night Live! Laughter is the best medicine!
Kelee Ochs, RN
I would be an audience member at the Rock and Roll Hall of Fame Ceremony.
Julie Coventon, RN
The Office…It makes me laugh so much! Plus I want to meet Dwight.
Kenna Ringo, RN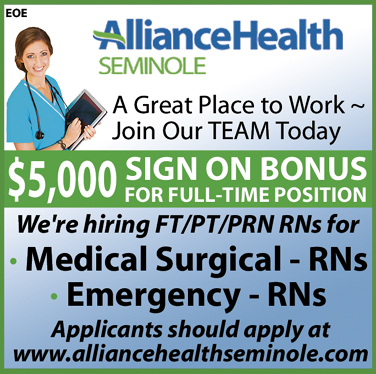 A Great Place to Work ~
Join Our TEAM Today
$5,000 SIGN ON BONUS FOR FULL-TIME POSITION
We are hiring RNs for
Medical-Surgical – RNs
Emergency – RNs
Applicants should apply at
www.alliancehealthseminole.com