My favorite is my grandma's homemade stuffing. Lynn Morrison, LPN
It has to be green bean casserole! Angelina Deere, LPN
I would say pea salad. Justina Surles, LPN
It's definitely the sweet potato pie! Deborah Byrd, LPN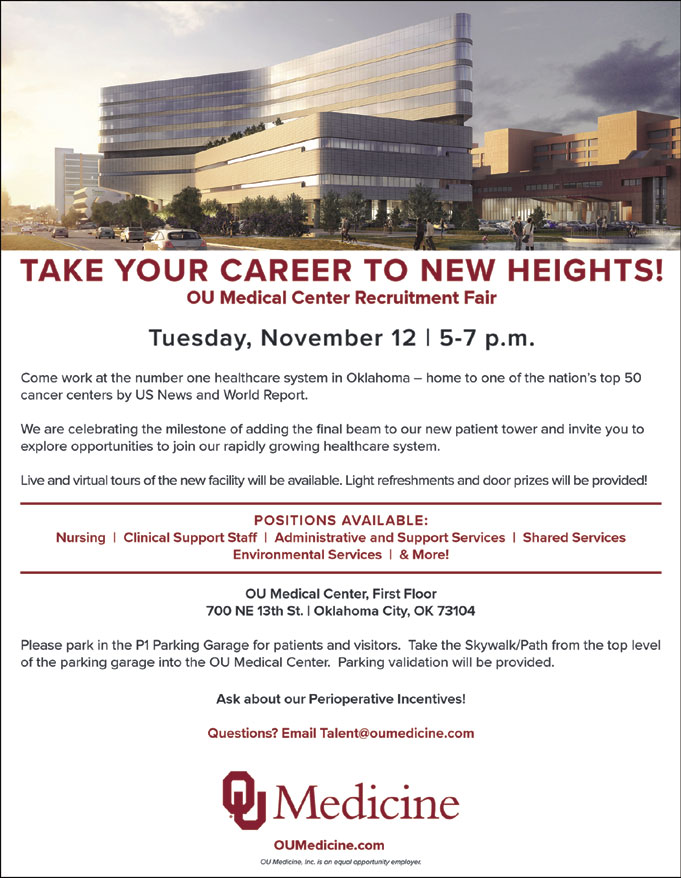 TAKE YOUR CAREER TO NEW HEIGHTS!
OU Medical Center Recruitment Fair
Tuesday, November 12 | 5-7 p.m.
Come work at the number one healthcare system in Oklahoma – home to one of the nation's top 50 cancer centers by US News and World Report.
We are celebrating the milestone of adding the final beam to our new patient tower and invite you to explore opportunities
to join our rapidly growing healthcare system.
Live and virtual tours of the new facility will be available. Light refreshments and door prizes will be provided!
POSITIONS AVAILABLE:
Nursing | Clinical Support Staff | Administrative and Support Services | Shared Services | Environmental Services | & More!
OU Medical Center, First Floor
700 NE 13th St. | Oklahoma City, OK 73104
Please park in the P1 Parking Garage for patients and visitors. Take the Skywalk/Path from the top level of the parking garage into the OU Medical Center. Parking validation will be provided.
Ask about our Perioperative Incentives!
Questions? Email Talent@oumedicine.com
OUMedicine.com
OU Medicine, Inc. is an equal opportunity employer.