What would you want for your last meal on Earth? Integris Canadian Valley Hospital Med/Surg & Intermediate Care
My wife owns some convenience stores and they serve Hunt Brothers Pizza. I'd have pepperoni.
Cory Williamson, RN
Probably my dad's breakfast – biscuits and gravy, bacon and scrambled eggs.
Asher Reed, RN
I'll go with steak for some high protein to sustain me.
Amanda Hogan, RN
Fried catfish with spicy tartar sauce.
Carey Ellis, HUC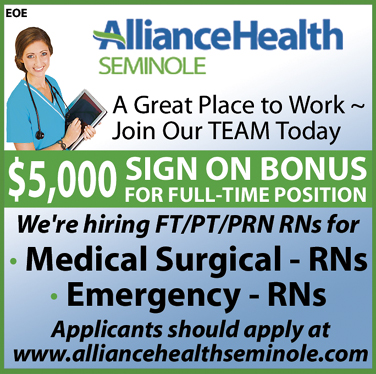 A Great Place to Work ~
Join Our TEAM Today
$5,000 SIGN ON BONUS FOR FULL-TIME POSITION
We are hiring RNs for
Medical-Surgical – RNs
Emergency – RNs
Applicants should apply at
www.alliancehealthseminole.com