Where's your summer dream vacation? Integris Southwest Medical Center Oncology Department
Africa, just all over the continent.
Tinesha Chapel, LPN
I want to go to Norway. I'm 92 percent Scandinavian.
Candice Galbranson, RN
Germany, just traveling all over.
Macy Gingher, LPN
I'm going back to Estes Park, Colorado with my kids.
Kelli Langdon, RN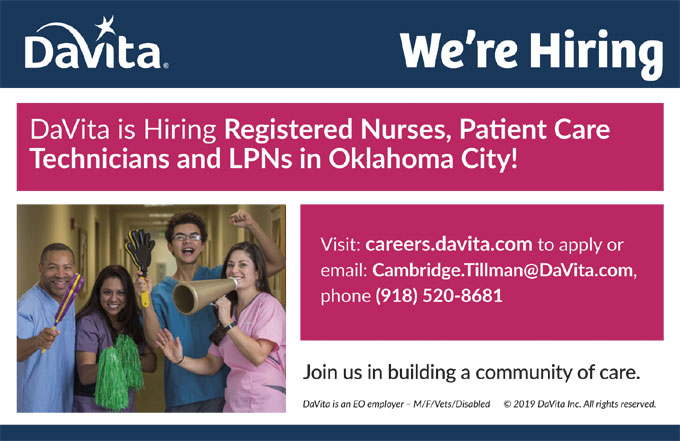 DaVita is Hiring Registered Nurses, Patient Care Technicians and LPNs in Oklahoma City!
Visit: careers.davita.com to apply or email: Cambridge.Tillman@DaVita.com, phone (918) 520-8681
Join us in building a community of care.
DaVita is an EO employer – M/F/Vets/Disabled © 2019 DaVita Inc. All rights reserved.
https://careers.davita.com/search-results?qcity=Oklahoma+City&qstate=Oklahoma&qcountry=United+States+of+America&utm_source=oknursingtimes&utm_medium=online&utm_campaign=apex&utm_term=oklahoma&utm_content=onlinepackage_okcity&source=APPLICANT_SOURCE-6-45&fbclid=IwAR1H14hbsBzUFSq_DLp226yQ8Lx9J-GV3ZxPe8Q63REpW415v6gOXFs3F2g