I like the fall because it is back-to-school time. I like all of the fall activities and knowing that it will soon be cold weather.
Reagan Ray, Nurse Tech
I like the winter because of all of the get-togethers with family. When there is snow, there is a peaceful and warm feeling.
Robby Keeton, LPN
I choose the fall. The weather is cooling off and it is not too hot and not too cold. The vibrant colors of the leaves are beautiful!
I definitely like the spring. All of the flowers come back to life. There is more daylight and it always gives me a warm and happy feeling.
Amy White, LPN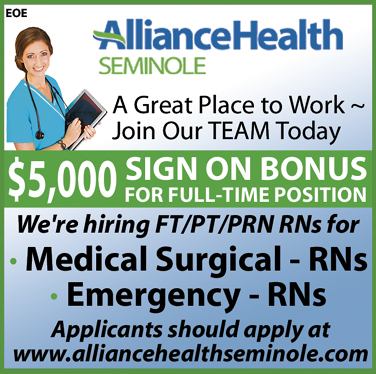 A Great Place to Work ~
Join Our TEAM Today
$5,000 SIGN ON BONUS FOR FULL-TIME POSITION
We are hiring RNs for
Medical-Surgical – RNs
Emergency – RNs
Applicants should apply at
www.alliancehealthseminole.com