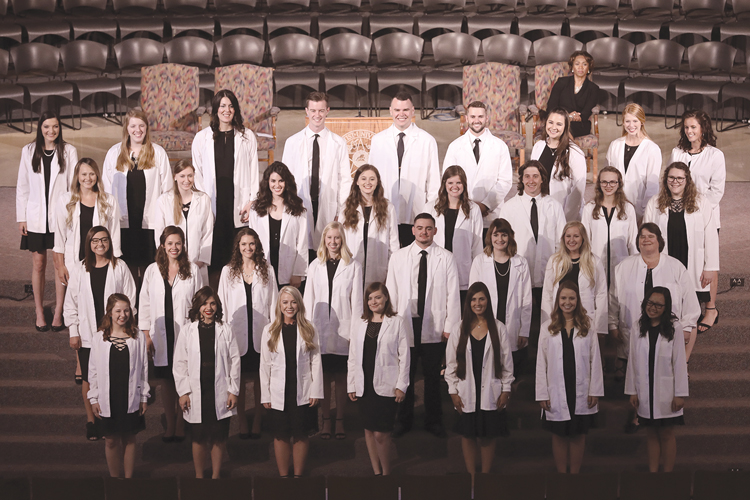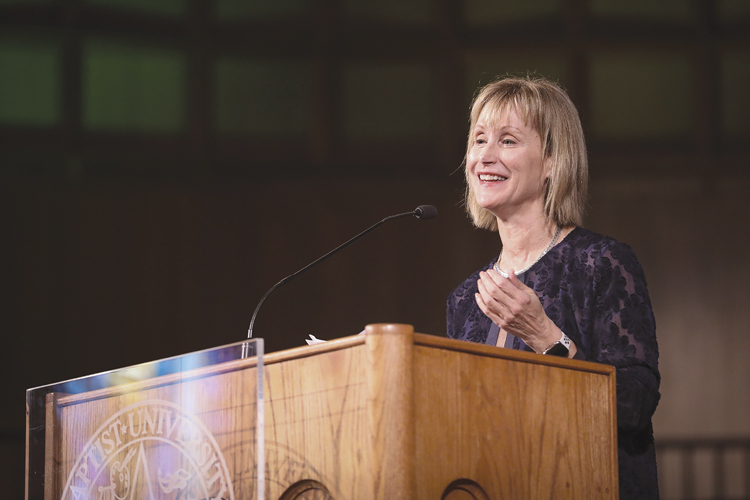 Oklahoma Baptist University honored 32 graduating nurses during the College of Nursing's Pinning and Lamp Lighting Ceremony Thursday, May 17, at 3 p.m. The ceremony took place in Raley Chapel's Potter Auditorium on the OBU campus in Shawnee.
Jennifer Sharma, assistant professor of nursing, led the invocation. OBU President Dr. David W. Whitlock welcomed the graduates and their guests.
Next, Megan Smith, assistant professor of nursing, discussed the significance of the ceremony. Then, Dr. Lepaine Sharp-McHenry, dean of the OBU College of Nursing, made introductions and greeted the graduates as well as their guests.
Dr. Deborah Trautman, president and chief executive officer of the American Association of Colleges of Nursing (AACN), delivered the address to graduates.
Graduating nurses then received their pins from McHenry, including Lauren Elizabeth Baustert, Sand Springs, Oklahoma; Marina Rose Berkley, Overland Park, Kansas; Natalie Katherine Buzan, Bartlesville, Oklahoma; Whitney Lynn Carmichael, Wichita, Kansas; Blake Paul Compton, Shawnee, Oklahoma; Olivia Marie Curry, Oklahoma City; Marsha Davidson, Deerfield, New Hampshire; Krysten Raye Denney, Midland, Texas; Jared Michael Fink, Dewey, Oklahoma; Landry Danielle Forth, Sand Springs; Hannah Ruth Gordon, Evergreen, Colorado; Miranda Danielle Granger, Newcastle, Oklahoma; Ashleigh Jeanne Gruns, Tulsa, Oklahoma; Anna Lynne Hollingshead-King, Denton, Texas; Meaghon Denise Hollyfield, Vidor, Texas; Katrina Ladell Horner, Norman, Oklahoma; Sarah Elizabeth Klerekoper, Longview, Texas; Ciera Marline Knapp, Mountain View, Oklahoma; Ellen Kristine Magar, Shawnee; Kaitlyn Danielle Malaske, Harrah, Oklahoma; Aleksandra Miletic, Belgrade, Serbia; Ashley Nichole Morris, Oklahoma City; Cayla Michelle Munroe, Moore, Oklahoma; Katrina Nguyen, Shawnee; Gregory Austin Orr, Paden, Oklahoma; Sarah Elizabeth Pruitt, Flower Mound, Texas; Kyle Spencer Reich, Lewisville, Texas; Chelsea Jo Sehorn, Choctaw, Oklahoma; Maysn Ungerer, Roseville, California; Alexandra Vestal, Melissa, Texas; Sydney Elizabeth Ward, Edmond, Oklahoma; and Cacy McKinley Wyatt, Lodi, Virginia.
Dawn Westbrook, assistant professor of nursing, delivered the charge to the graduates while Dr. Nichole Jackson, assistant professor of nursing, led the benediction.
For more information about the OBU College of Nursing, visit www.okbu.edu/nursing.
With its campus in Shawnee, and locations in Oklahoma City and Broken Arrow, OBU offers 10 bachelor's degrees with 88 fields of study and five master's degree programs. The Christian liberal arts university has an overall enrollment of 2,093, with students from 37 states and 40 other countries. OBU has been rated as one of the top 10 regional colleges in the West by U.S. News and World Report for 26 consecutive years and has been Oklahoma's highest rated regional college in the U.S. News rankings for 24 consecutive years. OBU is one of three universities in Oklahoma and the only private Oklahoma university listed on Great Value College's rankings of 50 Great Affordable Colleges in the Midwest. Forbes.com consistently ranks OBU as a top university in Oklahoma and the Princeton Review has named OBU one of the best colleges and universities in the western United States for 13 consecutive years.
OBU photos by Heather Horner