by Vickie Jenkins, Staff Writer
Ellen Wardlaw, RN, BSN, OCN is one of the Breast Cancer Nurse Navigators at the Cancer Resource Center, located in the Coletta building at Mercy Hospital. Ellen has worked as a nurse in oncology for sixteen years and has been a breast cancer navigator at Mercy since 2007, specifically working with breast cancer patients.
"Working with breast cancer patients, 'Navigator' is the role I am in, allowing patients to reach out to me from their first visit through continued care. I know how scary and overwhelming the news of cancer can be. I want the patient to know that I am their friend on the inside, from diagnosis to treatment to survivorship," Ellen commented." "Not only do I deal with the patients, I deal with the families too. Sometimes, it can be good news and sometimes, bad news. All in all, I have never had such a rewarding job as Breast Cancer Nurse Navigator." Ellen said.
"When I was a little girl, I always wanted to be a veterinarian. I remember my sister and I would always take care of our many animals. It wasn't baby dolls at my house! It was our real live animals as I rocked them to sleep. It was the caring of the animals that got me to thinking being a nurse. I am still a huge animal lover and I love all animals," Ellen said with a smile.
What qualifies make you a good nurse? "I think I have the ability to teach and educate others, helping them understand what is going on. The news of cancer is frightening no matter how it is presented. It's like learning a new language and I break it down so that everyone involved can be I tell all of my patients that INFORMATION IS POWER. It's like a building block; understanding and making wise choices."
"One of my favorite things about my job is where I am; with my patients and co-workers. We usually spend more waking hours at work than at home. We have to pull it all together. I am blessed to be around such good people. I am proud to work at Mercy where I'm with a group of people that coordinate and pull it all together," Ellen said.
Ellen was named Oncology Nurse of the Year for 2015, which was awarded to her by the March of Dimes. The same year, she was the Lead Cancer Navigator, related to State Navigators and the Oklahoma Chapter. "No matter what titles nurses hold, we are doing our job being NURSES," Ellen commented. "There is nothing that sets me apart from other nurses. I'm just doing the last thing that God told me to do and I will continue on until God tells me what to do next."
"I do want to emphasize how important it is to let people know that whatever cancer issues a person is going through, there is HELP. A lot of people put off going to the doctor due to no insurance, afraid of the cost, or they don't want to know the results that they might get. KNOW that there is help everywhere! No matter where you go, there is always someone to help in any situation. All of our nurses here consist of a strong team; we help each other. I am just one of the many touchpoints," Ellen commented.
Ellen gets her motivation from her drive and passion; educating and informing other people about cancer; not just breast cancer but each kind of cancer. "Don't believe what you hear about Hollywood cancer and the tabloids. There is an overwhelming media spread of misinformation. See your doctor and get the science based, real news. Listen to you oncologists. If you don't have a regular doctor, or don't have health insurance, there are state programs that offer no cost or low cost programs," Ellen stated.
Ellen is married to her wonderful husband. They have two children; Allison who is a junior at Northeastern in Tahlequah, OK and their son who is a senior at Choctaw high school. Ellen's hobbies include taking care of their horses, cats, dogs and chickens. "My husband and I enjoy caring for the animals and riding the horses together. As far as other hobbies, I don't have much time to do anything else," she said with a smile.
Describing Ellen's life in one word…she said, "Blessed."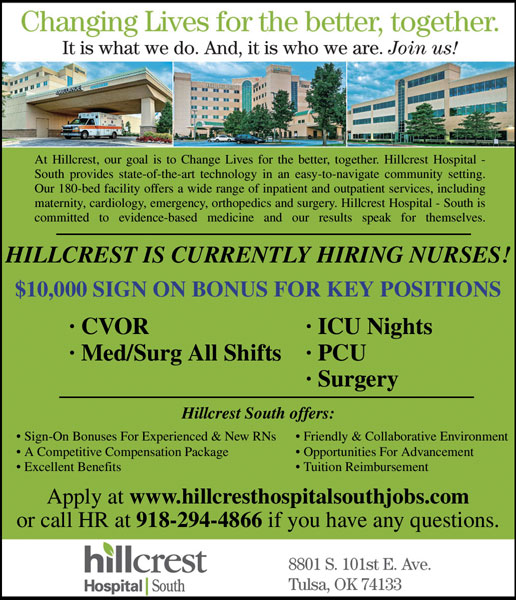 Changing Lives for the better, together.
It is what we do. And, it is who we are. Join us!
At Hillcrest, our goal is to Change Lives for the better, together. Hillcrest Hospital – South provides state-of-the-art technology in an easy-to-navigate community setting.
Our 180-bed facility offers a wide range of inpatient and outpatient services, including maternity, cardiology, emergency, orthopedics and surgery.
Hillcrest Hospital – South is committed to evidence-based medicine and our results speak for themselves.
HILLCREST IS CURRENTLY HIRING NURSES!
$10,000 SIGN ON BONUS FOR KEY POSITIONS
· CVOR
· Med/Surg All Shifts
· ICU Nights
· PCU
· Surgery
Hillcrest South offers:
• Sign-On Bonuses For Experienced & New RNs
• A Competitive Compensation Package
• Excellent Benefits
• Friendly & Collaborative Environment
• Opportunities For Advancement
• Tuition Reimbursement
Apply at www.hillcresthospitalsouthjobs.com
or call HR at 918-294-4866 if you have any questions.
Hillcrest Hospital South
8801 S. 101st East Ave.
Tulsa, OK 74133