Oklahoma City University will expand its satellite nursing program at Duncan Regional Hospital to include the Comanche County Memorial Hospital in Lawton, starting with the fall semester in August.
The program in Comanche County will work jointly with the one at Duncan Regional Hospital and will include similar incentives for students, where they may take nursing classes free of tuition if they agree to work at Comanche County Memorial Hospital for at least three years after graduation.
Students will enter the junior-level nursing courses. Classes will be held three days per week in the Learning Center at Duncan Regional Hospital, and clinical rotations will take place two days per week at CCMH.
Lois Salmeron, dean of OCU's Kramer School of Nursing, said the expanded program is a significant step for improving nursing education in southwest Oklahoma.
"This is a win-win for those who desire to become a nurse and are not able to leave the community to do so. It is a win-win for rural health," Salmeron said.
Up to 20 scholarships for each cohort in the Bachelor of Science in Nursing program are available.
The Kramer School of Nursing started its joint program with Duncan Regional Hospital in 2016, where qualified students can complete their nursing degrees in two years. The hospital provides tuition expenses for students who agree to work there following graduation. The program is intended to address an ongoing need for baccalaureate-prepared nurses in hospitals that serve rural communities.
OCU faculty reside in the Duncan area to teach classes and labs. The program also utilizes an innovative Polycom Communications online platform so that students in Duncan can participate and interact with classes in Oklahoma City in real time.
An OCU admissions counselor will be at Comanche County Memorial Hospital each Tuesday in May from 10 a.m. to 5 p.m. to provide program details and enrollment information.
The Kramer School of Nursing consistently exceeds state and national averages on the RN licensure exam. The school boasts several alumni who are practicing in every major health field. For more information, visit the program's page on the school's website at okcu.edu/nursing.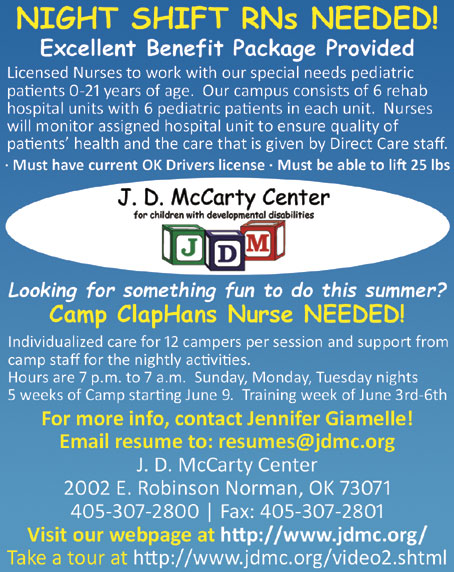 NIGHT SHIFT RNs NEEDED!
Excellent Benefit Package Provided
Licensed Nurses to work with our special needs pediatric patients 0-21 years of age. Our campus consists of 6 rehab hospital units with 6 pediatric patients in each unit. Nurses will monitor assigned hospital unit to ensure quality of patients' health and the care that is given by Direct Care staff.
· Must have current OK Drivers license · Must be able to lift 25 lbs
Looking for something fun to do this summer?
Camp ClapHans Nurse NEEDED!
Individualized care for 12 campers per session and support from camp staff for the nightly activities.
Hours are 7 p.m. to 7 a.m. Sunday, Monday, Tuesday nights
5 weeks of Camp starting June 9. Training week of June 3rd-6th
For more info, contact Jennifer Giamelle!
Email resume to: resumes@jdmc.org
J. D. McCarty Center
2002 E. Robinson Norman, OK 73071
405-307-2800 | Fax: 405-307-2801
Visit our webpage at http://www.jdmc.org/
Take a tour at http://www.jdmc.org/video2.shtml