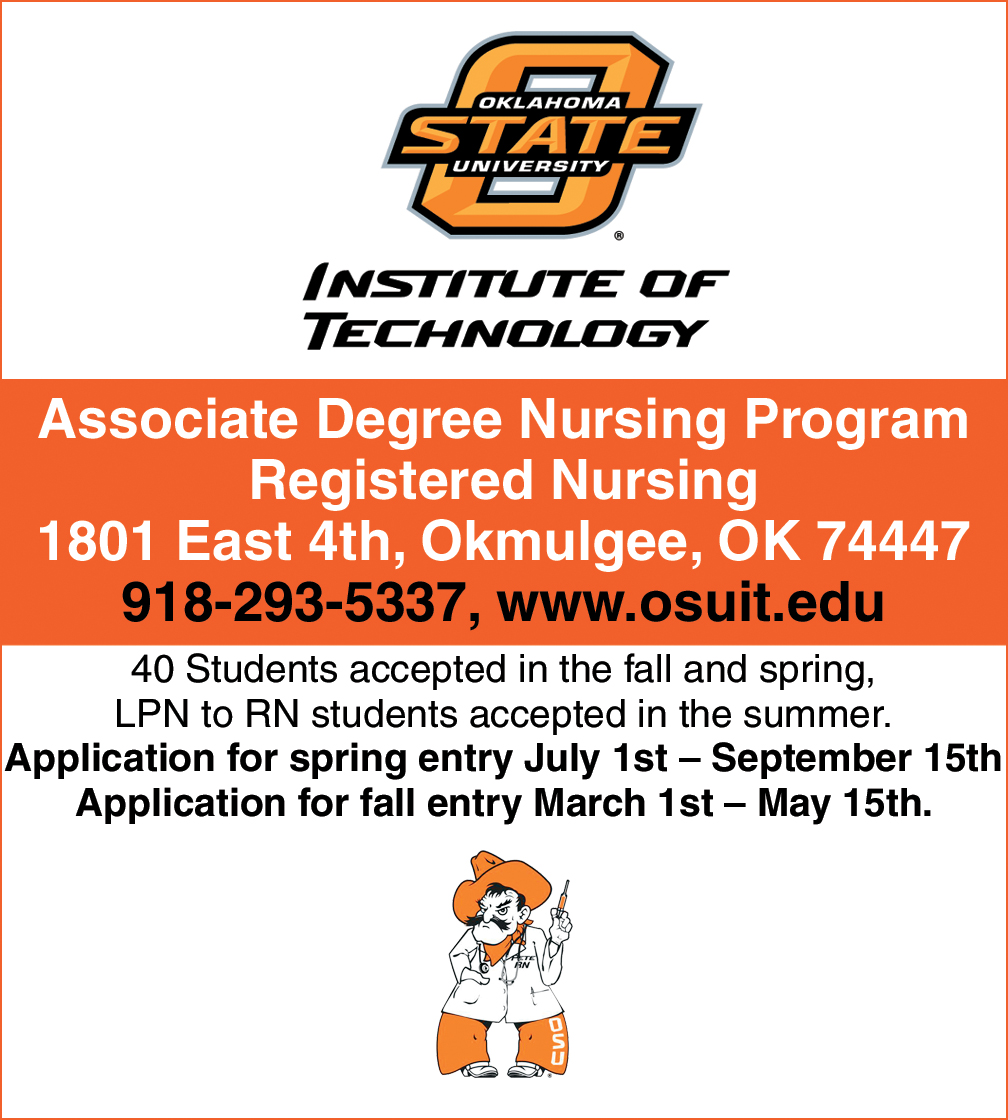 There is no better place to learn to be a registered nurse than by attending OSU Institute of Technology and earning an Associate in Applied Science Degree in Registered Nursing. The OSUIT Registered Nursing Program is approved by the Oklahoma Board of Nursing and accredited by the Accreditation Commission for Education in Nursing (ACEN).
Our nursing labs feature advanced simulation mannequins – enabling practice for a wide range of nursing procedures. Upon successful completion of the degree program and NCLEX, you will be eligible for employment as a registered nurse helping people in a lifelong career that provides both personal satisfaction and great income.
OSUIT's Associate in Applied Science Degree in Nursing provides: hands-on learning environments, experienced faculty, and numerous employment opportunities with excellent salary potential. Every nursing school graduate across the country who wants to become a registered nurse must first pass the National Council Licensure Exam-Registered Nurse (NCLEX-RN), a national standardized test administered by the National Council of State Boards of Nursing.
Each year, nursing programs, including the one at OSU Institute of Technology School of Nursing & Health Sciences, are given a NCLEX Pass Rate report that shows the percentage of nursing graduates that have passed the exam. In 2016, OSUIT's NCLEX score was 85.71 percent, which was higher than the state pass rate of 83.78 percent and the national pass rate of 84.56 percent. The same thing happened in 2015 when OSUIT received an 88 percent pass rate compared to Oklahoma's 85.70 percent and the nation's 84.51 pass rates.
The NCLEX, a computerized exam made of up 75 to 275 questions, tests nursing graduates knowledge in eight health care areas including management of care; safety and infection control; health promotion and maintenance; psychosocial integrity; basic care and comfort; pharmacological and parenteral therapies; reduction of risk potential; and physiological adaptation.
Nursing school graduates are required to pass their NCLEX exam in order to work as a registered nurse. Jana Martin, dean of the School of Nursing & Health Sciences, said in the last several years OSUIT's NCLEX pass rate has really improved, and the trend seems to be continuing. "We're very, very proud. That tells us we have a quality program. Our graduates are eligible to work as registered nurses, they can support their families and they can pay their student loans," Martin said. "We have a rigorous program. It has to be rigorous— we are dealing with patients' lives."
Martin said students who come to the nursing program are almost always surprised by just how difficult and challenging it is, even for those who excelled in high school or other college programs. "It's a new way of learning that they're not used to. It's memorization but also critical thinking. It's a lot of reading and stringent studying," she said. "It requires organization, flexibility, the ability to make tough decisions and prioritize. And the student needs a support system at home." The training and education is tough because the profession is hard work, Martin said, and the faculty in the nursing program are continually working to ensure the program improves while also meeting the needs of the industry. "Our faculty make sure this is a quality program. They make sure we maintain our standards.
Everything we have done and our accomplishments are because of our faculty," she said. "They stay up to date on best practices and new technologies." It's all in service in making sure the students are prepared and knowledgeable when they start their careers. But before they can do that, they have to pass the NCLEX, which can be stressful and nerve-wracking, Martin said, which is why the preparation and support doesn't end when the students walk across the graduation stage.
"Students are assigned a mentor, myself or one of our faculty, after they graduate, and we follow them through their NCLEX testing," she said. "We text or call them to make sure they are doing their test trainers or if there is anything they need. That extra encouragement really shows our students we care about them."
visit: www.osuit.edu for more information.